24 March – 9 April
For the seventh year running, I have teamed up with the Ideal Home Show and the Prince's Foundation to find the best Ideal Young Gardeners Of The Year.
Below you will find all of the information on the competition, including the brief that the college students have to work to this year, the actual garden designs and the thoughts behind them.
You will also find videos and pictures of last year's gardens, and much more!
The Competition
Students from six of the UK's top landscaping and horticultural colleges compete at the Ideal Home Show to be crowned the Young Gardeners Of The Year.
The competition aims to champion young green talent and give students first-hand experience of creating professional show gardens from scratch.
The gardens are judged by a panel of industry experts and one is awarded the Best At Show trophy.
And there's another challenge: students have just six days to build and plant their gardens.
These are the incredible gardens from 2016's competition:
The show gardens are revealed at the opening of the Ideal Home Show in London on 24th March 2017. They are judged by a panel of experts, including horticultural industry leaders, home and garden magazine editors and acclaimed garden designers.
The judges can award gold, silver gilt, silver and bronze medals, as well as the Best At Show award.
Students from the winning college are crowned the Ideal Young Gardeners of the Year!
The gardens are then exhibited throughout the Ideal Home Show, where around a quarter of a million visitors were be able to see and enjoy them, plus vote for their favourite! The People's Choice Award is presented to the winning college at the end of the show.
The Prince's Foundation for Building Community
The competition links with the Prince's Foundation for Building Community to encourage more sustainable gardening techniques.
The organisation sets clear guidelines for the gardens based on the organic and sustainable principles that the charities' president, The Prince of Wales, has championed for so long.
HRH The Prince of Wales has also visited the gardens numerous times to meet the young gardeners and congratulate them, as well as offering them words of encouragement for the future.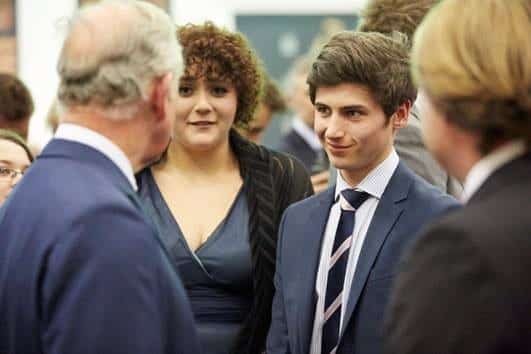 Video Reel
In 2016, ITV Regional News came to explore our show gardens.
Chichester College garden
Shuttleworth College garden
Incredible garden designs from past competitions