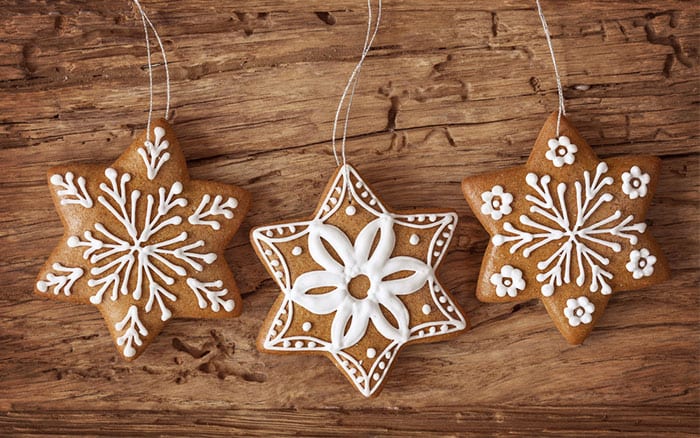 Christmas is a great time of year for biscuits, and it is so easy to make your own.
This recipe is ideal for getting the kids involved too.
Iced biscuits taste delicious, but you can also hang them up as tree decorations. And they make a great gift wrapped up in cellophane and ribbons.
Either add vanilla for a classic flavour, or swap the caster sugar for dark brown sugar and add a teaspoon of ground ginger for gingerbread-style dough.
Makes 20 biscuits
Ingredients
100g caster sugar or dark brown sugar
90g butter or margarine
1 egg
200g plain flour
1tsp of vanilla extract (optional)
1tsp of ground ginger (optional)
To decorate
250g icing sugar
1 egg white
Silver balls, edible glitter etc
Method
Preheat the oven to 190C and line a baking sheet with greaseproof paper.
Cream the butter and sugar together in a large bowl. Add the egg and flavouring of choice and mix until well combined.
Stir in the flour until the mixture comes together.
Turn out onto a lightly floured surface. Roll the dough out to 1cm thick.
Cut into shapes and lay them on the baking sheet.
Bake for 8 to 10 minutes until they are golden brown.
Remove from the oven, allow to cool on the tray for 5 minutes and then transfer to a wire rack. If you want to hang the biscuits, poke a hole through the top with a skewer while they are still warm.
Stir together the egg white and icing sugar. Put in a piping bag or plastic bottles with nozzles. Alternatively, simply use teaspoons to add the icing.
Sprinkle with decorations if using. Allow to set and then serve.