It's Wild About Gardens Week! Wildlife is so important to gardeners, and none more so than pollinating insects.
Flowering plants have male and female varieties. The male plants produce pollen, which is carried over to the female flowers by insects. Once pollinated, the female plant can then produce fruit.
Without pollinating insects, plants would not be able to produce fruit, veg, nuts or seeds. In fact, three quarters of the world's food comes from plants that are pollinated by insects.
There are over 1500 species of pollinating insect in the UK, including bees, wasps, moths, hoverflies and butterflies. But their numbers are dropping: 46% of European bumblebee species are in decline, and 23 bee and flower-visiting wasp species in the UK have already gone extinct.
But you can help!
There are 15 million gardens in the UK, covering approximately 270,000 hectares. If everyone took a few steps to help pollinators, it could make a real difference to their population numbers, and even save species from extinction!
These insects are vital for your garden plants and the ecosystem. Help them, and they will help you.
Think you know your garden insects?
Why not put your knowledge to the test with my Ultimate Insect Quiz! Those little critters can be incredibly surprising – I bet you don't know all the answers!
How to get involved
There is loads of information on how to help pollinators in their active summer season with pollen-rich plants.
But equally important is giving them a space over winter, as their natural habitats have declined. They need safe, sheltered spots to hibernate and lay their eggs. And you can provide one, no matter what size your outdoor space is.
Projects
Make an insect hotel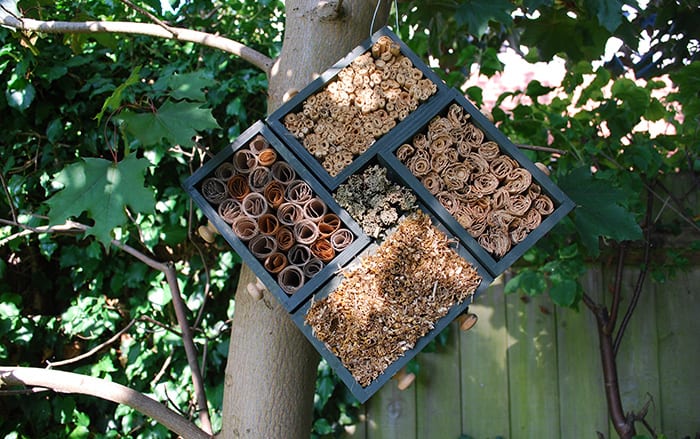 This is a home for insects over the cold months. Many species will hibernate there, and leave their eggs or young to spend the cold months in safety.
You can make it out of recycled materials like bamboo, plant stems and straw.
Check out my free guide to making all kinds of insect hotels, from simple projects to more intricate designs.
And here's a step-by-step guide with pictures to making the pampas grass hotel pictured.
Let your garden grow wild
Put down those secateurs! Instead of cutting everything back in autumn, leave the dead stems in your flower borders until spring. Their hollow tubes make great natural nesting sites for insects.
You can also leave a shady patch of the lawn to grow long. Stop mowing it until spring, and insects will hibernate in the grass and soil.
Be responsible with pesticides
I know nobody likes to have pests on their plants, but be judicious with the pesticides.
Check plants regularly for signs of pests, and pick off small infestations by hand. If you do have to use pesticides, don't spray them while the plant is in bloom or beneficial pollinators may be harmed.
Join the bug hotel competition
The Royal Horticultural Society has joined forces with The Wildlife Trust to create the 'Build a bug hotel' competition. They are asking gardeners, schools and community groups to build a bug hotel and submit their pictures. The closing date is 31 October – find out more here.
Build a log pile
Recreate a wild woodland habitat by building a log pile for your garden insects. You can create a simple log stack, or bury some logs for a damp haven for insects, invertebrates and even garden toads!
Put up a bird box
Don't forget about our feathered friends! Many birds need a nice warm house to have a nap in on cold days, and they check out potential nesting sites well in advance of spring! Watch my video on different bird houses.