One of the best things about Christmas is lighting up your house. It creates a warm, glowing welcome when you arrive home. And festive light displays always put people in a good mood!
Outdoor Christmas lights can be confusing because there are so many types to choose from. So I've put together a handy buying guide to explain the different styles, bulbs and power options.
Power supply and bulbs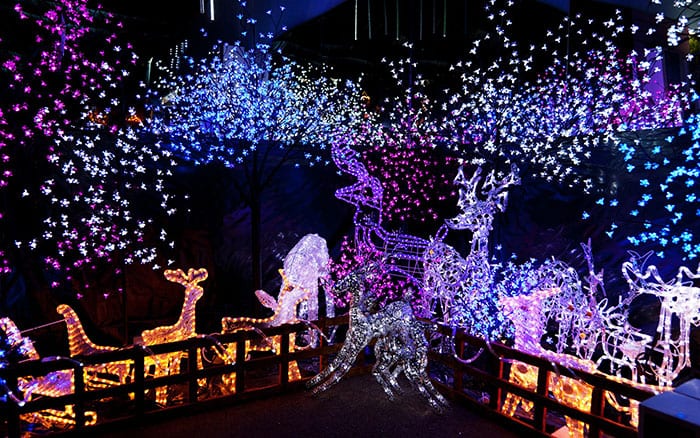 Make sure you buy lights that are marked for outdoor or external use. Indoor lights are not designed for outdoor use and could easily blow a fuse.
Most modern outdoor lights use LED bulbs, which stands for light-emitting diode. They are very efficient and use less electricity than traditional incandescent bulbs, making them cheaper to power. They are also low-voltage and don't overheat, so they are safer for children.
There are two power options available: mains supply and battery-powered.
Mains supply lights plug into your electricity supply. If you choose this option, please make sure everything is safe! You will need to check that all sockets, cables and connections are fully waterproofed. The slightest bit of moisture in an electrical circuit can be extremely dangerous. Make sure to buy and fit proper socket covers.
You will also need a safety RCD adaptor. This acts as a circuit breaker, meaning that if there is an electrical surge it cuts the power supply before anything bad can happen.
Battery-powered lights simply need stocks of batteries. These are usually AA, but check before you buy. Battery-powered lights are less bright than mains supply ones, but cheaper to run.
Some lights come with electrical timers built in, but if not you can buy them cheaply enough. They make sure your lights come on and go off when you want.
Here's my Christmas lights buying guide for outdoor decorations!
String lights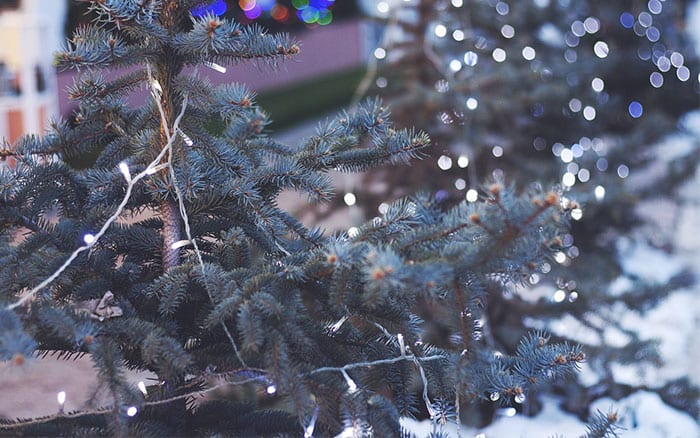 String lights and fairy lights are one the most popular types of Christmas lights. They can be used in all sorts of ways.
Hang them from your eaves, window frames and conservatory roof. Trail them along fences and paths or wrap them around tree trunks and other structures. You can also use short battery-powered versions to decorate wreaths and pile into jars and storm lanterns to decorate steps.
String lights are also available as rope lights, which have the bulbs encased in a flexible plastic tube. Or try icicle lights, which mimic frozen icicles hanging from your house. Look for versions where the light moves down the icicle so it looks like dripping water.
You can also use net lights, which are string lights in a square grid. They are ideal for draping over bushes and shrubs to make the most of your garden structures without trying to get string lights to stay in place.
Novelty lights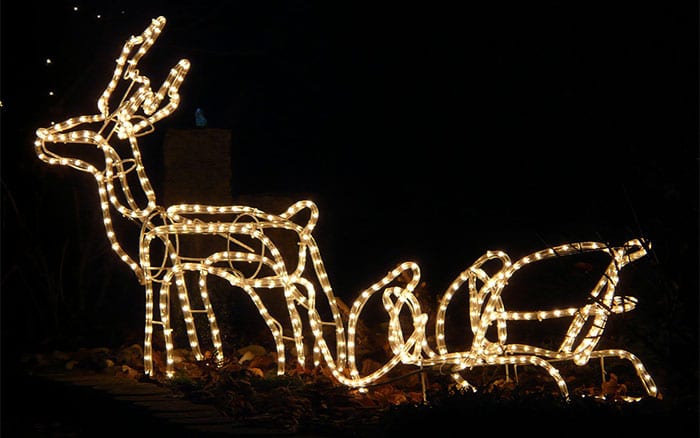 The other type of Christmas lights come in novelty shapes and silhouettes. It's a great way to create a warm welcome to your home. Try one feature or a whole collection for a festive scene.
Novelty lights can be freestanding or hanging. There are loads of possibilities, from simple shapes like trees, stars and baubles to characters like Santa and reindeer. They can have wire frames and there's even a trend for inflatables lit up from inside.
For something really showy, look out for animated figures that move, like nodding reindeer and waving Santas. They add real character to your home.
Outdoor Christmas lights come in a huge range of colours. For that classic golden glow, look for lights marked 'warm white' – the ordinary white is usually blue-toned.
Here's some other Christmas guides!
How to choose the perfect real Christmas tree
Christmas gift guide 2015 – the best present ideas

David Domoney is a Chartered Horticulturalist, Broadcaster, and Author. David has worked with a number of the UK's leading garden retailers as a plant buyer and strategic consultant. With more than 30 years experience, in horticulture, David is as passionate about plants now as he was when he bought his first plant at a village fete.