When it comes to choosing a Christmas tree, our focus is mostly on whether the tree will fit in our house and which type of tree to use. Do you prioritise one with a classic pine fragrance or opt for one that's narrower in growth to save on floor space? One thing that doesn't always stay at the forefront of your mind is the process of growing the trees and the care and nurture needed. From Needlefresh's Christmas tree farm in Northern Scotland, here's some more about how they grow pot grown Christmas trees.
The gorgeous little Picea pungens glauca (blue spruce) is a fantastic choice as a Christmas tree. What's more is that the pot grown spruces can be planted outdoors when Christmas is over. In the pot-grown field, the conifers have been grown in containers and then sunk into the ground.
So, when they're lifted for Christmas, they stand a good chance of growing. This is because the containers are protecting the main body of the roots. So, if the plant is watered when inside the home and planted out it'll stand a good chance.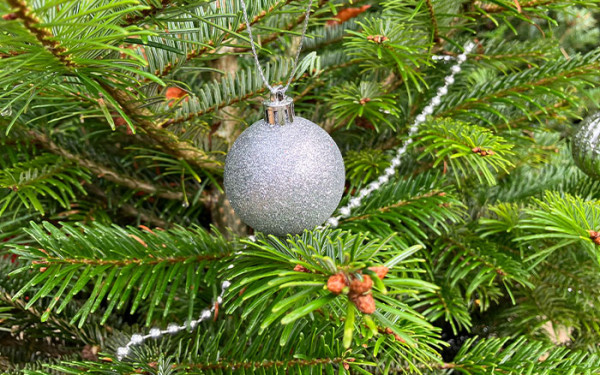 The process of growing pot grown Christmas trees is fascinating and shows how much time goes into growing that tree that you take home to decorate over the festive period. When digging up the pot grown plants to check on growth, the plants come up nice and easy, because the roots are kept in check.
When the tree is ready to be dug up and sent out, they are placed into a climate bag which holds the moisture in and protects any exposed roots. Then, it's placed in an ornamental pot, ready to go straight onto the consumer's doorstep. Then, it's down to you to keep it watered well whilst indoors, ready to be planted out once the festive period has passed.

The colouring of the blue spruce is spectacular, and the added dense and compact growth gives it a lovely, charming appearance. Similarly, the Picea omorika (Serbian spruce) has bluey, silvery foliage as well as a fantastic fresh, fragrance. However, for something a little bigger, the Abies nordmanniana (Nordman fir) also grows well in containers, and is one of the most popular Christmas tree choices in the UK.
Or opt for the Picea abies (Norway spruce), the traditional old-fashioned Christmas tree which brings that lovely pine fragrance to your home. Another that ticks the fragrance box is the Abies procera (Noble fir) that's a Christmas masterpiece that will put on a show with its sight and smell.

You could almost have a different variety of tree in your home at Christmas every year for the next six years. Of course, with the added advantage of having the opportunity to plant it out after Christmas to watch it continue to grow in your garden.
David Domoney is a Chartered Horticulturalist, Broadcaster, and Author. David has worked with a number of the UK's leading garden retailers as a plant buyer and strategic consultant. With more than 30 years experience, in horticulture, David is as passionate about plants now as he was when he bought his first plant at a village fete.