Factfile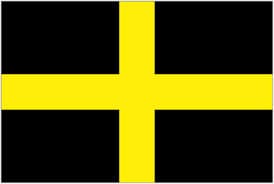 Who: St. David, Patron Saint of Wales
Feast Day: 1 March
Life: Born c. 500 AD, Died 589 AD
Symbol: Leek, Daffodil
History
St. David was born in south-west Wales sometime in the early 5th century to a noble family: his father was the grandson of a prince of Ceredigion and his mother was the niece of King Arthur. Legend has it that he was physically strong and very tall but extremely gentle.
During his life, St. David was a teacher, travelling widely throughout Wales, the south-west of England and Brittany in France. He lead a strictly disciplined, austerely religious life. He also founded several churches and a monastery in Wales and became an archbishop. He was canonised in 1120.
Shortly afterwards, people began to make pilgrimages to the monastery. Its original site of the monastery, Glyn Rhosin (The Vale of Roses) in Pembrokeshire is where St. David's Cathedral stands today.

Did you know? The leek does not have a stem or shaft – the edible part of the veg is actually a bundle of leaf shafts.
Today

During the 18th century, it was declared that 1st March, the date on which he died, would be a national day of celebration for St. David. Every year since then events, parades and festivals are held in towns and villages throughout Wales and around the world for people of Welsh descent.
Schools in Wales hold special concerts with Welsh literature recitals and singing, known as eisteddfodau. Schoolgirls often wear traditional Welsh costume for the day which consists of a long skirt, a white blouse and apron, a shawl and a Welsh hat.
Special church services are held and many towns have a St. David's Day parade through the streets.  The Welsh flag of St. David will be prominently displayed during this festival day.
There is also a traditional meal for St. David's Day which is Cawl, a hearty broth made with leeks, cabbage, bacon and Welsh lamb or beef, although the exact recipe varies from region to region. The dish can be eaten all in one bowl, or sometimes the broth is served first and the meat afterwards.
Symbol
Many people wear one or both of the St. David's Day emblems – a daffodil and a leek pinned to the lapel. The leek was St. David's personal symbol and the daffodil is the traditional symbol of Wales.

Interesting Fact: the Welsh name for Leek (Cenhinen) is very similar to the Welsh name for Daffodil (Cenhinen Pedr) which translates as 'Peter's Leek'.
Happy St. David's Day!

David Domoney is a Chartered Horticulturalist, Broadcaster, and Author. David has worked with a number of the UK's leading garden retailers as a plant buyer and strategic consultant. With more than 30 years experience, in horticulture, David is as passionate about plants now as he was when he bought his first plant at a village fete.