Christmas trees are a hugely important part of the Christmas festivities. They have been around since the seventh century, but they became immensely popular in 1841 when Queen Victoria's husband, Prince Albert, actually brought one back from Germany to Windsor castle. It was featured in a London newspaper and then everybody wanted one!
In the UK we buy over 8 million Christmas trees every year, and 7 million of them are grown in Britain. And remember, for every tree that is cut down in the UK, three more are planted! So it's a thriving and environmentally friendly industry.
Find your local grower with the British Christmas Tree Grower's Association.
There are some 10 different types of Christmas tree, but the two most popular are the Norway Spruce and the Nordmann Fir.
Norway Spruce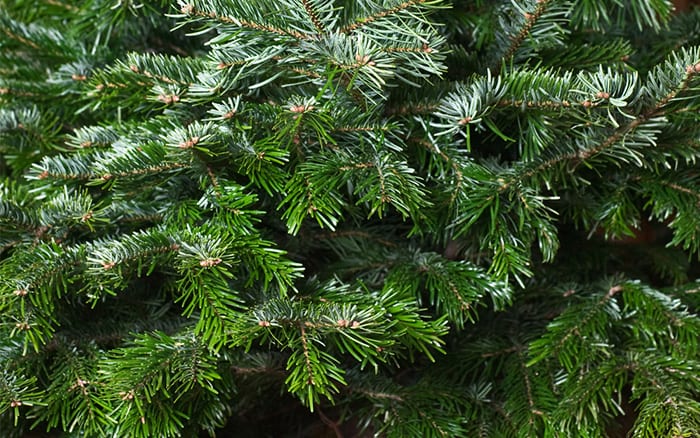 This is the traditional Christmas tree. It grows fairly quickly which makes it cheaper to buy. But it has a bad reputation for dropping its needles. This is because it used to be imported from abroad, meaning that by the time people got it home, it was already starting to wilt.
However, if you buy one from a garden centre or direct from the grower, you know they have been grown locally. This means that they will hold onto their needles much better.
The main advantage of the Norway Spruce is that it has a strong fragrance. To me, it smells like Christmas.
Nordmann Fir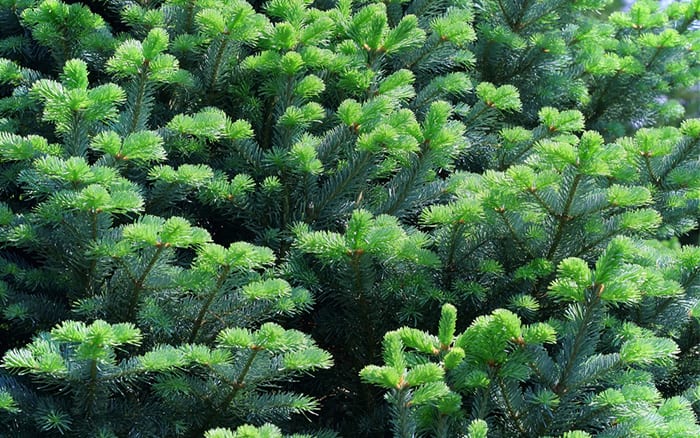 The other choice of Christmas tree is the Nordmann Fir. It's a slower-growing tree which makes it slightly more expensive than the Norway Spruce, but it has thicker needles that hold onto the stems much better. This means it hardly drops any needles.
It's also a fuller, softer tree with a wintery silver underside to its leaves. The only downside is that it lacks that Christmas fragrance.
How to choose the right Christmas tree
Selecting the right tree for your own home is an important decision. The first rule is to never buy a tree that is already netted – you have no idea what it will look like!
To help you choose the best quality tree for your money, here are my four Fs to look out for:
1 – Freshness
Make sure you choose the healthiest tree possible. Steer clear of trees that look wilted or like the needles are drying out. If you're unsure, check the weight by lifting it up. The heavier the tree, the more water it has and the fresher it will be.
2 – Fullness
Make sure the tree is full from the bottom all the way to the top and a well-balanced shape. Don't buy Christmas trees ready netted – cut it open and check it over, making sure there are no obvious gaps.
3 – Foot
Make sure the 'foot' or stump is clear. Branches should not go right to the base of the stump. If you have to cut some branches off to get it in the Christmas tree stand, you could change the whole look of the tree.
4 – Fit
Make sure the tree will fit in your house! Don't buy one that's too big and attempt to prune it to shape – you will never get it to look right.
Keeping your Christmas tree looking great
Christmas trees are outdoor plants and they can struggle when you bring them into the warmth of your home. To make your tree last as long as possible, don't place it near a fire or radiator, which will dry the leaves out and cause needle drop.
Also make sure you give the tree plenty of water. Freshly cut trees can take in as much as two pints a day in the first week or so. Boost the tree even more by mixing a couple of spoonfuls of sugar in with the water. Alternatively, you can use cheap, full fat lemonade.
Just before you put the tree up, cut an inch or so off the bottom of the stump – this will expose the wood pores and help the tree take up more water. This will also help keep the needles on for longer.
Summary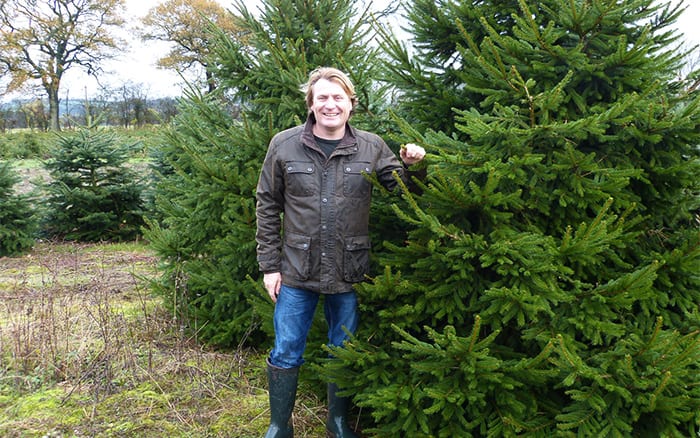 So you can choose from the two most popular types of Christmas tree. Norway Spruce is cheaper and more prone to needle drop but has a fantastic fragrance. Nordmann Fir is softer and fuller but more expensive, and it holds its needles better.
When buying a tree, check for freshness, fullness, foot and fit, and never buy one ready netted.
Plus, keep your tree looking great by giving it plenty of water and some sugar, and keeping it away from artificial heat sources.
Many thanks to Crocker's Christmas Trees in Southam for allowing us to film on location. Visit their website here.
Other great inspiring Christmas content!