Relaxed coastal gardens are known for their silvery foliage, grassy greens and bright flowers. The plants are full of colour, texture and movement, and they bring a sense of wilderness and freedom.
But you don't need sea views to get that fun, informal look in your own outdoor space. Most coastal plants will thrive in any garden with well-drained soil and a sunny spot. They are tough plants, used to battling strong winds and salty air, usually in poor soil or on steep banks.
You can get a coastal garden – wherever you live
It's fantastic to get that seaside flavour, especially when you live miles away from the nearest coast. So I've picked the top 10 coastal plants to bring the beach to you!
My Top 10 Coastal Plants
1. Echium vulgare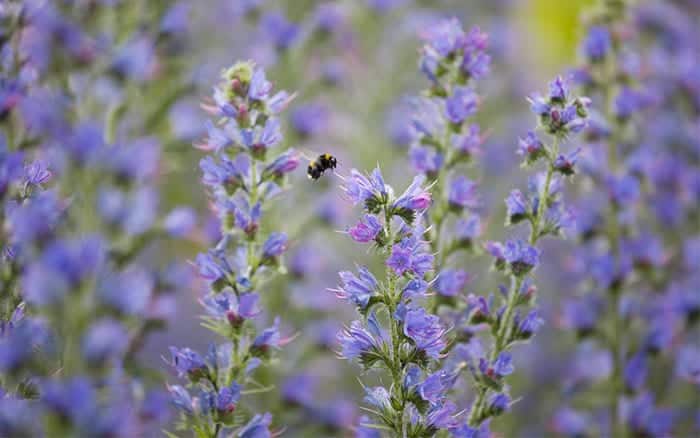 This tall plant has lovely upright spikes of tiny purple flowers, often with bright stamen.
Bees and pollinators love it, and it puts on a flower show all summer long.
Plus it self-seeds, so it's really low maintenance.
2. Rosmarinus officinalis (rosemary)
A woody Mediterranean herb is perfect for a seaside spot, and this one is incredibly hardy.
It has evergreen structure and delicate bluish flowers in summer. Most importantly, it smells fantastic!
Plant it near paths and doorways so it releases its fragrance as you brush past it.
3. Eryngium variifolium
This lovely sea holly has striking silver foliage and architectural blooms with prickly cone-like heads.
It brings a sharper angle to free-flowing flower beds and copes well with sandy soil, common to seaside gardens.
4. Armeria maritima (thrift)
Line paths and the front of borders with this robust, low-growing plant.
Or use it to bring colour to rockeries and other dry, sunny sites.
Thrift is evergreen and throws up incredible pink pompom flower heads throughout the summer.
5. Crambe maritima (sea kale)
This is a great plant for foliage, and brings a classic seaside charm to the garden.
It has wrinkled silvery green leaves and is even edible like other kale!
It does die down over winter, but regrows fresh and green in spring.
6. Erigeron 'Sea Breeze' (fleabane)
There's nothing better than this long-flowering plant, with sunny daisy-like blooms and rich green foliage.
It self-seeds to fill cracks and crevices, and will grow in any free-draining soil.
Butterflies love it too!
7. Limonium latifolium (sea lavender)
Another good 'sea' variety of a classic garden stalwart, this is deceptively delicate.
Limonium is actually a very tough plant, but its wiry stems bear masses of tiny pinky-purple flowers.
It grows in dry sites, but is equally happy in better conditions.
8. Cordyline australis
A striking evergreen, this architectural plant has the appearance of a small palm tree.
It adds an exotic atmosphere to a coastal garden, and young plants look great in containers.
Protect it from the harshest of the winter weather though.
9. Festuca glauca 'Elijah Blue'
No seaside garden would be complete with grasses to bend in the wind!
This evergreen foliage is happy in containers and rockeries, and adds fun texture to flower beds.
It's also striking when clumps are planted separately among gravel and pebbles.
10. Verbascum 'Gainsborough'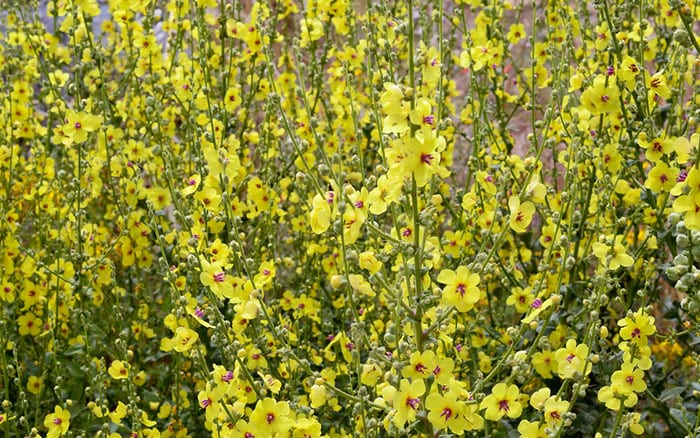 This is the ideal coastal plant for poor soil, as long as it is free-draining.
It has fluffy silvery leaves and yellow flower spikes that loom out of flower beds.
It doesn't self-seed, so you will need to propagate by root cuttings.
Try mixing shapes and colours in your border and leave everything to grow and get jumbled. Add to the look with gravel, shells and lots of big pebbles. And if you can get ahold of any driftwood to use as a feature, that will bring the whole thing home.