Every garden should have a tree. They give privacy and shade, height and structure. Many have stunning colour in autumn, as well was flowers in spring and fruit in summer.
But many trees can soon grow too big. They start to cast deep shade and dry out the soil. So here are the most beautiful feature trees for small gardens. Most of these trees do not grow more than 8m tall and they take a long time to get that big.
But please always check the full final height and spread of the tree canopy before buying.
Acer or Japanese maple
Japanese maples are beautiful trees. They have fabulous leaves which can be deeply dissected and almost lacy, and many produce vibrant autumn displays.
Acer palmatum varieties are great choices for small gardens. They are slow-growing and many can tolerate shade too. The trees have dissected leaves and a graceful arching habit, and come in a range of colours from dark and light green to gold, red and purple.
Or try Acer griseum, which is often called Paperbark. It has attractive peeling bark and small flowers in spring. The leaves go from green to flaming red and orange in autumn. Read more about acers here.
Amelanchier
Amelanchier trees are beautiful additions to a small garden, grown for their stunning white blossom in spring. Once the blossom fades the tree bears red to purple-black berries in autumn that the birds will love. The trees also have bronze-tinged young leaves that turn red in autumn.
Try the classic Amelanchier lamarckii, also known as juneberry or snowy mespilus. Or Amelanchier x grandiflora 'Ballerina' has larger, showier flowers.
Hawthorn
Hawthorn is a native British tree that illuminates hedgerows with its white blossom in spring. But some varieties make great small trees. Try Crataegus persimilis 'Prunifolia', which has medium glossy green leaves, long thorns and masses of white flowers. The foliage turns dramatic red and orange in autumn.
Or look for Crataegus laevigata, the Midland hawthorn, which has smaller leaves and a compact growing habit. The dense branches produce lots of white flowers in spring and red fruits in summer.
Rowan
Rowan or mountain ash trees are popular trees for small gardens. Sorbus 'Joseph Rock' is an eye-catching variety with pinnately divided leaves that go orange, red and purple in autumn. The tree bears white flowers in spring and bright, butter-yellow berries in autumn.
Sorbus vilmorinii, sometimes called Vilmorin's Rowan, is another good choice with its spreading fern-like leaves that go purple in autumn. The white flowers are followed by crimson berries that fade to near-white.
Apple tree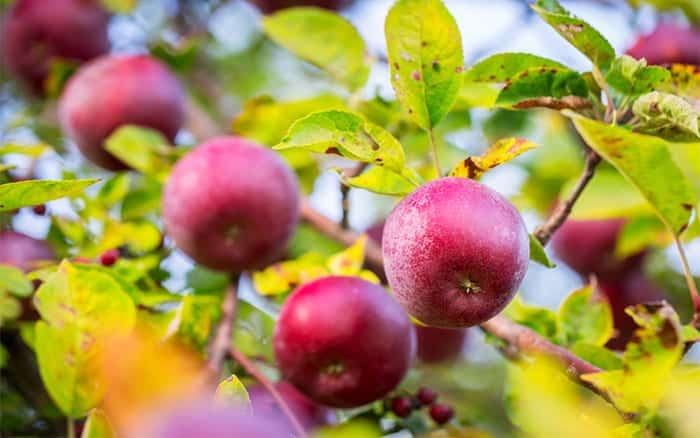 Apple trees are a great choice for small gardens because they have long seasons of interest – showy white spring blossom, summer leaves and autumn fruits. Plus many varieties have compact growing habits.
Look out for edible dessert apples like Malus domestica 'Discovery' and 'Sunset'. Here is a guide to planting apple trees.
Flowering cherry
Japanese flowering cherry trees are grown for their striking pink blossom in spring. Their leaves go orange and red in autumn and compact varieties are great trees for small gardens.
Prunus 'Amanogawa' is a fastigiate tree, meaning it has a very narrow upright growing habit in a column. It's great for small gardens where you don't want to cast shade.
Or try Prunus Shogetsu, commonly called the Blushing Bride. It has masses of double flowers that open pink and fade to white.
Birch
Silver birch trees can be good choices for small gardens. They are famed for their stunning bark which looks great throughout winter. Silver birch trees can have a single trunk or be multi-stemmed.
Try Betula utilis Jacquemontii 'Snow Queen' for its yellow-brown catkins in spring and yellow leaves in autumn. Or weeping Betula pendula 'Youngii' which has arching stems of ovate leaves that fade to yellow in autumn.
Crab apple
Crab apple trees can be edible or ornamental and are known for developing gnarled, 'crabby' bark and branches. Malus sylvestris varieties have sweetly scented blossom in spring and small yellow or green fruits in autumn. The leaves are a glossy green colour and some varieties have rich autumn tones.
Or try Malus x robusta 'Red Sentinel', which has cherry-red red fruits and single white flowers in spring.
Corkscrew Hazel
Corylus avellana 'Contorta' is sometimes called Harry Lauder's Walking Stick. It's a deciduous tree with highly twisted branches that look fantastic all through winter. They are also popular for cutting and displaying indoors.
Corkscrew hazel trees bear long yellow catkins in spring and early summer too.
Weeping Silver Pear
The Pyrus salicifolia 'Pendula' tree has an elegant weeping habit with oval leaves similar to willow. It has silvery grey foliage and creamy white flowers in spring, followed by brownish but inedible fruits in autumn.
Magnolia
Magnolias are flowering trees for small gardens that look spectacular in spring and early summer. The goblet or star-shaped flowers have a striking effect and many varieties are suitable for small gardens.
Try Magnolia stellata for big white star-shaped flowers, and small cultivars such as 'Jade Lamp' which has white goblet flowers with pink bases to the petals, and 'Pink Beauty' for pale pinkish star flowers.
Killarney strawberry tree
The Arbutus Unedo Tree is often called the strawberry tree for its red strawberry-like fruits that ripen in late summer. This is also when the creamy urn-shaped flowers appear. It has craggy bark and glossy dark green evergreen leaves.
Indian Bean Tree
Catalpa bignonioides 'Aurea' has large golden green leaves and is a great tree for small gardens. It bears cone-shaped panicles of white flowers with orange and purple markings in spring. These are followed by long brown bean-like pods in autumn.
Eastern Redbud
The stunning redbud tree has heart-shaped leaves in a purple-bronze colour. It bears bright pink pea-like flowers just before the leaves in spring.
Cercis Canadensis 'Forest Pansy' is happy in sun or dappled shade and can be multi-stemmed. The leaves go orange, bronze and red-purple in autumn.
Dogwood
Cornus 'Porlock' is a small deciduous dogwood tree with elliptical leaves that turn red in autumn. It has small green flowers surrounded by four large creamy-white bracts which turn pink towards the end of the summer. This is followed by small hanging strawberry-like fruits in autumn.