You've seen the show, now check out what happens behind the scenes!
(Missed it? Watch it on ITVPlayer now!)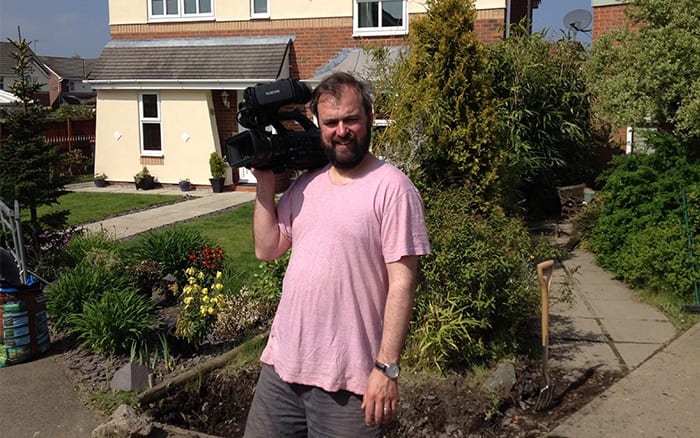 Here's one of our producer/directors, Ben, filming the introduction. He shoots the short videos while we're away from site, and acts as the third cameraman during the day.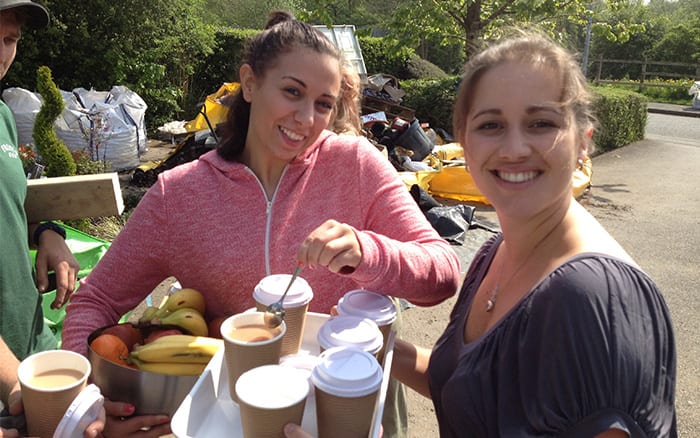 This is Holly and Eleanor, who co-ordinate most of the events and keep us refreshed with tea, coffee and fruit. It sounds very healthy, but don't be fooled – there's cake too! Just behind them you can see the huge pile of rubbish we've made on site!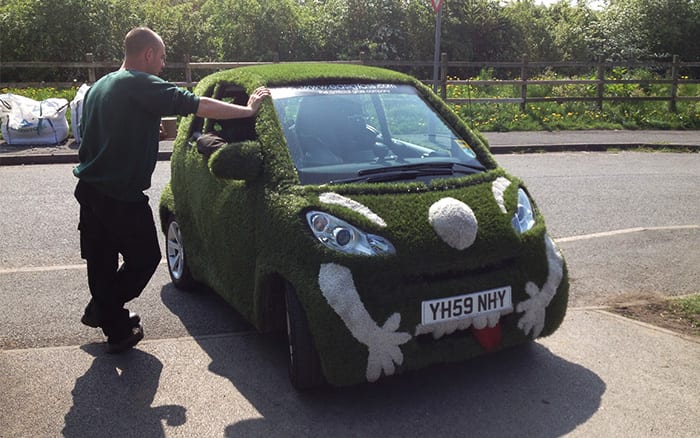 The artificial turf in this episode was delivered by Easigrass and the sales rep turned up in this quite amazing car. But he was quickly told to get it off site and park it somewhere else…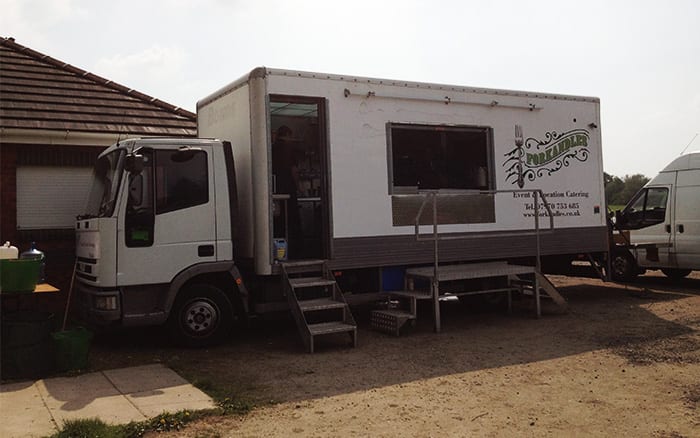 This is our catering van, serving up some delicious meals. We get a bit of breakfast when we get on site and always have a nice lunch. It's important to keep refreshed because you're working in the rain against tight deadlines and having your every move filmed.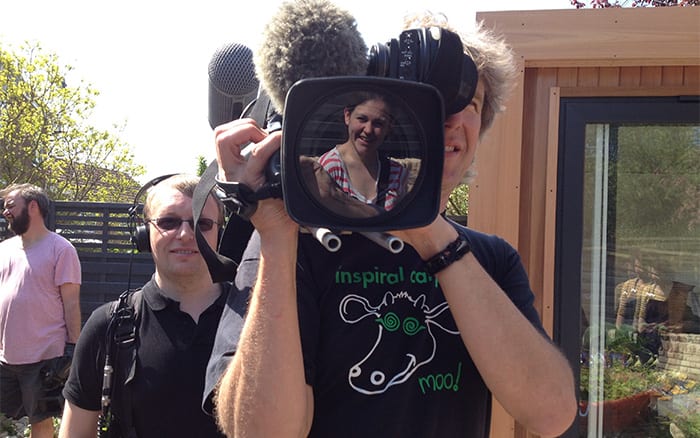 I love this shot! Meet Steve, one of our three cameramen, and behind him is Matt, our sound technician. In the camera lens you can see the director Alice, and you can also see Frances reflected in the window to the right.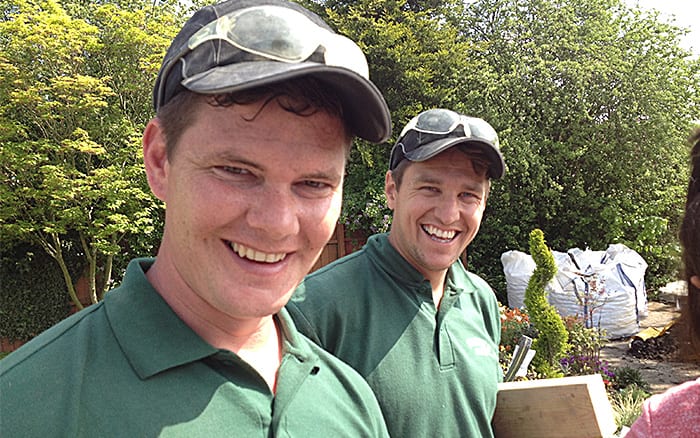 This shot is a couple of the lads! Matt in the foreground is one of the hard landscapers and a brilliant paving guy, and Shaun is a carpenter who works on all the wood in the garden. They are great guys and always keep us entertained.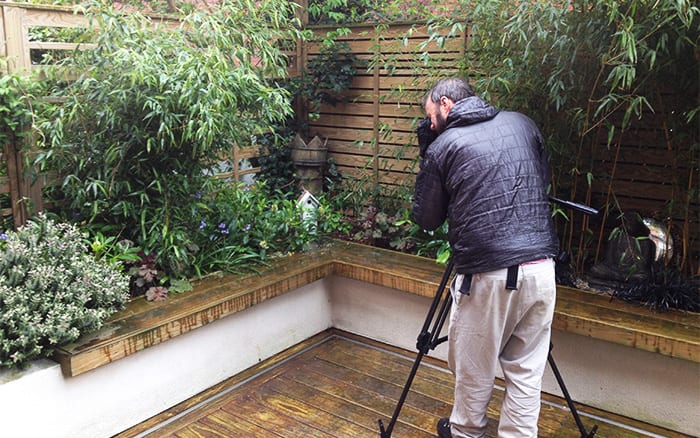 Here's Ben filming for my piece on repairing your decking. The problem was that just as we had got most of the stain in, the rain started pouring down. Ben is getting soaking wet while I'm keeping dry under an umbrella!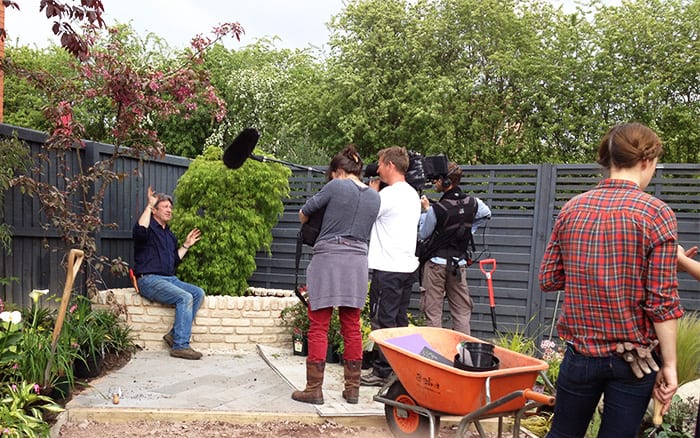 Here's a shot of Alan presenting a piece about that beautiful Acer. It's one of my favourite plants from the show, and it looks amazing in that raised bed. It's things like that – a few hero plants, that really make a garden.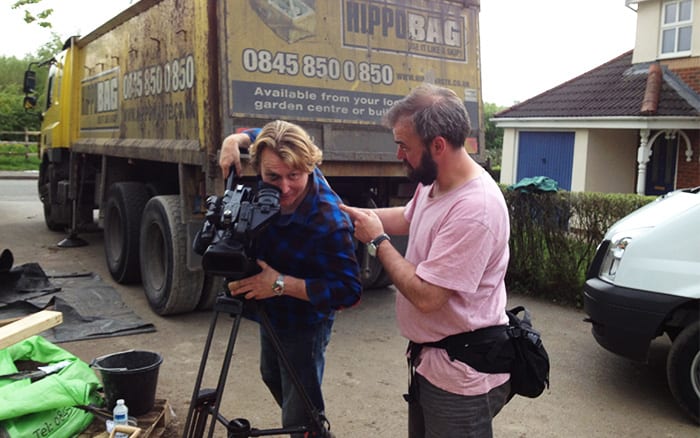 Here's me getting into trouble! I thought I'd have a quick go with Ben's camera, but he didn't think it was that funny. In the photo he's telling me to stop messing about with such an expensive piece of equipment! It's a great shot with a beautiful backdrop of um… Hippobag collecting all the rubbish.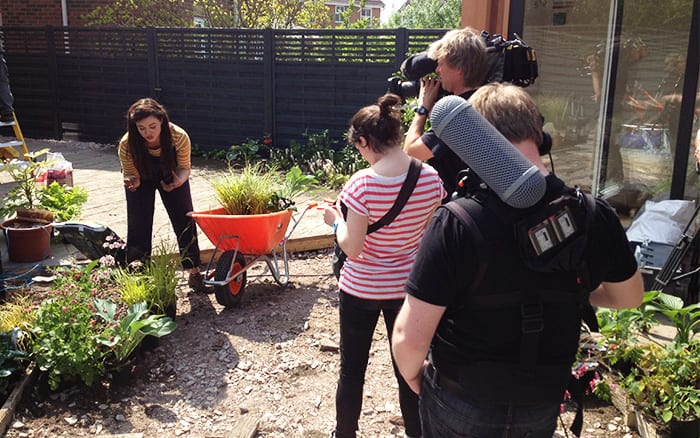 Here's a shot of Frances really getting her hands dirty and getting enthusiastic about her grass planting. The garden is starting to take shape, but we're under a bit of pressure now because time is definitely running out.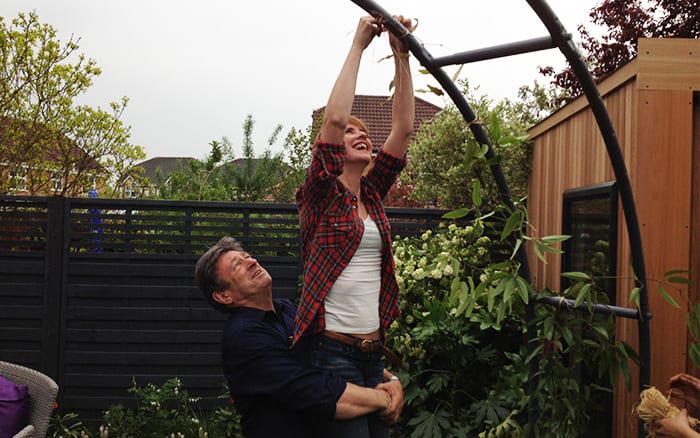 Alan really puts his all into the show. Here he is lifting up Katie so she can tie the evergreen clematis in to the trampoline arch. The lengths that we go to, creating these makeovers – it's above and beyond the call of duty!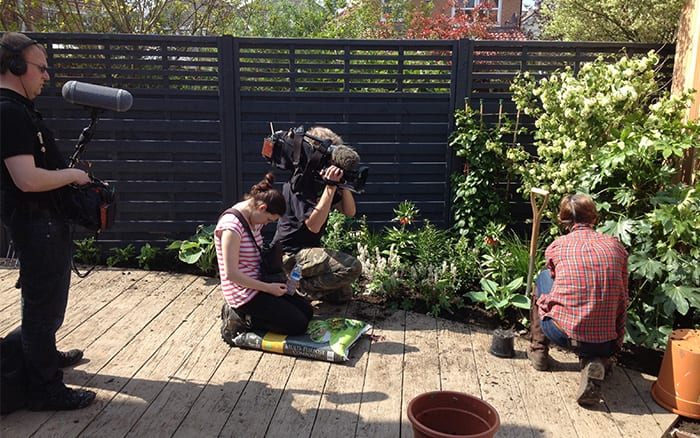 Here is a photo of Katie presenting in the garden as she's planting a fatsia. Often when you see it on TV, it looks as if they are just talking to you, but there's a whole group of people on the other side of the camera!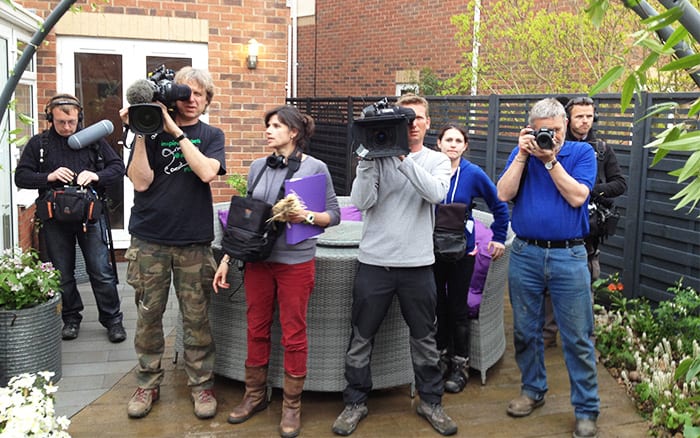 This is what it looks like when you're being filmed! It's not just one cameraman! This is from one of the scenes at the end. From left to right you've got Matt on sound, Steve the cameraman, Natalie who's first director for this episode, then second cameraman Stef, second director Alice, our co-ordinator and photographer Jim, and Grant the second sound guy.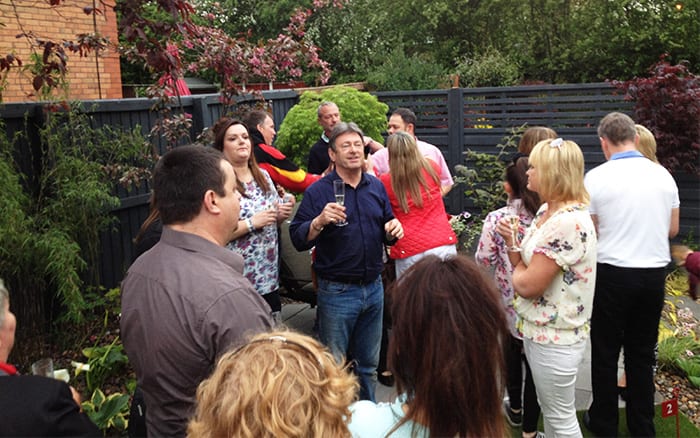 Here's a picture of the finished garden! This is what it looks like from the other side of the camera, when all the family come out to see what we've done. Alan's raising a glass to a very deserving family and a spectacular garden. It really was a pleasure to work on it.