There are plenty of autumn activities for the kids indoors and outdoors to get them off the sofa and away from technology.
Bringing your kids into the garden is a great way to teach them about the outdoors and nature. It can also be an effective way to get them some fresh air and exercise.
A lot of outdoor activities are often very creative, and lots can even be educational, which means they're all great stimulation for young minds.
With half term around the corner, you might be racking your brain trying to come up with ways to get your kids outdoors through autumn. So, to help, I've thought of a few great outdoor activities that are great fun for all the family:
A great way to re-use some old plant pots and create fun Halloween decorations is to create animals from them.
Either use cheap black plastic pots or wash out some of your old terracotta pots and paint them black first.
When you've finished them, you can hang them up around your house, or in your garden to spook trick or treaters on Halloween.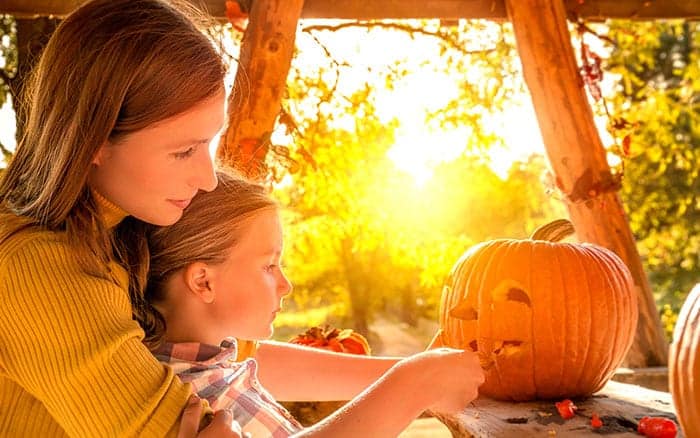 Next up is this classic autumn activity, which is best done outdoors to save mess. There are loads of variations you can try, from classic faces to more intricate designs.
If you have younger kids, just use permanent markers and paint on the pumpkins and save little fingers from accidents.
If you don't carve into your pumpkin, you can also still use it to make tasty soup later on! Don't forget to throw your pumpkin scraps onto your compost heap.
A great lure for getting kids into the garden is talking about wildlife or animals that might be out there.
Kids are often fascinated by the insects and creepy crawlies they can find.
Find some old plastic piping and staple some greaseproof paper to a piece of A4.

Mix a little water-based paint and vegetable oil together (green or brown work best), paint your paper and carefully slide it into the pipe.
Put a blob of peanut butter inside using a stick and then put it in the garden in some long grass or near a hedge.
In the morning, see if any little animals have been in there by checking for paw prints.
At this time of year, hedgehogs are shopping around for their winter homes, and your garden could be the exact location they're after.
With hedgehog populations on the decline, making them a hibernation den is a lovely way to teach kids how to respect and look after our British wildlife.
As we get nearer to winter, the birds that call your garden home might start struggling to find the food they need.
Help them out by making some homemade bird fat balls with your kids and hanging them around your garden.
Find out how to make them here.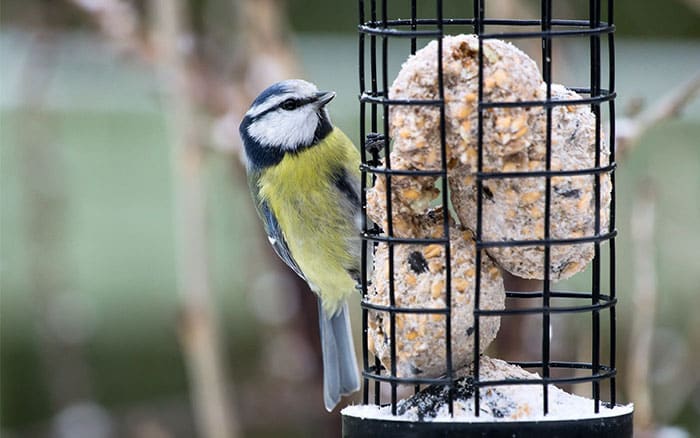 Once you've hung them up, you can get the kids to try and spot and identify different species of birds that visit your garden.
Kids have the most amazing imaginations; in their little world a stick can be a sword and a rock can be a throne. Send them on a scavenger hunt to find the prettiest rocks, twigs, leaves, conkers and feathers and then use them in these great crafty activities.

Fairy wonderland
Let them loose with a container so they can create a fairy wonderland with plants and props that fit the theme.
Flower garland
When they've gathered enough twigs and sticks, tie them together using string or wire to create a flower garland that's fit for autumn royalty.
Sometimes all the motivation kids need is the attraction of something sweet. Here are some great treat-based activities your kids will go mad for:
Go foraging for fruit growing wild such as blackberries or apples – a great idea if you want to get your kids out and about but have limited garden space.
You can then go ahead and get creative in the kitchen with them – I've found toffee apples go down particularly well!
For some really easy recipe ideas that will use up all the autumn berries you collect, click here.
Bring trick or treating into the garden by hiding Halloween themed sweets around the garden, and sending the kids on a spooky treasure hunt.
For extra scare factor, you could even hold your hunt in the dark, and give the kids torches to help them find the treasure.


If you have an apple tree in your garden, get your kids to help you harvest some apples, and then play a game of apple bobbing.
Fill a large bucket with water and fill the surface with apples. The winner is the person to pick up an apple with their mouth in the least amount of time.
Whatever you get up to this autumn, I'd love to see pictures of anything that you create with the kids this autumn. Send them to me on Facebook, Instagram, and Twitter.

David Domoney is a Chartered Horticulturalist, Broadcaster, and Author. David has worked with a number of the UK's leading garden retailers as a plant buyer and strategic consultant. With more than 30 years experience, in horticulture, David is as passionate about plants now as he was when he bought his first plant at a village fete.