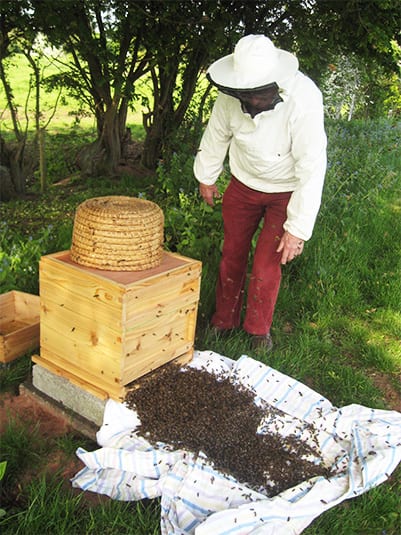 As you know, I've recently become a beekeeper! A nucleus of bees is now happy and settled into the first of my two beehives, and now a swarm has moved into the second one!
I was absolutely delighted to hear that someone had spotted a swarm in need of a home! We got a phone call from a man who thought there were a lot of bees flying around his hedge. Immediately Brian, a longtime beekeeper and my mentor, set off in his car armed with a skep, or wicker container.
He arrived and found the bees stuck in the hedge. He had to cut some of the branches and drop the swarm into the skep. Then he spotted another group of bees lower down in the hedge,so he scooped them up with his (gloved) hands and popped them in the skep too.
Then he put the whole thing in a box, closed the lid and drove them over to my house!
There he put down a ramp and shook the bees out of the skep. The swarm simply walked up and into the hive!


David Domoney is a Chartered Horticulturalist, Broadcaster, and Author. David has worked with a number of the UK's leading garden retailers as a plant buyer and strategic consultant. With more than 30 years experience, in horticulture, David is as passionate about plants now as he was when he bought his first plant at a village fete.