Shade in your garden is inevitable; whether in small pockets in amongst your borders, or in larger sections of your garden where trees or buildings block the sun's rays. But shady spots are an opportunity to display some beautiful sun-shy plants that often get passed by at the garden centre, so let's take a look at some of my favourite plants that grow in shade.
Before choosing your plants, ascertain what degree of shade you are working with – for example dappled or full shade – and also whether the soil underneath is dry or damp. This will help you to get the right type of plant for your shady spot.
Once you know what your conditions are, I'd recommend making sure that your shaded area doesn't become too dark and gloomy with lots of dark green foliage. The best way to achieve a colourful shaded border all year round is to use the succession planting method.
This just means ensuring that the various things you plant will be flowering at different times of the year, rather than having all of your plants bloom in one or two seasons. This is actually a great way to approach your whole garden, not just the shady parts.
So here are some of the best shade loving plants for your garden and the season in which they flower.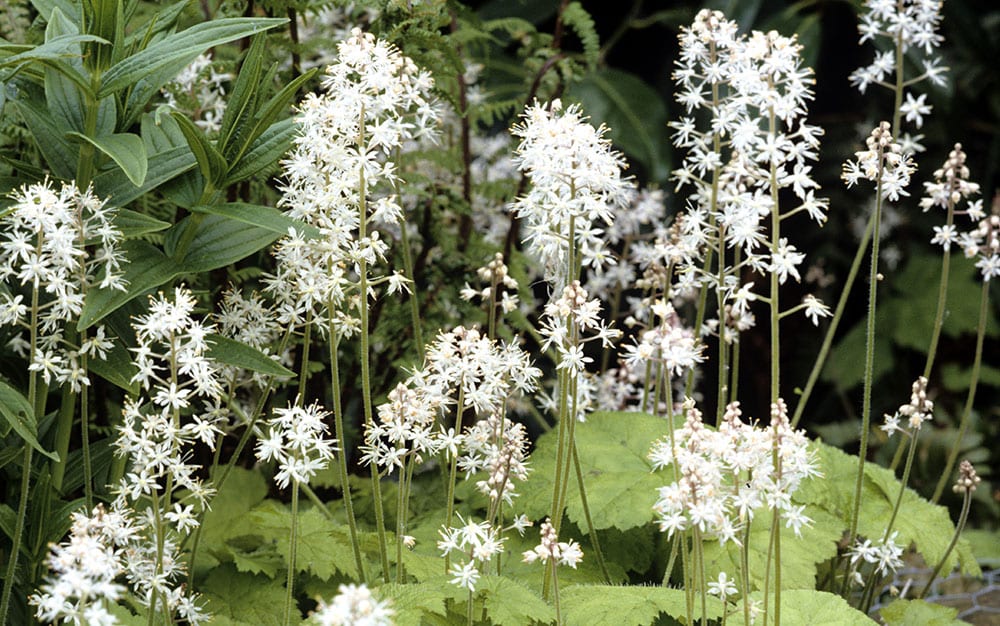 Tiarella Cordifolia (Foam Flower)
For very dense shade, this deciduous foliage produces creamy white flowers in late spring, and loves dry soil.
Lamprocapnos Spectabilis (Bleeding Heart)
A great choice for a very damp soiled area such as near a pond, the bleeding heart enjoys sheltered partial shade and blooms a wonderful purple-pink in spring and summer.
Some other great options for spring flowering shade plants are; Erythronium Californicum (White Beauty), Helleborus x Hybridus (Harvington Pink), Viola Sororia (Freckles Viola), Primula Veris (Cowslip Primrose), Camellia Japonica (Grand Prix) and Clematis (Blue Eclipse).
Summer
Euphorbia Amygdaloides (Wood Spurge)
The wood spurge is a deep purple evergreen perennial that flowers a vibrant green in summer and favours moist well-drained soil. If you have areas in your garden that get no sun at all even in midsummer, the wood spurge can provide colour and texture to your darkest corners.
Hydrangea Anomala Subsp. Petiolaris (Climbing Hydrangea)
Another versatile water-loving plant that comes in a variety of forms, you can use climbing hydrangeas to fill shady fence gaps. This hydrangea will climb independently on walls or fences and blossoms with delicate white flowers in summer.
Some of my other favourite summer flowering shade loving plants include; Tuberous Begonias (Begonia), Viola Riviniana (Common Dog Violet), Geranium Macrorrhizum (Bevan's Variety), Polygonatum Odoratum (Angled Solomon's Seal) , Hosta Plantaginea (August Lily) and Lamium Orvala (Balm-Leaved Red Deadnettle).
Autumn
Cyclamen Hederifolium (Ivy-Leaved Cyclamen)
For a splash of dainty colour in early autumn, plant this perennial flower in a dry, partially shaded area; for example underneath a tree.
Crocus Speciosus (Autumn Crocus)
Handling both dappled shade and sunlight well, the deciduous Autumn Crocus blooms suddenly and unexpectedly in September or October. They work brilliantly at the front of your dry, partially shaded border.
Some other brilliant options for Autumn flowering shade plants you might like are; Geranium (Sweet Heidy),  Saxifraga (Pink Haze), Impatiens Divine Violet (Busy Lizzie), Tricyrtis Hirta (Japanese Orchard Lily) and Mahonia x Media (Lionel Fortescue).
Winter
Galanthus (Snowdrops)
A classic winter flowering perennial, the snowdrop can be relied on to bloom however gloomy and dark the winter gets. Find a moist and dappled spot for this much-loved nodding plant.
Bergenia Cordifolia (Heart-Leaf Bergenia)
Producing dark purple tinged leaves in late winter and splashes of pink flowers in early spring, the bergenia can be seen brightening your border from January to April. Best grown in a slightly damp but well-drained border.
Here's a few more fabulous winter flowering plants that can be grown in shade; Pulmonaria Saccharata (Bethlehem Sage), Camellia Sasanqua (Plantation Pink), Camellia Japonica (Berenice Boddy), Viburnum Tinus (Lisarose), Geranium Maderense (Giant Herb Robert) and Viburnum Tinus (Variegated).
Tip
For a great foliage option, the unfussy fern will add depth and texture to your shady border. Low maintenance and evergreen, with a huge variety to choose from. The Osmunda Regalis (Royal Fern) is superb in a damp soil area.
Those are just a few of my favourite plants for shady areas in your garden, but there are many more shade loving plants that you can try, just ask at your local garden centre for some more ideas.
Remember:
Check the degree of shade you're working with, to ensure you find the perfect plants for your shady spot.
Always find out the drainage of the soil underneath, and whether your plant needs damp or dry soil.
You could also now try to implement the succession planting method through your whole garden for an all year round bloom.
For more garden planting ideas, check out my blog:
Or check out my Pinterest board for more ideas: