A beautifully dressed dinner table is the mark of a special occasion, and what could be more special than Christmas day surrounded by friends and family.
Seeing the Christmas table all dressed up in napkins and candles, brings with it a feeling of anticipation and excitement for the wonderful day to come.
Table decorations are great because not only do they make for a festive spectacle, but they are usually arranged using items that can be foraged for in the garden for free!
Many people make their table centrepiece using sprigs of fir, holly and ivy with a candle in the middle.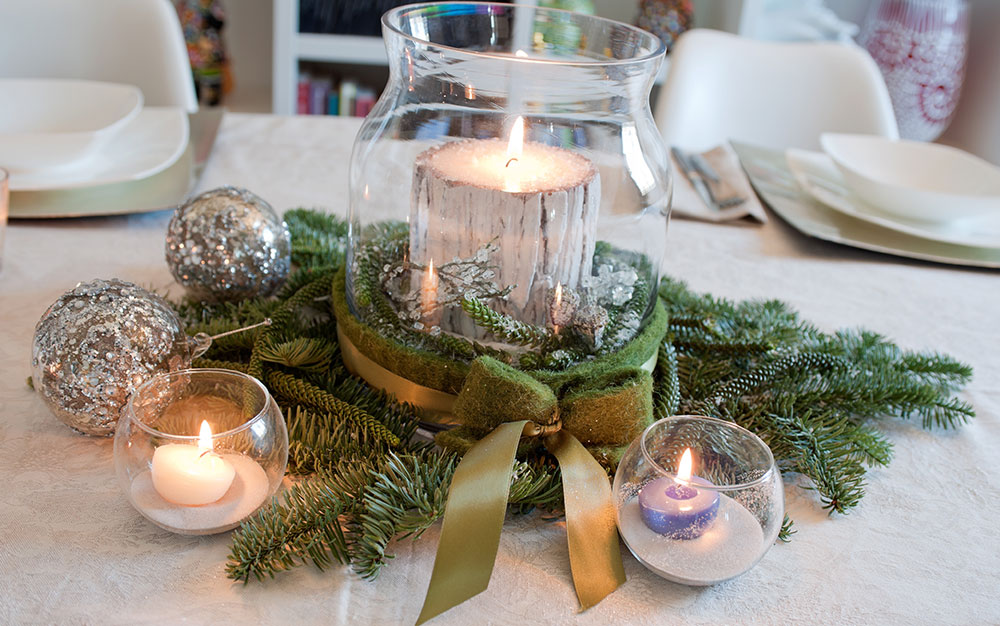 There are now so many new inventive ways of decorating your table, including unique centrepieces, and I'm going to share with you a few of my favourite ideas.
Whether you choose to use fresh evergreen decorations from your garden or local woodland, or you simply arrange a few of your leftover baubles, you'll have your dining table Christmas-ready in no time at all.
Generally, it's best to decide on an overall style and colour scheme before you begin.

Setting yourself a colour scheme will ensure your table really has that 'wow' factor.
You might want to stick to modern, white and silver hues for a chic look, or prefer the more traditional deep fir greens and reds—perhaps take direction from your other indoor decorations so it's in keeping with the tone of your home.
It's worth taking the colour of your plates into account, as blue plates will look very odd in amongst a sea of red and green.
Don't forget to work with the things you already have in place—use what's at your disposal, building it gradually.
If your dining room gets particularly dark or your guests are arriving at night, you will want to think about incorporating extra candles and fairy lights into your table design.
A mixture of smaller tealights and larger candles will add variety and interest to your table.
Finally, it's a good idea to decide on the focal point for your table before you start setting it. Some centrepieces work best when they're eye-catching and other times it can be distracting.

Consider the size of your table as a way to measure how much space to allocate to the centrepiece and keep in mind the height of the display so as to not obstruct conversation or line of sight.
For a traditional look, you can make an evergreen centrepiece using an oasis ring from a florist. Soak the oasis in water for 10 minutes and then use fir branches, ivy and holly foliage to cover the base of your oasis. For a table runner, use the same base foliage but add in easily attainable pine cones and moss to make it stand out.



For a more modern look you can drape evergreen vines and branches down the centre of the table, with candles and pine cones nestled in amongst it. Springs of rosemary paired with your candles can be really effective and beautifully scent the area.
Glasses, jars and vases filled with baubles are a popular new look for tables, and always look striking.
If you're strapped for space, or are worried about the centrepiece being too tall and blocking your guests' view, then why not see if you can decorate the light fittings above, for a beautiful central focal point that hangs from the ceiling?
Thinking outside the box and being inventive always gets the best reviews from guests in my experience.
Your place settings should be an extension of your table decoration as a whole.
They should seamlessly tie in with the centrepiece and the overall colour scheme of the table.
If you used a lot of fir in your centrepiece, why not place a little sprig of fir on each plate? You can even hang decorations off the back of chairs to finish the look.
Adding a personal touch such as a name card or small favour is always a lovely addition if you have the time.
Cinnamon sticks can be used to mark each place and will add a festive cheery smell to each napkin when used.



Don't forget to include the essentials such as plates and cutlery for each course, glassware and a napkin, which can be folded neatly, or into shapes such as Christmas trees.
David Domoney is a Chartered Horticulturalist, Broadcaster, and Author. David has worked with a number of the UK's leading garden retailers as a plant buyer and strategic consultant. With more than 30 years experience, in horticulture, David is as passionate about plants now as he was when he bought his first plant at a village fete.