Hedgerows have an important role to play; not only do they look beautiful, but they act as habitats and corridors for wildlife too. Hedgelaying gives the opportunity to regenerate hedgerows to give them a new lease of life and continue to grow healthily.
It's about weaving and bending branches together to create a barrier, whilst promoting a new lifecycle.
Hedgelaying is a craft that has been practised for hundreds of years. It is important for many reasons, for their wildlife, environmental, scenic and heritage value. In the countryside they can also act as barriers between fields to contain livestock – in fact, this was the early purpose of hedgelaying back in the 16th Century.
The decline in labour available after WWII meant that hedgelaying declined, so it was in 1978 that 3 hedgelayers joined forces to set up a society that aimed to pass on the skills and education of the importance of the task.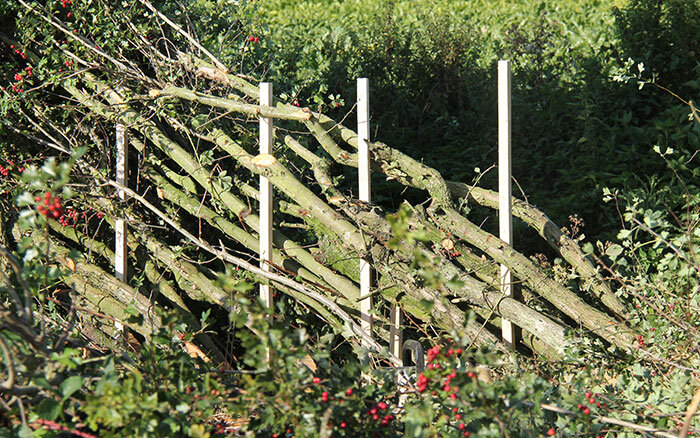 Hedgerows are vital as a source of shelter and food for wildlife, as well as acting as a corridor to encourage movement throughout the space.
The benefits don't stop there because they also play a role in preventing soil erosion, controlling flood risk, as well as capturing pollutants, so they're an incredibly worthwhile addition to the garden and our country spaces.
In a hedgerow's life cycle, there will come a time when it needs a little rejuvenation and will benefit from a spruce up. This is where hedgelaying comes in because it encourages new growth from the ground up.

To put the theory to practice, this is how to lay a hedge:
The most common time to do this task in the garden is between October and March, through the dormant period.
• Start by removing the lower branches on each stem so that sufficient light can get to the bottom of the hedge.
• The next step is to cut slightly into the stems, the trick is to not cut all the way through, but enough to allow the stems to be bent to be 'lay down'.
• Then, continue to do this along the whole length of the hedge. When laying down the stems, rather than just lying them horizontally, layer and criss-cross them.
• When this is done for the whole length, secure your handiwork in place using stakes on either side. Use wooden stakes and attach the stakes sing flexible weavers.
• With everything secured, take a look at the hedge and give it a little tidy up by removing or adjusting any fallen bits or parts that are sticking out. Then, leave nature to do the rest.
Across the UK there are many different 'styles' that depend on the region. These traditions and customs are down to the different materials that are available in each area. For example, the Midland style is known as the 'bullock style' which had the purpose of keeping cattle in the fields in beef rearing areas. The Yorkshire style is used as a sheep hedge on livestock farms because it's impenetrable to sheep.

Hedgelaying is a craft that can take a while to master, but it's an important skill that is needed to rejuvenate hedging. It has many benefits; habitat for wildlife, creating boundaries, and controlling adverse weather impacts.

David Domoney is a Chartered Horticulturalist, Broadcaster, and Author. David has worked with a number of the UK's leading garden retailers as a plant buyer and strategic consultant. With more than 30 years experience, in horticulture, David is as passionate about plants now as he was when he bought his first plant at a village fete.