Hedgehogs are a gardener's best friend! They eat slugs and snails, keeping your plants and crops hole-free without the need for pesticides. But here's the bad news – population numbers declined by a third between 2003 and 2012. A big factor is the loss of their habitat.
So it's time for gardeners to step up and help our spiky friends.
There are plenty of ways to encouraging more hedgehogs to come into your garden and to help them out when they get there.
Why not provide a home for a hedgehog? When hedgehogs hibernate during the winter, they typically seek out secure places to hide, such as in amongst piles of logs.
They also love piles of leaf litter, which has the added advantage of housing slugs and other tasty grub for them to get their teeth into.
Hedgehogs may hibernate in rotting vegetation like a compost heap. This material offers a degree of insulation and the bacteria in it help to generate warmth during the colder months.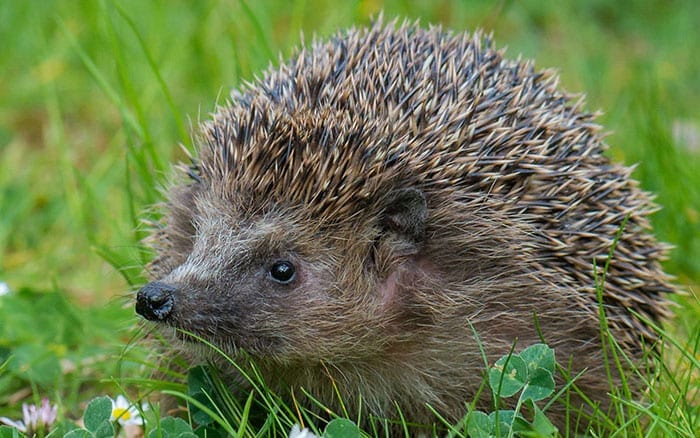 Create new habitats by leaving piles of leaves and other vegetation in secluded parts of the garden in autumn. Good spots include underneath hedges and by ponds or other water where they like to drink. You can also rest a board against a sheltered wall and fill the gap with dry leaves.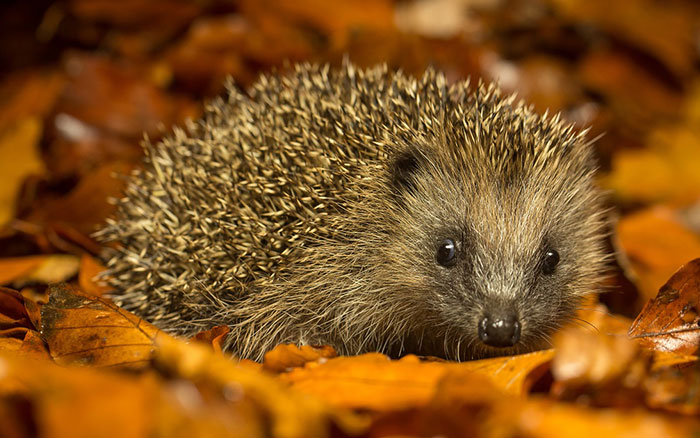 Make your garden safe all year-round too. Cover drains with a grate and put bricks in the pond around the water's edge to help hedgehogs get out, make sure any netting is kept out of harms way and check for hedgehogs sleeping in long grass before using strimmers or lawnmowers.
You can also make it easy for them to get in and out of your garden. Make gaps under hedges and fences so they can move freely around.
You can supplement a hedgehog's natural diet to give them a helping hand. This is doubly as important in autumn when they need to accumulate fat before they go into hibernation.
Try putting out a bowl of good quality cat or dog food, but make sure it doesn't contain any fish or comes in a gravy.
They also love minced meat and chopped boiled eggs. The best option is to buy specialist hedgehog food, which is available from garden retailers and pet shops.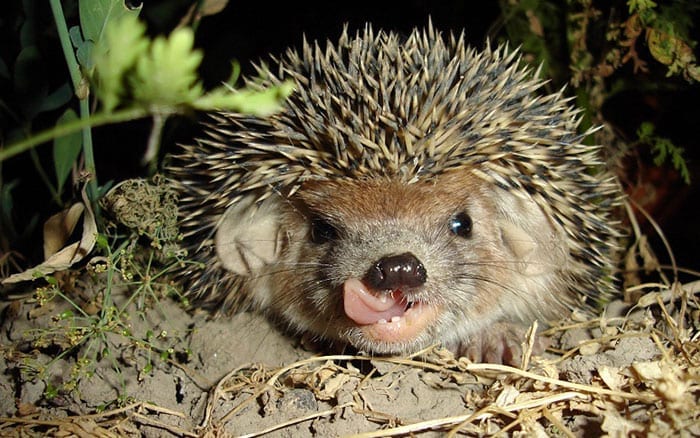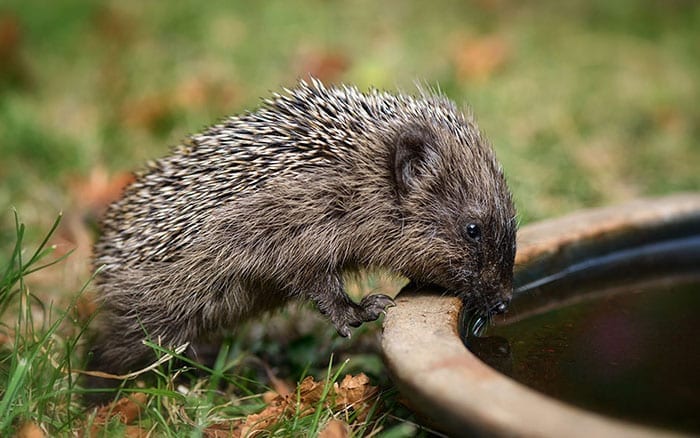 However, don't feed them milk. It can upset their stomachs, so stick to plain, fresh water. Put it in a shallow dish near the food.
Don't forget that this will only ever be supplemental: a hedgehog's natural diet consist of bugs, slugs, snails, beetles, caterpillars and earthworms. They have plenty of food to choose from in your garden and will continue to forage for themselves as well if you put out food for them.
This also means there is no need to worry that they will starve if you go on holiday!
What about Slugs and Snails?
Hedgehogs do eat slugs and snails, so it is best not to use slug pellets at all. Even if the hedgehogs don't eat the pellets directly, they may eat the poisoned slugs and absorb the fatal chemicals into their own bodies.

However, you can use beer traps in the ground to help keep slug numbers down. Once hedgehogs start visiting your garden, they will eat the slugs and reduce the need for traps.
Did you know as many as ten hedgehogs visit a garden in the night? It's not just one 'resident' hedgehog. Give them all a helping hand this year!
Explore my latest Sunday Mirror article on The Living Garden:
Or check out my Pinterest board for more ideas: