When your plants from summer and autumn have started to die off, your garden will lose lots of colour. The dark, cold months give plenty of opportunity however to create winter and Christmas containers that are full of life and colour.
Don't let the chillier months stop you from creating a beautiful display to cheer you up.
Some plants actually look better in the cold months and creating a fantastic winter display looks great on your porch, inside your house and in the back garden.
Here are my tips for creating a fantastic winter container that will look great nearly all the year through!
Pots
Your pot or container should be made from durable material like wood, earthenware or terracotta. This will mean that it will survive the many frosts, snow and cold weather without cracking.
Make sure your pots have a large drainage hole in the bottom and before filling with compost. I'd suggesting placing something in the bottom to stop the hole from getting clogged. Try using bits of broken pots or some stones.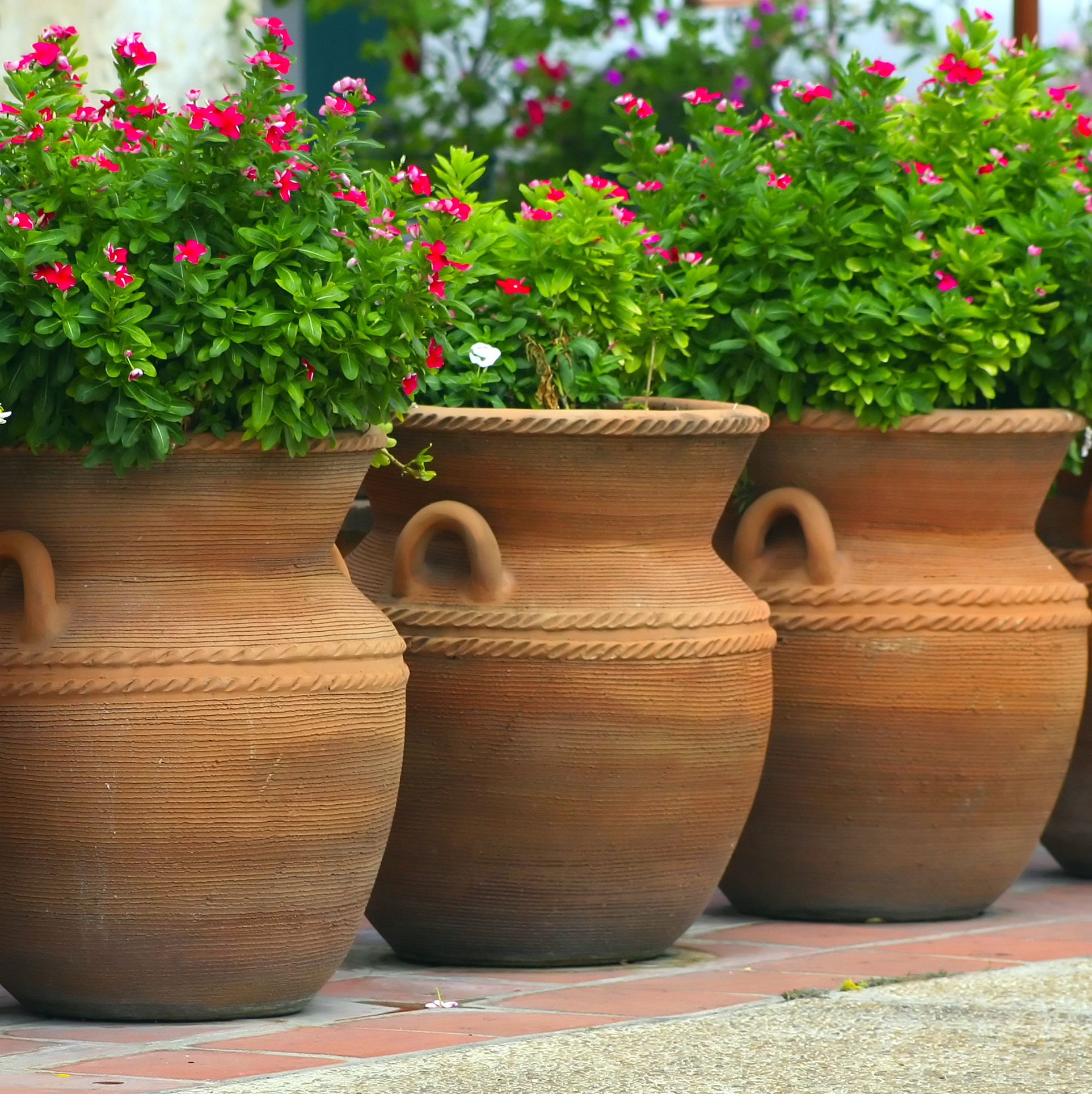 Soil
You want to choose a soil that won't get too waterlogged.  Use a good multipurpose compost from your local garden centre. 
Flowers

Suitable plants for winter containers are:
Winter bedding plants: Flowers such as cyclamen, winter flowering pansies, viola and primulas flower during winter months and give some great colour among the dull winter sky.
Evergreen shrubs and ferns: Viburnum tinus is great for some winter colour. The little flowers are very resilient in frosts and snow. Mahonia is another great shrub that produces some really bright, glorious flowers against the dark days. Try red buds of Skimmia rubella, variegated leaves of hebe or dwarf conifers.
Bulbs: Bulbs won't flower until the spring but are good to plant in your containers to give a bit of late colour varieties like tulips, snowdrops, daffodils, crocus, hyacinths will all give you a great display through spring.
Check out one of my favourite bulb planting techniques: layer planting and common spring-flowering bulb FAQs
Herbs: Herbs such as rosemary, mint and parsley are hardy plus sage, lavender enough to survive the cold weather and should still be good to crop. Just make sure you don't take too much too frequently as although they are likely to survive, are likely to grow very slowly.

Berrying plants: Plants such as pernettya, holly, gauctheria and skimmiawill give great colour in your containers thanks to their fantastic berries
When planting, make sure you plan it properly. You can place the plants around loosely before you plant them to establish the best layout. Try to stick with a large plant as a 'backbone' and then using smaller ones around or in front of the large one.
Add some festive flair

You can make your container or pot Christmassy by adding a few embellishments! Pick up some colourful branches and berries in local garden centres, flower shops and supermarkets.
These can be bought in Christmas colours and themes, or you could make your own using tinsel and decorations. Why not collect some twigs and spray them white, silver, gold or red to add some baubles / tinsel for Christmas cheer.
So, don't give up on your garden this winter and try to create a fantastic winter or Christmas container that will stand out and complement your decorations.

David Domoney is a Chartered Horticulturalist, Broadcaster, and Author. David has worked with a number of the UK's leading garden retailers as a plant buyer and strategic consultant. With more than 30 years experience, in horticulture, David is as passionate about plants now as he was when he bought his first plant at a village fete.