As summer turns to autumn, many plants begin to fade.
But that doesn't mean your garden is finished until spring – there is a host of plants that keep giving through autumn and into winter. Deciduous trees come into their own as their leaves change colour. A particular favourite of mine is the Japanese maple, which undergoes breathtaking colour changes. And the leaves of flowering cherry trees change to gold and fiery red before they fall. Meanwhile, evergreen trees such as conifers become stronger and change colour.
Shrub up well
Autumn is also a good time for shrubs because they offer up extra interest – berries. Firethorn and the snowberry – symphoricarpos – are great varieties. Cotoneaster is equally popular with wild birds, who gorge on its tasty treats. Brighten up beds and borders with plants that flower late or keep flowering for long periods of time. The yellow daisy flowers of rudbeckia make a striking addition to beds, especially contrasted with delicate Verbena bonariensis.
David's Top Tip

The common poppy makes a brilliant self-seeding plant, providing larger spaces with low-maintenance cover.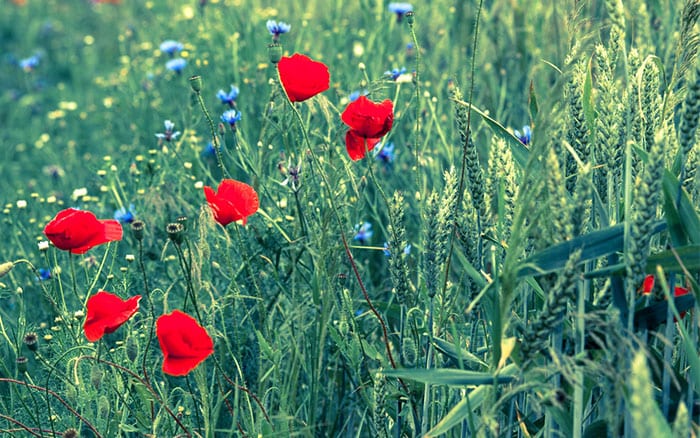 Mum's the word
Chrysanthemums and asters also continue flowering well into autumn, as long as you keep deadheading them. Heleniums and kniphofia (red hot pokers) are great for adding colour to tired borders. Put life back into your containers as they fade away with ivy, heather, polyanthus and winter-flowering pansies and primulas.
Add height, movement and texture with ornamental grasses. Their fluffy seed heads liven up borders and create a great backdrop for other plants. Two great choices include Miscanthus sinensis and Calamagrostis brachytricha. And, finally, fruit trees look their best in autumn, groaning with delicious harvest produce. Add some extra autumnal colour with Physalis alkekengi – the Chinese lantern. The papery red fruit covers have loads of character. Plus they have a touch of Halloween spookiness about them.