As summer turns to autumn, many plants begin to fade – but there's still a whole host of plants that will give autumn colour.
Autumn is a wonderful time for shrubs too because they offer up something a bit special for extra interest – berries. Symphoricarpos (snowberry) and firethorn are both great varieties. Cotoneaster is equally popular with birds such as blackbirds, thrushes, and waxwings, who will come to feast on the treats.
In addition, you can brighten up beds and borders with plants that flower late in the season or repeat flower for longer periods of time. The vibrant, daisy-like flowers of Rudbeckia make a striking addition to beds, especially when contrasted with the small clusters of flowers of Verbena bonariensis (purple top).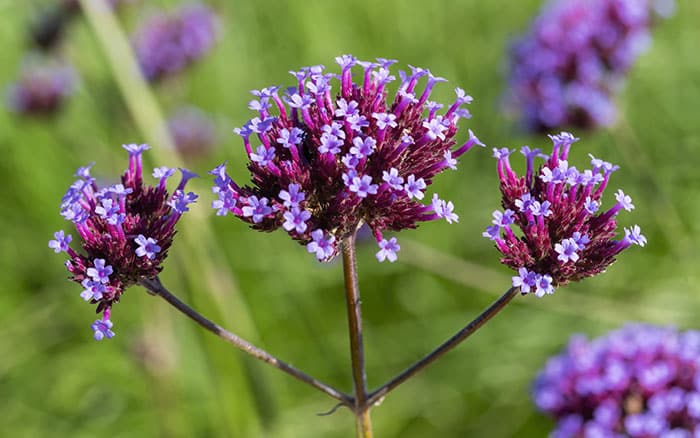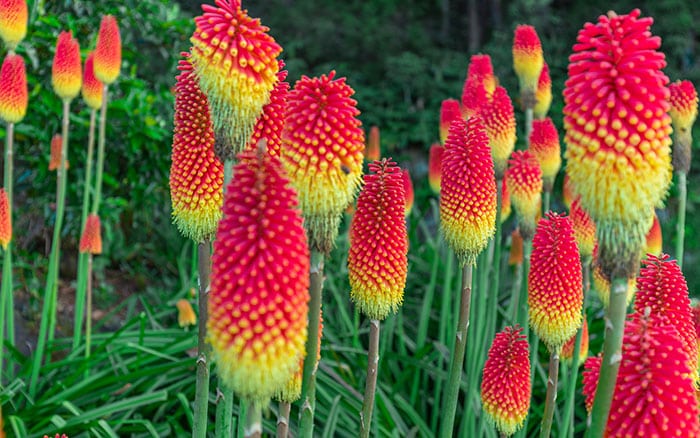 Chrysanthemums and asters also continue flowering well into autumn and keeping on top of deadheading any spent flowers will keep them blooming. In addition, heleniums and Kniphofia (red-hot poker) will are some fiery, exotic colour to any tired looking borders.
The rounded spikes of Kniphofia rooperi (Rooper's red-hot poker) fade from red to yellow on top of tall stems, bringing dramatic colour and height to the border.
Next, to bring some cheer to your autumn containers, use evergreen heathers that are low-maintenance. They will also be a great plant for pollinators in the cooler months. 'Alicia' is a wonderful heather with long-lasting white flowers in summer and autumn.
Winter-flowering pansies and primulas will also add some colour to your garden. So, they'll look great whether you are plugging gaps in your borders or adding hanging baskets and containers to your patio area.
Add height, movement, and texture with ornamental grasses. Their fluffy seed heads liven up borders and create a great backdrop for other plants.
Two great choices are Miscanthus sinensis and Calamagrostis brachytricha (Korean feather reed grass). Their rustling will create a wonderful soundtrack in your garden to help you relax.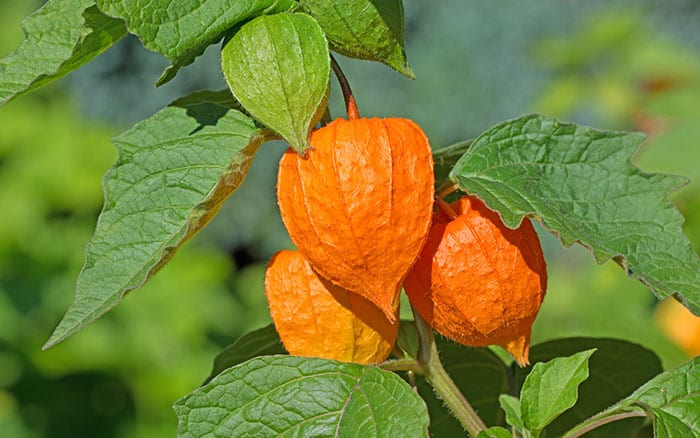 Deciduous trees come into their own as their leaves change colour. A favourite of mine is the Japanese maple, which breath-taking colour changes are a must have for any size garden. The leaves of flowering cherry trees change to gold and fiery red before they fall.
Amelanchier lamarckii (snowy mespilus) provides on all fronts with green foliage in summer that turns orange and red in autumn. White flowers bloom in spring, followed by purple-black berries. Their autumn colour has a touch of Halloween spookiness about it.
For some real spectacular Halloween interest, Physalis alkekengi (Chinese lantern) have papery-textured red fruit covers. These are inflated and lantern-like because they shield the red berries.
The cooler months don't mean your garden needs to be barren and empty until next spring, instead make the most of flowers, fruit and foliage that will bring interest to your garden – as well as wildlife as the bees and birds will love them too.

David Domoney is a Chartered Horticulturalist, Broadcaster, and Author. David has worked with a number of the UK's leading garden retailers as a plant buyer and strategic consultant. With more than 30 years experience, in horticulture, David is as passionate about plants now as he was when he bought his first plant at a village fete.