QI want to build a sensory garden – can you give me any advice on designing and creating one for a school? It needs to be a quiet, calming place for students to relax and work.
Kirsty
ASensory gardens are a great idea. The best way to design one is to add elements for the different senses.
Scented plants are a must, and climbers are good too as they surround people with flowers and scents. Jasmine and honeysuckle are great for this.
You can also try tough herbs like lavender, thyme and rosemary. If you plant mint, keep it in containers – it runs wild if planted in the ground.
Next add in plants with texture and foliage. Anything with rich leaves works – just head to your garden centre and stand plants next to each other to check they work together. One of my favourites is lamb's ears, which has soft fluffy leaves.
You can also try succulents and alpines in paving cracks, grasses in among wildflowers – whatever you like! I have written about great foliage plants, as well as choosing the best varieties from Chelsea Flower Show and Hampton Court.
If you have a large area, a tight budget, or even just a bed you want to fill with flowers quickly, I would recommend a wildflower mix. This will give you a great range of pretty flowers in just a few months.
Make sure you create lots of seating areas for people to enjoy the garden. This doesn't have to be furniture – if you have raised beds or water features, make sure they have walls or edges that people can sit on. If you have the space for a lawn, it's really the most cost-effective seating area!
If the garden space is quite small, see my top tips for small garden design.
Water features are very calming, and they attract wildlife, which is a good bonus. If you don't have room for a fountain, try rain chains and bird baths.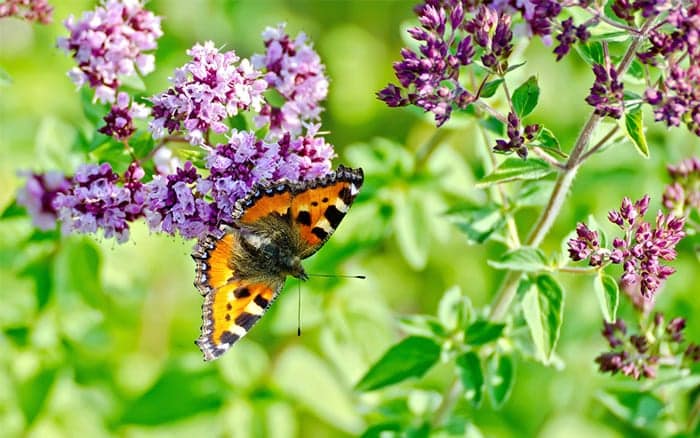 You can also attract wildlife like birds, bees and insects to make the garden more sensory with buzzing and animal activity. You can make cheap DIY butterfly feeders, plant varieties that birds love to eat and lay out fresh water to attract pondlife like frogs and pondskaters!
With school gardens, students get the most out of them when they are allowed to help create the garden, from choosing plants and features to building, planting, watering and weeding. Good luck!