Design a sensory garden to satisfy all the senses. By utilising plants along with other elements and features, your garden will be bustling with sights, smells, sounds, textures, and tastes that will relax, calm, invigorate or excite you.
Not only that, but they are a great opportunity for kids to get into the garden and explore the different elements that they can interact with, helping them to connect with nature from an early age.
A pop of colour in your garden can work wonders to stimulate your brain and make you feel happy.
Fresh and fun coloured flowers like Kniphofia (red-hot pokers) will add some fiery, exotic colour to your border. When grown in a sunny spot they will flower from spring to autumn. They also work well in containers, in a well-drained soil.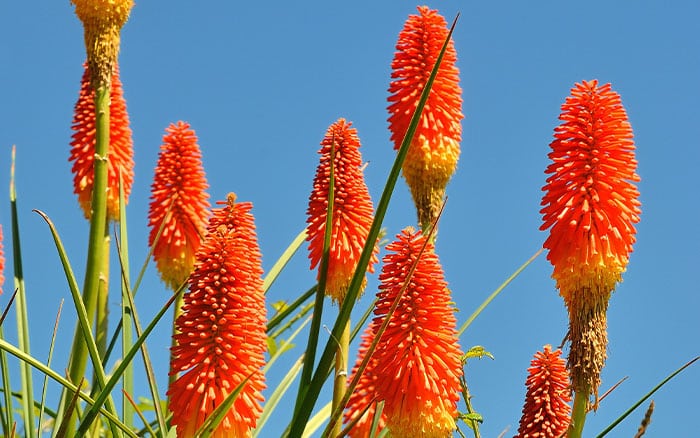 Dahlia 'Franz Kafka' will add some playful pink to the garden with their large pom-pom shaped flowers. Once planted in a sunny but sheltered spot they can grow up to 1 metre tall.
Although, it's not just about the flowers, there's some fantastic foliage that can pique your curiosity in a sensory garden. For example, Begonia 'Silver Spirit' is evergreen, so your garden will benefit from its beauty all year round. In addition, the large leaves are pattered with silver, pink, purple and red colouring.
The enchanting colours will bring to life your patio space when planted into a container for you to sit and admire.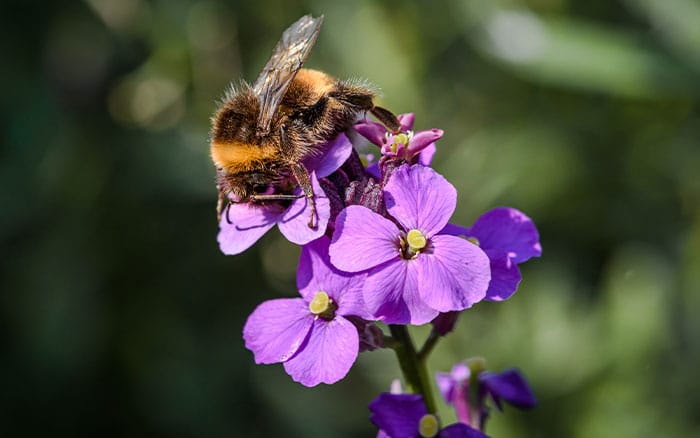 Imagine sitting, hearing the soothing trickling of water flowing gracefully from a water feature. Water features are the perfect soundtrack when relaxing in the garden, and when placed near a social or seating, area you can marvel at the reflection of the water and let it relax you.
Meanwhile, the bees are buzzing around your garden, visiting their favourite plants. For instance, Erysimum cheiri (common wallflower), which are beautiful shrubs, and many of them have sweet scents that you can enjoy whilst listening to the bees pollinating.
Hang up a bird feeder or make your own fat-balls to encourage birds into your garden. Then, the charming sound of birdsong can be another piece in your garden soundtrack. Bird boxes and bird baths will also invite them in, so they have a place to bathe, drink and shelter.
Growing plants to eat in your garden doesn't mean you have to have a huge veg patch. Instead, position a window box full of herbs at the perfect height to be picked and used in your delicious dishes.
Lavender, rosemary, thyme, chives, oregano, and sage will be useful in the kitchen, and whilst they're growing, they'll also produce a heavenly aroma.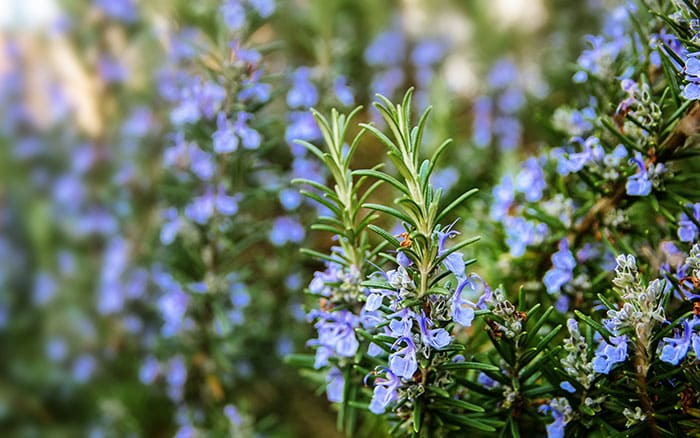 What's more, there are even flowers that you can eat! Tropaeolum majus (garden nasturtium) will provide a spectacle for your eyes with their yellow-orange and red hues that grow in a well-drained, sunny spot where they can trail and climb.
They will also surprise you when you eat the flowers and leaves which have a peppery flavour, making them a beautiful addition to your salads. Not only that but they are also high in vitamin C, iron, manganese and calcium.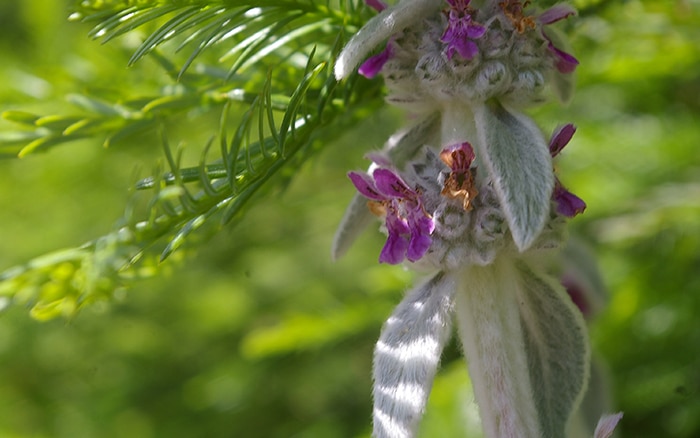 Interacting and connecting with plants is a great way to experience wonder and the magic of nature. Spiky, soft, hairy, or rough, there are so many textures in the garden that will appeal to little hands.
Stachys byzantina (lamb's ear) is always a great option, named due to the shape of the leaves which resemble the ear of a lamb. The soft leaves have a white woolly effect to them, making them soft to the touch.
Bergenia cordifolia (elephant's ears) 'Purpurea' get their common name from their huge leaves that are rounded and resemble the ears of the huge mammal. With purple-red foliage and the leathery look of the leaves, it'll thrive as a ground cover plant in your sensory garden.
Similarly, Salvia argentea (silver sage) has silver-white woolly stems and leaves. These are joined by white flowers in the summer when grown in a sunny, South-facing spot. Perfect for pollinators, you'll have some flying friends come to visit this one too.
Fragrance has the power to unlock memories and make us feel happy, adding a new dimension to the garden. Scented flowers or foliage are great ways of adding more interest to your space. Also, if you have a sheltered or smaller garden, the fragrances will stay in your concentrated space.
Firstly, chocolate cosmos really do smell like chocolate. These perennials with reddish, maroon coloured flowers will bring deep colour and a scent that will make your garden smell like a chocolate factory.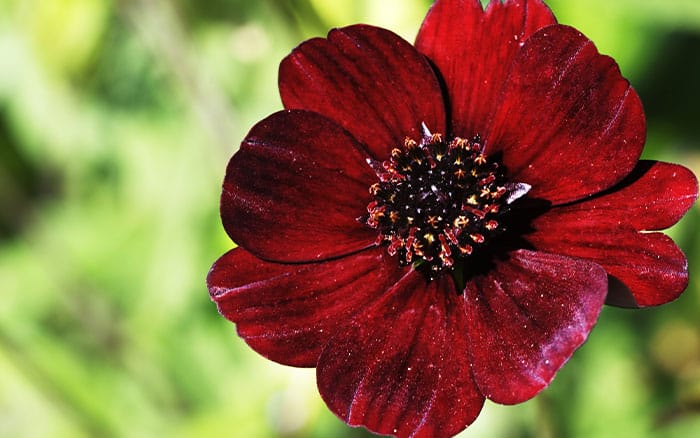 For some more interesting scents, try Helichrysum italicum which is also known as the curry plant. The silver-grey leaves of this bushy evergreen smell like curry, as their name suggests. Make it fun and collect some leaves from this plant alongside some herbs like chocolate mint, lemon mint, lavender and rosemary. Then see if the kids can guess which is which.
In no time, your garden will be a sensation with sights, sounds, smells, textures, and tastes that will interest you and the kids. They're also a great way to make your garden a relaxing haven where you can enjoy the power of nature and let it satisfy your senses.