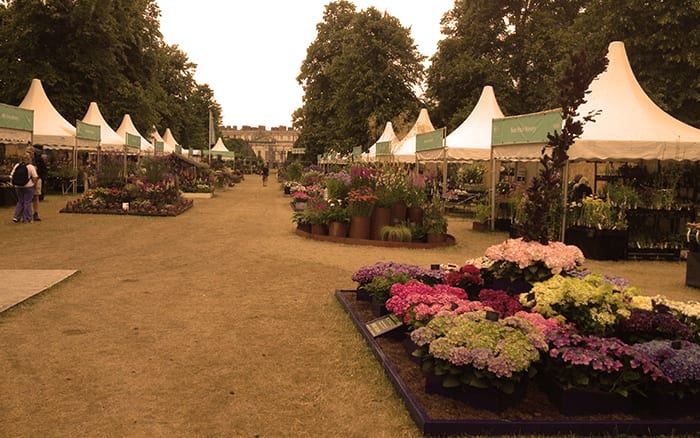 Garden shows are not only a great day out, they're a superb opportunity to glean some expert advice to put to use in your own garden.
Here are some handy tips that veteran show visitors use to get the most out of their day.

Research
Check out the show's website for information on what's going on at the show.
Print off a map of the site and mark the places you want to visit. This allows you to bypass all of that wasted time on the day talking about 'what are we going to do next?'
Also, talk to friends who have been to the show, and take advantage of any tips they may have on what's good, where to park, timings and so on.
 Energy
Take breaks and keep food in your system for energy. Stop for a morning cuppa, a good lunch and an afternoon break too.
It's also good to carry a couple of energy or cereal bars for a quick fix.
 Try before you buy
Many of the food stands will be happy to let you sample goods such as cheeses and honeys before you buy them. Again, don't be afraid to ask before parting with your precious pounds.
 Arrive early

Get in when the show opens and you will be able to see a lot of the features before the crowds pour in.
It's also a good idea to have lunch early. If you can eat around 12:00 the food vendors will be quiet, the food will be fresh, and the best seats will be available. Then, when you're finished you can enjoy the trade stands while the crowds are thinning out for their own lunches.
 Use the facilities
At many flower shows there are porters – young guys and gals with wheel barrows that will be happy to help you get your purchases back to your car. Take advantage of it.
Some shows also have plant crèches where you can leave your plants so that you're not lugging them around all day.
Negotiate

If you're buying more than one plant, see if you can get a discount! There's no harm in asking.
On the last day they are very eager to sell. And the later in the day, the better the discount!
Be practical
Comfort is key on a long day out, so dress to chill, not to kill. Check the weather report and be prepared for the temperature and any possible rain.
If the forecast is for scattered showers but it's dry when you arrive, go to the outdoor features first and save the marquees for later when it might be wet.
A wheeled shopping bag can also be helpful.
Hydrate

Stay hydrated – it helps avoid the afternoon slump. Be sure you have bottled water, and maybe an energy drink like Lucozade to perk you up.
 Take along photos of your garden
There's always lots of very clever experts at flower shows that can help you with your own gardening conundrums, so take along some pictures of anything you might want help with.
It can also help to have a visual reference when selecting plants to buy.
 Entertainment

There are often fantastic celebrity talks and entertainment at flower shows. Plan for it, and arrive early enough to get a good seat, grab a coffee and enjoy it.
It's good to break up your day and have a rest from walking and shopping at least every two hours. If you plan for it you can use the entertainment as a break to keep yourself from getting worn out.
So there you go! Put these tips into action and I promise you will get the absolute most out of your day at any flower show.
David Domoney is a Chartered Horticulturalist, Broadcaster, and Author. David has worked with a number of the UK's leading garden retailers as a plant buyer and strategic consultant. With more than 30 years experience, in horticulture, David is as passionate about plants now as he was when he bought his first plant at a village fete.