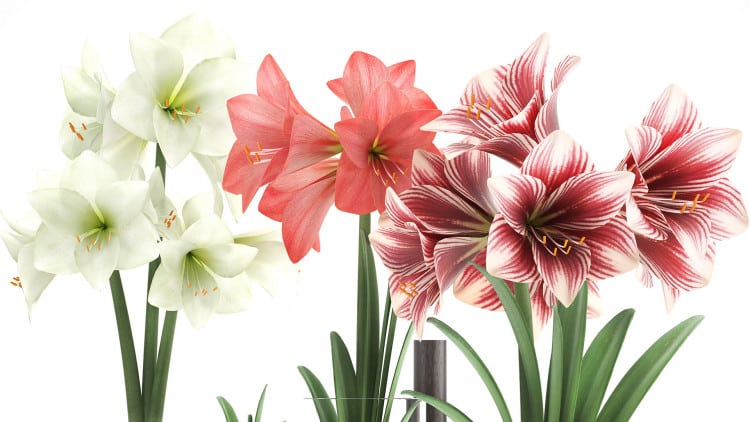 Amaryllis is a striking indoor plant that's surpisingly easy to grow. Light up your home with its stunning trumpet-like blooms, strappy leaves and delicate fragrance.
The plant has tall flower spires, reaching 30cm to even 60cm for some varieties, and the flower heads are large and dramatic. They add a touch of style to any room in the home and make ideal plants to try if you've never grown bulbs before – just plant it in the container and add water.
The Latin name for amaryllis is hippeastrum, which means knight's star lily, and the plants originate in central and southern America.
Amaryllis bulbs make a spectacular houseplant and are great to give as a gift. They are also ideal bulbs for kids because they are so easy to grow. You just need some soil and water, a bright windowsill and a little patience!
Amaryllis flowers come in a range of colours, but I've three of the best are the pure white Christmas Gift, the rich ruby Red Lion and the elegant pink and white stripes of Wonderland.
When to plant amaryllis
Plant it in October for early flowers in time for Christmas, with stylish flowers in rich colours. It makes the perfect living Christmas decoration.
Or plant it later on in the year and fill your home with colour during the dark winter months in early spring.
How to plant amaryllis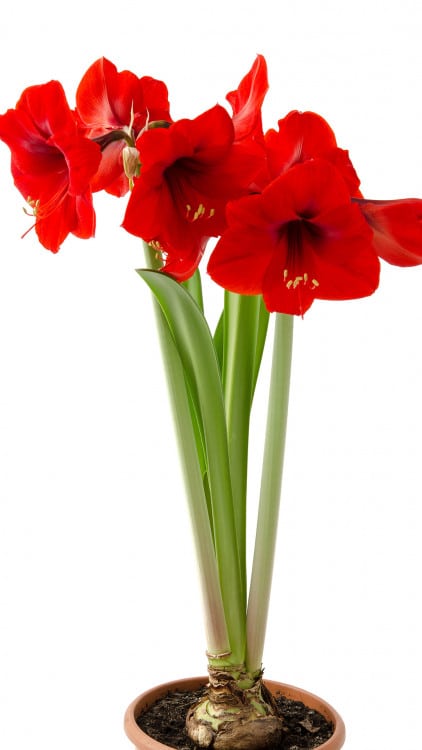 The trick to successful growing is to plant the amaryllis in a container that is only slightly larger than the width of the bulb. Leave the top third of the bulb sitting above the soil level when you plant it.
Place the pot in a brightly lit spot on a windowsill and water sparingly until it shoots. Then increase the watering to keep the soil moist. Be sure to turn the pot regularly too – amaryllis grows towards the light and turning the pot will keep the stem straight.
Amaryllis should flower six to eight weeks from planting and the flowers will last for ages. To help the blooms stay fresh, move the pot to a slightly cooler but still bright spot once it starts to flower.
Amaryllis bulbs flower naturally in spring, but as houseplants they are often planted early to force flowers in time for Christmas. Simply plant the bulb in October, six to eight weeks before Christmas to make sure the plant is in flower for the big day.
How to care for amaryllis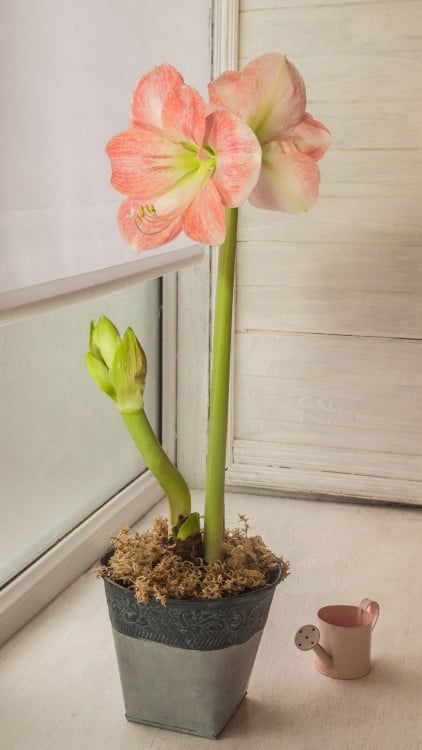 With proper care, an amaryllis bulb can go on producing spectacular flowers years after year. All you need to do is feed the bulb with a balanced liquid fertiliser as it is growing and flowering. This replenishes the energy stored in the bulb, so it can flower again the next year.
Once the bulb has finished flowering and begins to dieback, cut off all the spent flowers and continue watering and fertilising. In summer the leaves will go brown – then you should stop watering and cut back the foliage. Get a free guide to growing bulbs here.
Simply begin watering again in spring to wake the bulb up. However, don't try and force the same bulb to flower early more than once every three years. Forcing weakens the bulb and it should be allowed to return to a normal cycle afterwards.
Amaryllis is the perfect plant to try if you've never grown bulbs or houseplants before because it's so easy. Give it a go in your home this year.
Amaryllis bulb kits also make a thoughtful gift idea for your loved ones and they suit all ages, from children to grandparents, as well as keen gardeners or even complete novices.