Echinops is also known as globe thistle, and you can see why with their spherical flower heads that bloom on upright stems. Within the Echinops genus there are arounds 120 species, and you can grow many of them in your garden. Here are my top tips to grow globe thistles…
Native to the Mediterranean, they are well-prepared to grow in a sunny spot with well-drained soil. This makes them suited for gravel gardens as well as wildlife gardens because the flowers are attractive to pollinators such as bees.
Sow echinops seeds in spring, from March to April. This can be done in the spot where you intend them to grow, or in small pots to plant out after in May to June. Then, they will flower in July to August. Although the flowers are the stars of the show, the spiny foliage provides interest from spring before the blooms appear in summer.
When the flowers bloom, the rounded flowerheads can look spikey, however once the flowers open up, the texture softens, having a lovely impact in the garden.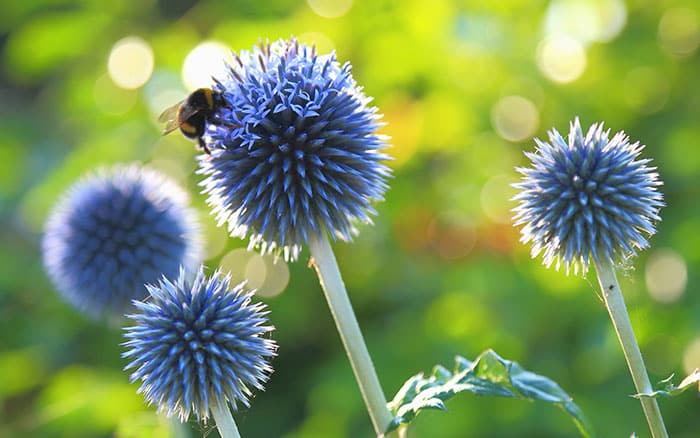 If you want to increase your stock of perennials in the garden, echinops are a fantastic choice as they will self-seed and you can collect seeds in autumn to plant up more.
If you'd rather collect seeds than leaving them to self-seed, collect them when the petals have been replaced by the silvery seeds. Snip off the flower head in autumn and remove the seeds, placing them in a paper bag and storing in a cool, dry place until the following spring.
Relatively low maintenance, echinops will just need cutting back once flowering has finished. Sometimes this can lead to another burst of flowers.
Keep them growing happy by staking taller varieties because the long, upright stems could become weakened, especially if they are planted in a windy location.

'Veitch's Blue'
This small globe thistle is a popular choice for good reason. Not only do they look stunning when the flowers open, but they will attract masses of insects too. Growing up to 90cm tall, they look great at the back of a border, especially mixed among other soft textured plants such as ornamental grasses.
Flowers in summer
Fully hardy
Grows up to 90cm tall
Full sun
Sheltered or exposed

'Taplow Blue'
Taller than 'Veitch's Blue', this variety grows up to 1.8m tall so will be an eye-catching addition to the back of a perennial border. When it towers over the other flowers, you'll clearly be able to spot the pollinators paying it a visit.
Flowers in summer
Fully hardy
Grows up to 1.8m tall
Full sun
Poor or well-drained soil
Sheltered or exposed

Echinops sphaerocephalus (glandular globe thistle)
This fast-growing species has silvery-grey flowers through summer that add a shine to borders in the sun. Perfect for coastal gardens, these plants are tolerant of many soil types and positions apart from full shade. They are a great addition to architectural gardens with their height and upright growth.
Flowers in summer
Fully hardy
Grows up to 2.5m tall
Full sun
Well-drained soil
Sheltered or exposed

The rounded flowerheads of echinops or globe thistles are bound to add height and texture to your borders. Whether you have a dedicated wildlife garden or are hoping to attract pollinators to your space, these are sure to come in handy.

David Domoney is a Chartered Horticulturalist, Broadcaster, and Author. David has worked with a number of the UK's leading garden retailers as a plant buyer and strategic consultant. With more than 30 years experience, in horticulture, David is as passionate about plants now as he was when he bought his first plant at a village fete.