Sambucus or elder, are shrubs or trees that are easy to grow, bringing colour to the garden with their foliage and flowerheads. They have added interest with the berries that grow in autumn. Find out more about growing elder in your garden here…
The name 'elder' doesn't derive from the English for old, but the Anglo-Saxon word 'æld' which means 'fire'. This is because the branches have hollow stems that were historically used as bellows to blow air into a fire to produce heat.
One of the myths surrounding elder is that if you burned elder wood then you would see the Devil. On the other hand, planting elder near your home would help to keep the Devil away.
In addition to other symbols, the elder wand (made of elder wood) was one of the most magical objects in the Wizarding World of Harry Potter. One of the three components of the Deathly Hallows.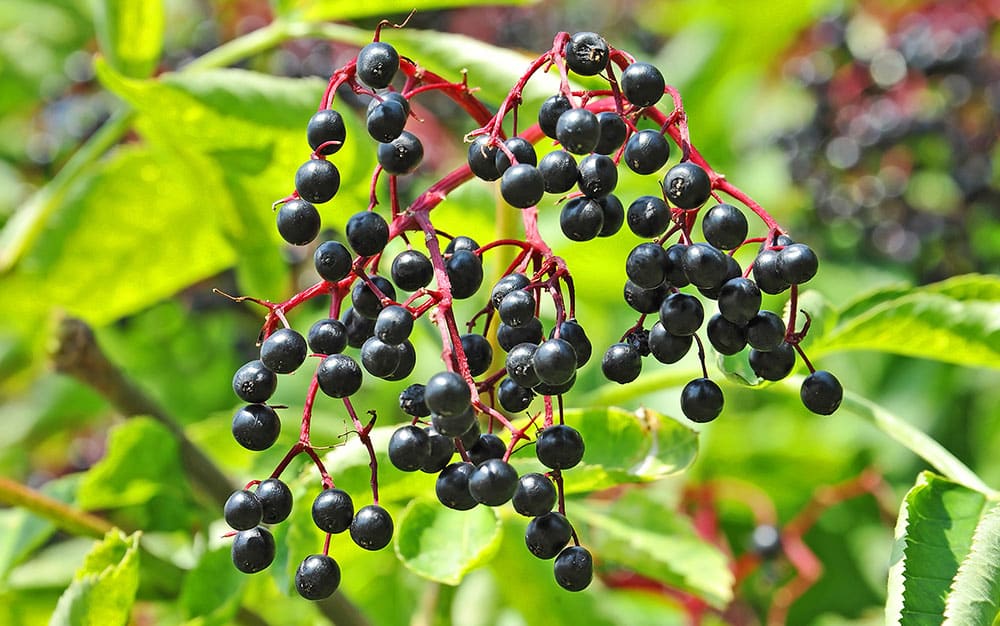 Young plants are best planted in autumn, and bare-root plants can be planted any time between September and March, if the ground isn't frozen.
Not fussy with the amount of sunlight, they can grow in full sun, partial shade, or full shade. Keep it growing its best by mulching every year with well-rotted organic matter or leaf mould made from fallen autumn leaves.
When growing elder, pruning it every year in spring will help the shrub to stay in good shape. It's ideal to cut back some stems down to the stump because new growth results in more of a show in colour and size.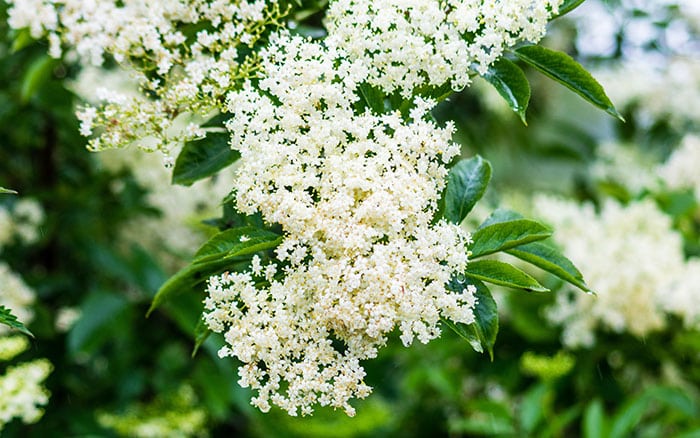 Elder flowers blooms on large umbels, cream in colour with a strong fragrance. The flowers are used to make wine, syrups, gin, cordial, and tea.
Then, after the flowers have been pollinated, they develop into dark purple berries from summer into autumn. The berries are valuable to wildlife as they are enjoyed by birds and mammals including dormice and voles.
When the berries are cooked, they are suitable for human consumption, however uncooked berries and other parts of the plant are poisonous. The berries are rich in vitamin C and can be used to make wines and preserves.
Extracts of both the flowers and the fruits are used in cold and flu treatments and has been used by native people and herbalists for a long time.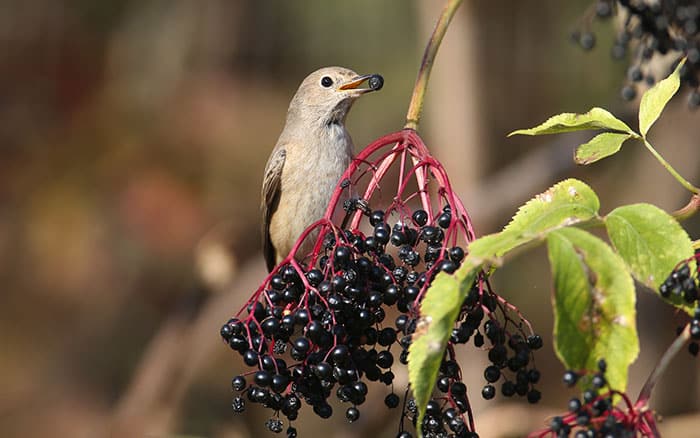 Sambucus nigra (elder) 'Black Lace'
The dark foliage of this variety brings drama and depth to the display, especially when contrasted with the dainty pink flowers that loom in late spring. In autumn, the foliage turns red and for the best leaf colour, prune the plants back to ground level.
Flowers in spring
Hardy
Grows up to 6m tall
Moist but well-drained or well-drained soil
Full sun
Exposed or sheltered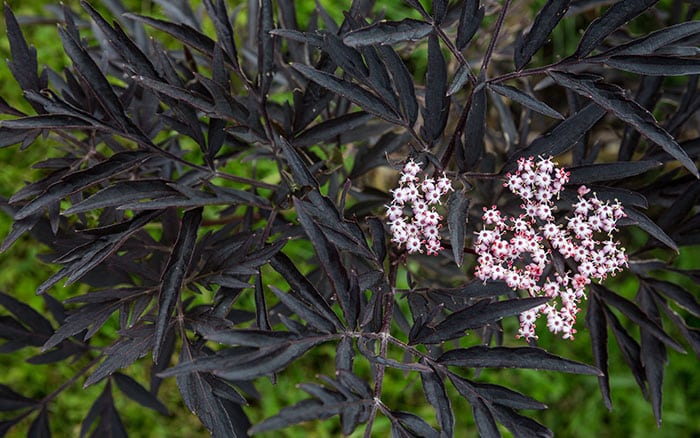 Sambucus nigra f. porphyrophylla (elder) 'Guincho Purple'
Next is another dark foliage variety that can either be a large shrub or small tree, perfect for cottage and coastal gardens. The pink flowers bloom on dark pink stems, for a lovely lacy effect.
Flowers in summer
Fully hardy
Grows up to 8m tall
Moist but well-drained or well-drained soil
Full sun or partial shade
Exposed or sheltered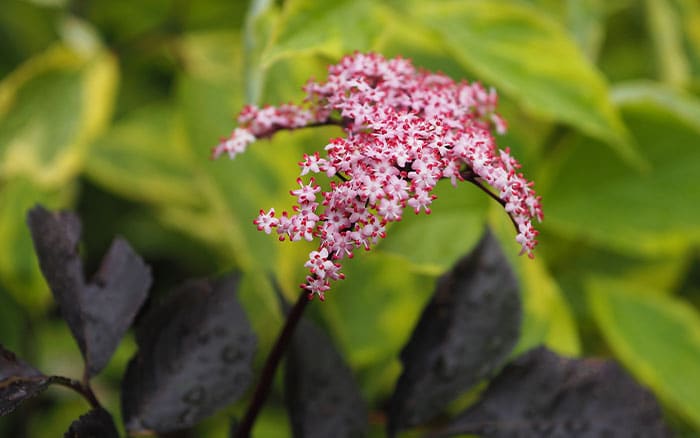 Sambucus racemosa (European red elder) 'Sutherland Gold'
This medium shrub is known for its bright foliage that is golden-yellow in colour. The creamy-white flowers are followed by glossy red berries, a popular snack for birds. Their height makes them a great option for hedging and screens.
Flowers in spring
Fully hardy
Grows up to 4m tall
Moist but well-drained or well-drained soil
Full sun or partial shade
Sheltered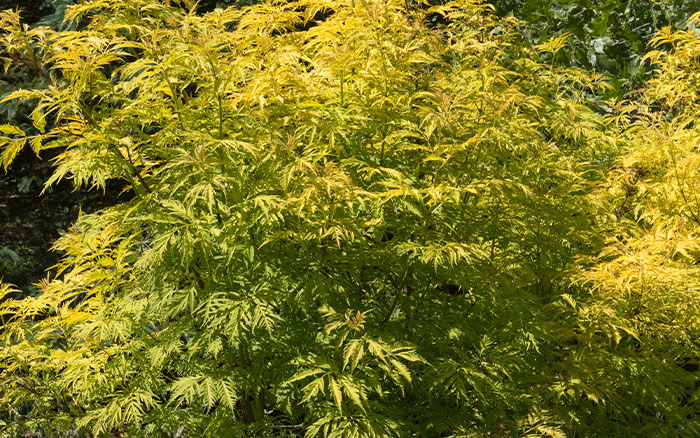 Elder shrubs and trees have a lot to offer with their foliage, flowers and fruits. Not only are they a great addition for us, but they have plenty for wildlife. Using these tips, you can grow your own elder in the garden.

David Domoney is a Chartered Horticulturalist, Broadcaster, and Author. David has worked with a number of the UK's leading garden retailers as a plant buyer and strategic consultant. With more than 30 years experience, in horticulture, David is as passionate about plants now as he was when he bought his first plant at a village fete.