Erysimum or wallflowers are popular spring plants with vibrant flowers that can be found in a range of colours. From early spring, wallflowers will put on a show, and look great when combined with bright spring bulbs. Here's how to grow Erysimum in your garden…
The name Erysimum comes from the Greek word Eryomai which means 'to help' or 'save' because some of the plants are said to have medicinal qualities.
In fact, in traditional medicine the anti-inflammatory compounds in Erysimum have been used to combat inflamed vocal chords.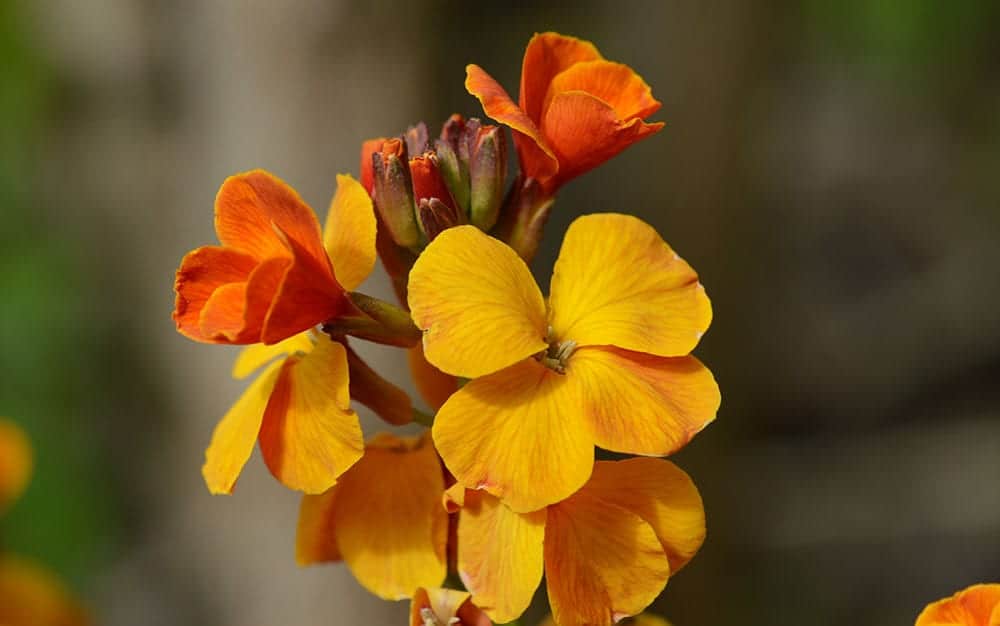 Though there are perennial wallflowers, many are biennial, meaning they have a two year life cycle, flowering in the second year.
When planting, choose a spot that is in full sun or partial shade with moist but well-drained soil. Add some horticultural grit to the planting hole which will improve drainage further.
In the right spot, sow perennial seeds from Feb to March, to plant out from May. If you are growing biennials, sow seeds in late spring, ready to be planted out in autumn.
They look fantastic when paired with spring bulbs such as tulips and daffodils, or at the front of a vibrant border.
To keep wallflowers growing their best, cut back and prune occasionally, which will also encourage further growth and flowering. Once flowers begin to fade, trim the stems slightly.
'Bowles's Mauve'
This perennial wallflower is a great addition to any sized garden with the flowers that bloom pretty much all year round. Whilst you enjoy the beauty of the blooms, pollinators will enjoy the nectar because they are a great source of food.
Flowers from winter to summer
Hardy but may need some winter protection
Grows up to 75cm tall
Well-drained soil
Full sun
Exposed or sheltered

'Fire King'
As the name suggests, this wallflower has fiery red flowers from spring. Though it is an evergreen perennial, this variety is typically grown as a biennial. Planted among red and orange tulips, this vibrant wallflower will add to the stunning display.
Flowers in spring
Fully hardy
Grows up to 30cm tall
Well-drained soil
Full sun
Exposed or sheltered

'Sugar Rush Yellow'
Bringing radiance and cheer to a gloomy day from autumn until spring, they also have a fantastic fragrance to offer. The flowers are attractive to pollinators too, so they are an all-round win.
Flowers from autumn
Fully hardy
Grows up to 30cm tall
Well-drained soil
Full sun or partial shade
Exposed or sheltered

Erysimum or wallflowers have so much to offer, with their sweet smell and vibrant coloured flowers that pollinators can also enjoy. With different flowering times and durations, you can have wallflowers flowering all year round in your beds, borders, and containers.