There are a couple of different ways to grow your own prairie garden. Find out the best practice and techniques for establishing a prairie garden from already developed plants.
Should you use established plants for your prairie garden?
Using established plants is ideal if you have a smaller space to work with, as you can ensure each plant has got its own space to grow. They are also more resistant to pests and it's easier to identify any unwanted weeds growing in the space.
However, they need quite a lot of management when planting at this stage to ensure that the plants establish. Also, make sure that you check the requirements of your individual plants to guarantee that they will settle in well.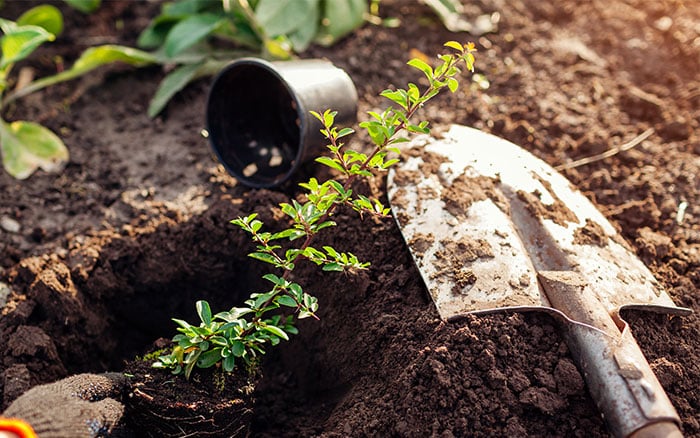 Creating your prairie garden
Preparing the ground
Firstly, it's vital to make sure that the ground is free of weeds which could disrupt the growth of the grasses and perennials that you're planting.
Then you need to rotovate the soil. So, break it up as much as you can, and add a decent layer of up to 10cm of well-rotted garden compost or manure.
Finally, you need to know what you are planning to plant and where. If you have planned your plants according to their growing requirements, this will be easier for you. Plan your garden in layers, to ensure that there is always something of interest throughout the year.
Use a variety of species and cultivars to make your prairie garden look as natural as possible. Ensure that you have a variety of flower shapes and times so that your prairie garden has a consistent colour. And make use of backlighting, to highlight the taller 'see-through' grasses you may have towards the back of your garden.
This is a planting technique for prairie gardens from the mind of Piet Oudolf, who suggested planting your grasses and perennials according to their visual impact.
This process is based on a matrix of species, planted in large numbers to create a background. This area of the prairie garden is typically made up of grasses.
Among this matrix, 'primary' flowering plants will be introduced. These will draw interest through colour and mixing up the structure of the prairie garden.
After planning and planting these grasses and primary flowers, you can then add 'scatter plants'. These are technically the 'secondary' flowering plants, that complement the primary flowers already planted.


Aftercare
To ensure your plants establish well, apply mulch of nearly 10cm including bark, gravel, or wood chips.
Make sure your plants are watered regularly, at least two times a week. This is especially important in the first few weeks of the growing season.
Make sure to keep the garden weed-free, so regularly check in with your garden to make sure that the weeds don't establish before they seed.
To learn more about prairie gardens and how to grow your own at home, see the blogs below.
David Domoney is a Chartered Horticulturalist, Broadcaster, and Author. David has worked with a number of the UK's leading garden retailers as a plant buyer and strategic consultant. With more than 30 years experience, in horticulture, David is as passionate about plants now as he was when he bought his first plant at a village fete.