If you've been somewhere hot and want a reminder of your holiday, try out a palm tree for size. The Chusan palm (Trachycarpus fortunei) is a lovely thick, hairy-trunked palm with beautiful fan-shaped green leaves. It will tolerate British winters, though if you live in a particularly exposed area you might like to give it some protection.
Another favourite is the Torquay palm (Cordyline australis). This has a great long trunk and at the top of it are fine fronds of foliage. Both these palms will survive and thrive in the UK providing we don't get extremely cold temperatures over the winter. Introducing a palm into the garden adds beautiful architectural shapes. And it couldn't be easier because they are relatively straightforward to plant. Cordylines are easier to grow than trachycarpus so they tend to be cheaper to buy. You can expect a variety of colours to add to the textures – cordyline comes in gold and purple.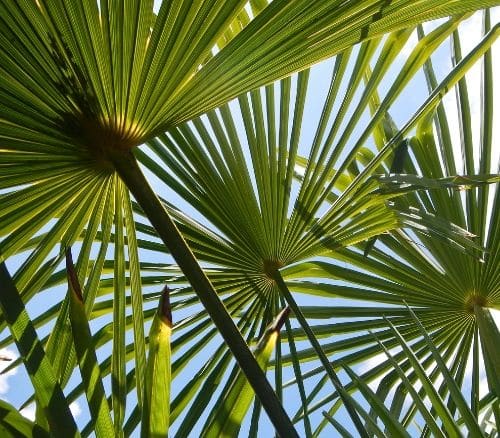 They favour soil that is well-drained with added organic matter – and as much sun or dappled shade as you have in your garden. Remember, both of these palms have the potential to grow into tall trees so don't plant them where they will overshadow the rest of your garden or a greenhouse – or a neighbour. A bit of space will allow you to really appreciate their full majesty. They couldn't be more different to our British native species. Their trunks become almost cork-like over time and they will add real personality to your garden, front or back.
There is something about lying down on a deckchair or lounger and looking through the fronds of a palm at blue sky above. You could be anywhere in the world. You might be living in a suburb in Sidcup or Sunderland but with a beautiful palm tree you could just as easily be in the Mediterranean.

David Domoney is a Chartered Horticulturalist, Broadcaster, and Author. David has worked with a number of the UK's leading garden retailers as a plant buyer and strategic consultant. With more than 30 years experience, in horticulture, David is as passionate about plants now as he was when he bought his first plant at a village fete.