Find out the very best practice and suggestions for growing your own prairie garden at home from scratch.
Should you grow your prairie garden from seeds?
Growing your prairie garden from seeds allows you to create a community of plants that will develop on its own over time. This means that they will mature in the soil you grow them in. It's also cheaper this way than buying established plants. Plus, you can include more species!
But here's the downer. Growing prairie gardens from seeds means there is a lot more weeding maintenance in the early stages. The seedlings are also a great deal more susceptible to pests like slugs. So, pest-prevention measures might be required.
Also, growing plants from seeds rather than established plants means that the seedlings are much more susceptible to pests like slugs, so some prevention measures may be required.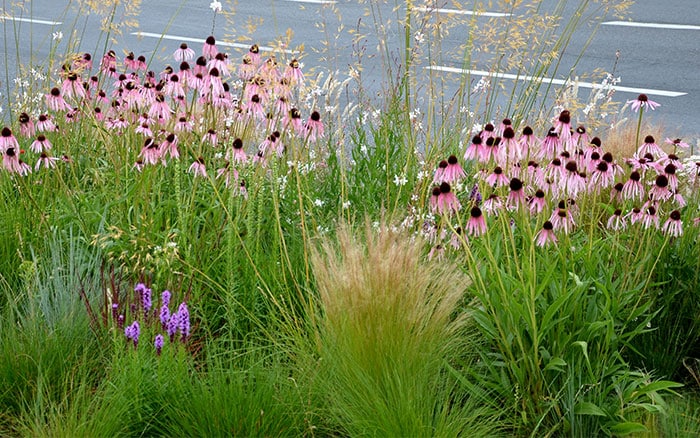 Creating your prairie garden
Preparing the ground
Firstly, you must ensure that there are no weeds or other vegetation in the soil that you're planning to sow. Prepare the ground first, and if the area was previously a lawn, it may benefit from digging or rotovating to loosen it up.
Next, sow your seeds. You can either combine all your seeds together and spread them this way or design your prairie garden by sowing different seeds separately or in your own curated mixes. Do this with your prairie garden design in mind and organise which perennials will flower at different times of the year to ensure interest throughout the calendar.
To prevent weed seeds already in the soil from germinating, try to layer at least 7.5cm of mulch.
Using a string, mark out the area that you're going to be sowing in. Try to do this in grids of metres-squared, to make planning out your plot clearer.
Sow your seeds by mixing them in with an organic carrier that won't affect the soil, such as damp sawdust. This will ensure that the seeds are spread out more evenly.
Use a landscape rake to incorporate the seeds into the top of the soil, and ensure that they are spread out evenly.
If you choose to, try some anti-pest measures to protect your seeds and young seedlings such as an open-weave jute netting. This will prevent cats, squirrels, or other large wildlife from digging around and disrupting your young prairie garden.


Aftercare
Water the whole area every 2-3 days early in the growing season.
It would be worth, at this point, planning your slug prevention programme, and which measures you would like to undertake to keep these pests at bay.
In the early summer, it'll be easy to identify any weed seedlings amongst your prairie garden seedlings. It'd easiest to remove them then, whilst they're identifiable.
The second year after sowing your seeds, you'll need to thin out any dominant species. This will ensure that your prairie gardens remain well-balanced. You'll need some top-class observation skills to spot the dominant plants!
To learn more about prairie gardens and how to grow your own at home, see the blogs below.
David Domoney is a Chartered Horticulturalist, Broadcaster, and Author. David has worked with a number of the UK's leading garden retailers as a plant buyer and strategic consultant. With more than 30 years experience, in horticulture, David is as passionate about plants now as he was when he bought his first plant at a village fete.