Bugs have very simple requirements when they're looking for a home: somewhere nice and damp with lots of mess and a bit of added mould for good measure.
Insects will use man-made structures to lay their eggs in, or to hibernate in through the winter, either as an adult or as larvae. These range from woodpiles, garden canes and furniture to holes in brickwork and garden sheds.
Pollinator-friendly plants
There are many garden plants and shrubs that attract bees, butterflies and other pollinating insects to help increase their numbers. Popular plants include hebe, sedum, yarrow, heather, foxglove, buddleja, allium, scabious, pulmonaria and flowering cherry.
Click here to see the full RHS list of plants for pollinators.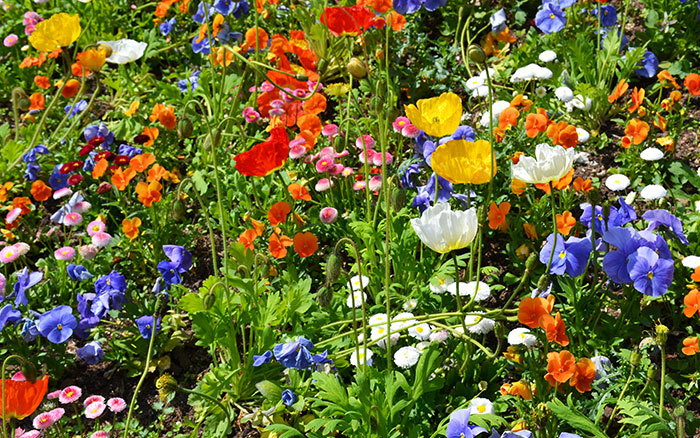 Or, if you have space, why not create an area in the garden for wild native plants to flourish among protective plants like bramble?
Wildflower seeds are available at garden centres to create this type of mini-habitat. Simply spread the seeds by hand over the soil, and press them in by lightly standing on them. You can also buy specific bee-friendly flower seeds from the British Beekeepers Association.

You will need:
A pan and some water
Granulated sugar
A shallow container (such as Tupperware)
Plenty of paper towels or a piece of sponge
Brightly-coloured kitchen scourers
How to make the feeder:
In the pan, mix four parts water and one part sugar, and boil for several minutes until the sugar has dissolved. Let it cool
Fill the bottom of the container with the paper towels, and pour over the mixture until they are saturated
Any extra solution may be stored in the fridge for up to a week, and added gradually to the feeder
Pop the scouring pads on top of the paper towels to attract the butterflies and give them somewhere dry to land
Put the feeder in the garden among the nectar flowers. The best place is on a post about six inches above the tallest flowers

David Domoney is a Chartered Horticulturalist, Broadcaster, and Author. David has worked with a number of the UK's leading garden retailers as a plant buyer and strategic consultant. With more than 30 years experience, in horticulture, David is as passionate about plants now as he was when he bought his first plant at a village fete.