It was another great episode for series 4 – here's what we learned from the show this week. Plus find out how to use plants to get the coastal look in your own garden!
1 Coastal gardens work inland, too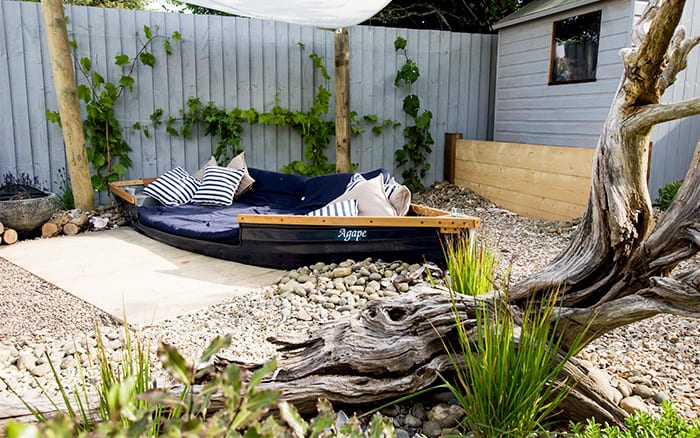 You don't need a sea view to create a relaxed, natural coastal garden. Use pale hard landscaping, like pebbles, paving and wood alongside knick-knacks like boats, sails, shells and driftwood.
Then add in hot flashes of plant colour like reds and oranges, taking care not to make the planting too dense. Separate and strong is the best look.
Get the look
True coastal gardens have to contend with salt, wind, poor soil and steep topography, so choose tough plants that will thrive in these conditions.
We used salvia, echium, lavender, red hot pokers and Mexican fleabane, as well as sea kale, sea holly and sea lavender. Verbena bonariensis and osteospermum are good choices, and I also like astrantia, erigeron and catmint.
See all the photos of the finished garden here
2 You can win the war on weeds
Weeds are essentially plants in the wrong place. But some can be very invasive, and different types need different treatments. Annual weeds should be hoed regularly to expose and kill the roots. Never allow them to run to seed!
Perennial weeds just keep coming back, and often put out long underground roots. Don't hoe – you'll just make loads of tiny cuttings for even more plants! Dig up all the roots and cover the soil with black polythene to cut off their light supply.
You can also use chemical control. Spray weedkiller on leafy growth on a mid-summer's evening. Protect other plants from spray and reapply as necessary.
3 Scent is important for memory

We wanted to remind the family of their time living in France, and scent is ideal for triggering strong memories. Alan planted loads of scented plants around the decking and path, so they release their fragrance as you walk past.
Choose a mixture of Mediterranean herbs like thyme, lavender and rosemary, and mix with chamomile for a potent French selection.
4 Containers are great for growing your own
You don't need an allotment, or even a veg plot, to grow your own. We used upcycled fruit juice barrels as containers for fruit crops, but any large container will work. Make sure it's deep enough for roots to grow, and water and feed more regularly than the rest of the garden.
Good crops include figs, plums, grapes, cherries, blueberries and nectarines. You can also try dwarf trees like peach, apple and orange, but keep them well pruned.
It also works with veg like beetroot, potatoes, salad onions, dwarf French beans and dwarf carrots.
Check out my exclusive behind the scenes photos to see how we built this garden!
5 Irrigation saves (plant) lives

We all have times when we're too busy to water the garden properly. But plants will die over the summer without regular watering. Fortunately there are shortcuts for when you're really pushed for time.
You can add moisture granules to soil in containers, which absorb excess moisture and release it when the soil starts to dry out.
Another easy method is to use upturned bottles pushed into the soil, which allow the water to be absorbed slowly. A litre bottle should provide enough water for a few days.
We decorated some bottles for the Woods family – it makes them feel like part of the garden design! Find out more about the furniture and features here.

David Domoney is a Chartered Horticulturalist, Broadcaster, and Author. David has worked with a number of the UK's leading garden retailers as a plant buyer and strategic consultant. With more than 30 years experience, in horticulture, David is as passionate about plants now as he was when he bought his first plant at a village fete.