For the first Episode of Love Your Garden this year we were back in Hull, where we did a small garden on last year's show. This was a small space again, and the small ones are always more challenging. You are always trying to make the garden feel more spacious as well as more interesting, and there is only so many people you can fit in at one time, so there's a lot of toing and froing to make it work. Plus, at this site we had a very narrow passageway to access the garden, which made it a logistical nightmare at times.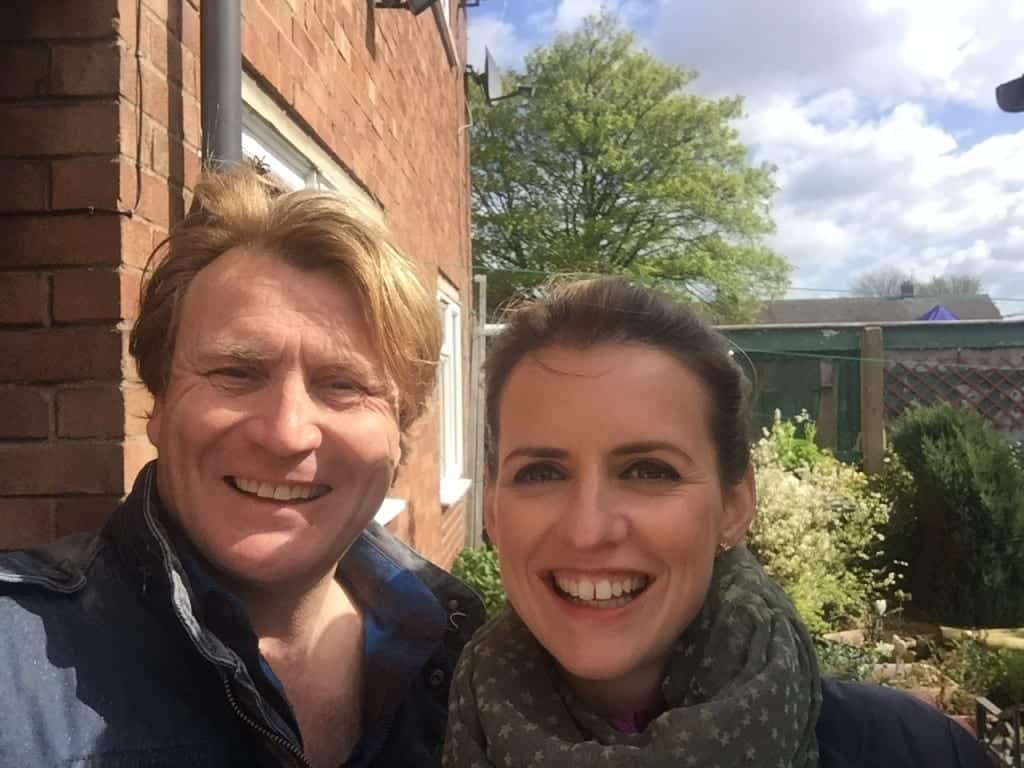 Here's Katie and I doing a selfie at the beginning of the day when our faces are smiling and free of mud, sweat and tears!

Here is Frances with Matt from Frosts working on the front garden. We didn't realise we were doing both the front and the back garden until we arrived, so that was a bit of a shock!
We had looked at the back garden when we got there and thought we can crack that out in no time, but then suddenly we had to split our teams and it became a very big job. So Frances took the front garden and Alan, Katie and I took the back.

This is Marcus from frosts who helped us create this lovely front path. I love the curved brickwork here as it sweeps round to the front door.

A couple of likely lads at work here: in the front we have Paul, who manages the task of finding all of the products for the gardens, and supervising it on the production side. This was his first episode on the show and he did a sterling job.
Just behind him is Kevin from Frosts who you may recognise from other blogs we've done. He's our telehandler driver, and the precision with which he controls those machines is phenomenal.

Here is Frances making her containers in the field opposite the house, where we had to do some of our work and filming because it was just too congested on the property.
We often turn up and start looking at what we need to build, and then when we look for materials they say, "Can you make it out of pallets?"

This is Matt and Rob, part of the sound and film crew. As you can see, they're in their rain gear as they get ready to cover the action, because we did have a few downpours that day.

Here you can see the bricks flying through the air as Kevin and Matt work on the front garden!

This is a taste of what it's like on the day: a delivery van arrives, but the crew want to film it, so everyone is hanging about while cameras and mics are set up, the delivery man is hanging about, and I'm thinking "Bloomin heck, I could have unloaded that by now!" But that's the nature of working in television, and they are just looking to capture all of the important moments that bring the day together for you at home.
You can also see the catering van and marquee set up in the back in case of any hunger emergencies!

This is Paul, a lovely guy who sourced loads of different products for us. I really liked the chimney pots that he brought in for this episode.

Here's another one to show you what it's like in action. You've got Frances working on the garden, Simon on his knees with the camera, Matt recording the sound, and our director Natalie in the middle.

This the passage we had to fit everything through. Blocking it on the left right here is Amy, a make-up artist, and Jim on the right who is the head of production and the real boss on the scene. He's also brilliant because he assembles all of the flat pack. Last year he wasn't with us on the shoots and I had to do most of it, so I'm well relieved to see Jim on site this season!

Here's a shot inside the garden where you can see Alan planting in the background, Sam in the middle, and Matt at the front. The colours in this garden were marvellous. You can see the Rhododendrons here and lots of herbaceous perennials with it. Stunning.

I loved the creativity of this planter using the bath tub with fake bubbles in it. It was a fun, fresh and entertaining feature.

Here's a shot after the work was finished and everyone is getting ready for the group photo. As you can see, you can't take a step without bumping into a camera!
That's Lloyd on the left, then Rob, then Darren, Matt behind the tree, and Simon on the right all ready for action.

Here's a cheeky shot of the wheelie bin cover I made with the alpine bed on top. I loved the opportunity, not only to construct it, but also to get my hands in with the plants. I'm a horticulturalist at heart, as well as a landscaper. I think this worked really well, both practically and aesthetically.

Alan here is filming his final bit as everyone looks round the completed garden.

Katie, Frances and myself here at the end of the day, all a little more red in the face as we did get some sun in the end.
I had a fabulous time in Hull with the team. Come back for more blogs, photos and behind the scenes fun every week!
David Domoney is a Chartered Horticulturalist, Broadcaster, and Author. David has worked with a number of the UK's leading garden retailers as a plant buyer and strategic consultant. With more than 30 years experience, in horticulture, David is as passionate about plants now as he was when he bought his first plant at a village fete.