We love showing you how to make over your garden. The transformation is always incredible, and it's great to see people finally enjoying it.
But I know the prospect of a revamp without a team of experts can seem daunting, so I'll show you the insider secrets to get the look at home. It really is doable.
And I'm not just saying that – I really do want you to Love Your Garden!
Potager veg garden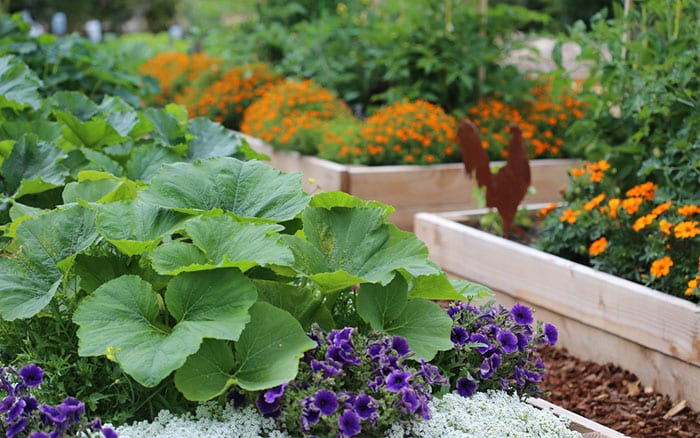 Potager is a traditional French kitchen garden that mixed veg, fruit and ornamental flowers in the same beds. It's a great way to jazz up a veg plot and harmonise it with your other garden beds.
Start with espaliered fruit trees at the back – apple and pear thrive in Britain. Espaliered trees are high-yield because they have so many fruiting side branches, so they give loads of fruit without taking up too much space.
Then in the beds below we mixed rhubarb, beans, chard and lettuce with flowering plants like cosmos, alliums, lavender and calendula. Check the spacing for each veg crop to make sure it has room to grow into.
Herb wheel
These were traditionally planted in old cartwheels laid on the soil, though ours was on a bigger scale. Again we added blooms like sunflowers and nasturtiums for extra colour.
Try a mix of chives, sage, basil, rosemary, lemon thyme and French tarragon. We also added Pineapple mint, but you have to keep an eye on mint plants because they spread quickly!
For the circular paving, use small carpet stones to get a round look, and add a central focal point like our mosaic. Arches or wooden wigwams covered in climbers will add height to such a low-growing feature.
Flowering hedge
If you want to cover a new fence, or just try something other than an evergreen hedge, use flowering shrubs! The key is to use varieties that flower at different times mixed in with evergreens. Shrubs that produce berries are great for winter colour too.
We used Lilac, Osmanthus, Ceanothus, Escallonia and Viburnum opulus. If you want a long hedge, repeat the shrubs for more cohesion. Prune them just after flowering for the best regrowth.
Child-proof planting
I always think footballs come with a homing device for prize blooms! Embrace the danger with tough plants that will survive the occasional crushing, or that respond well to hard pruning when bits get broken off.
We used Mexican feather grass (Stipa tennuissima) and Japanese Holly (Ilex crenata) throughout the garden. Box, lavender, Alchemilla, Choysia ternata and Salvia 'Ostfriesland' are also fantastic options. Good shrubs include lilac, Cotoneaster and Euonymous.

David Domoney is a Chartered Horticulturalist, Broadcaster, and Author. David has worked with a number of the UK's leading garden retailers as a plant buyer and strategic consultant. With more than 30 years experience, in horticulture, David is as passionate about plants now as he was when he bought his first plant at a village fete.