This cosy dish is sure to be a winter warmer that's full of flavour. Make it in bulk for lunches through the colder months, or serve it as a starter for a festive meal. Scroll to see my recipe card for French onion soup.
Cooking French onion soup
A main ingredient of the soup is the beef stock. This can either be bought pre-made or made from reserves saved from cooking beef roasts. This is a really important element of this soup, so it's essential that you like the taste of it and get it right – otherwise your soup just won't taste up to scratch.
Of course, onions play a big part in this recipe too. They need to be caramelised right, and the more they are, the more flavour you'll get.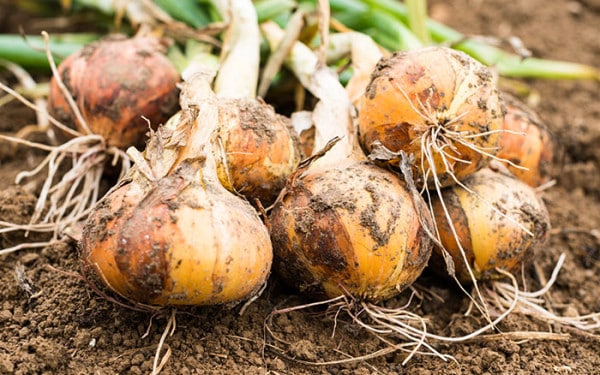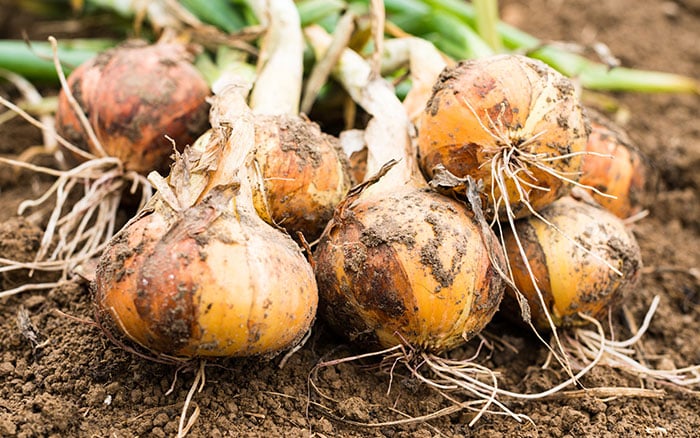 Onions are usually grown from small, immature bulbs known as sets. You can also grow them from seeds. This method is cheaper, but the plants take longer to establish and can have varied results.
Onions grow well on an open site on fertile, well-drained medium to light soil
Prepare the ground by working the soil and use a rake to smooth it out. Plant sets 10cm apart in rows 30cm apart. Gently push the set into the soil so just the tip is showing. Firm the soil in around them.
Onions grown from seed will need thinning out. First remove any weak seedlings and then spread the remaining ones initially to 5cm apart, then later to 10cm apart.
Water the onions in dry conditions and feed occasionally with a general-purpose fertiliser. You may mulch to conserve moisture if your soil is dry.
In June, feed lightly with a sulphate of potash fertiliser to help ripen the bulbs.
Stop all watering and feeding once the onions have swollen and remove any mulch or mounds of soil to expose the bulb to sunlight.
Remove any flower spikes as soon as you see them to prevent 'bolting' (running to seed).
Onions should be ready for harvesting from August to September, depending on when they were planted.
The foliage will turn yellow and flop over when the onion is mature. Once this happens, leave the bulbs for two weeks. Choose a dry day and gently lift with a fork.
French onion soup recipe card

Of course, if you want to change some of the ingredients due to preference, taste, dietary requirements, or allergens, there are some easy switches you can make.
If you want to forgo the wine in the recipe, you can either not add alcohol at all or add some Worcestershire sauce at the end of cooking.
When it comes to cheese, there are many types to choose from. This recipe uses parmesan and Gruyere mature Swiss cheese. However, if these aren't to your taste swap them out for mozzarella, fontina, or gouda.
When you serve, pair the soup with some warm bread for that extra sustenance.
The French onion soup recipe will have you warm and full in no time. Whether you're hosting an autumn or winter dinner party or are looking for warming lunches through the week, look no further.

David Domoney is a Chartered Horticulturalist, Broadcaster, and Author. David has worked with a number of the UK's leading garden retailers as a plant buyer and strategic consultant. With more than 30 years experience, in horticulture, David is as passionate about plants now as he was when he bought his first plant at a village fete.