Parsnips are my veg of the month for November.
They're a low-maintenance crop that's really nutritious, tastes great roasted and adds flavour to warming soups and stews. Packed full of Vitamin C, potassium, folate and fibre, parsnips deliver a powerful hit of antioxidants and are much lower-carb than potatoes – so what's not to love?
Pastinaca sativa, parsnips, are Umbellifers and in the same family of plants as parsley, cumin and carrots. They're a long-stay vegetable which can be left in the soil all winter – frosts will only improve the flavour, making them taste much sweeter. As they're slow-growing, you may want to just grow a few if you're quite short on space, but I think the flavour is really worth the wait.
Get into groundwork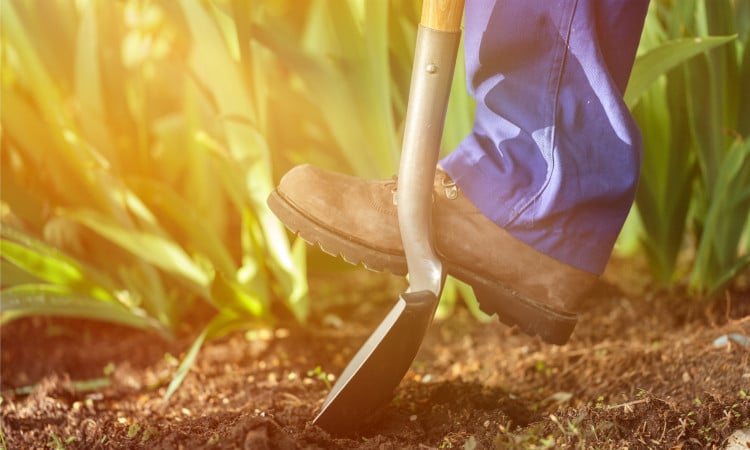 Start right, and you'll be well ahead. Autumn is the time to get that cultivation done, ready for a spring sowing once the soil's warmed up.
Root veg definitely need deeply-cultivated, free-draining soil without too many stones or the roots will distort, and you'll have funny-looking parsnips!
They don't like it too rich – so don't add manure when you're digging – and they need sowing in widely-spaced rows, half an inch deep and about 18" apart, so you can get extra use of the space by growing some tasty radishes or leafy salads in between.
If you're container gardening, shorter-rooted parsnips such as 'White Gem' can be grown in very deep planters, or even an old dustbin with plenty of drainage holes drilled – they need plenty of room for the roots to grow straight down into the soil.
Sowing success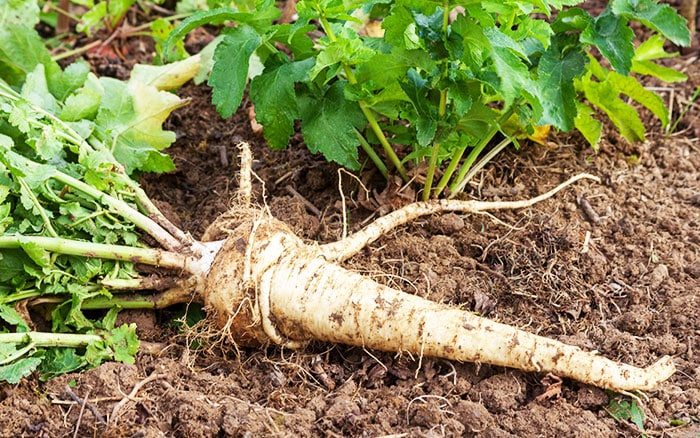 Your best bet for getting good results with parsnip seed is to buy fresh, prepare the seedbed well – they like a fine tilth – and don't be in too much of a rush to sow.
If you can wait until the soil's warmed up, in March or April, you'll see better results. Germination can take 28 days, so you'll need to be patient!
I like to use pre-sown seed tapes, they're a brilliant way to sow veg which needs careful spacing in order to grow well, saving a lot of thinning out later on. Another easy way to grow parsnips is to germinate the seeds indoors, between layers of damp kitchen roll.
Once you see roots and shoots, transfer the whole thing into the garden. Space the seedlings 6" apart along the row, tuck the soil around them and pop cloches or fleece over for protection, until you can see those sturdy, true leaves pushing through.
Those sown between March and May will be fully grown from late October or November when the leaves start to die back – if you've planted a couple of rows, you can keep harvesting over Christmas and well into the New Year. If the ground is likely to freeze hard, preventing harvesting, you can lift the roots and store them in the bottom of the fridge.
Or keep those which are undamaged in the shed in wooden boxes, layered amongst compost or sharp sand.
Parsnips can be enjoyed boiled whole, as mini veg, before they're fully grown—and this is a great way to thin the rows out without wasting any plants.
Hold down the soil around the neighbouring parsnips as you pull and water the row afterwards to firm the earth around the roots.
My favourite way to enjoy parsnips is in a spicy root veg mash – with carrots and sweet potato. Peel and cube all the vegetables and boil in lightly salted water, until tender.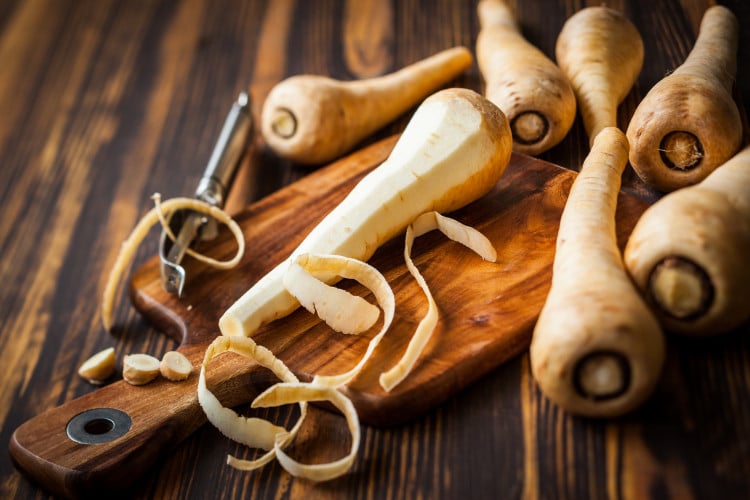 Blitz or mash into a puree, season and add butter and chilli flakes to taste. It's simply superb and packed with goodness!
As part of your Sunday lunch or even Christmas dinner, roast parsnips just can't be beaten! Simply cut off the top and tail, scrub the skins or very lightly peel them and cut in half lengthways. Pop them into a pan of boiling water and cook for 10 minutes.
Drain until dry, then lay them on a baking sheet, season with a little sea salt, drizzle with olive oil and honey and pop them in a hot oven for 30-35 minutes, turning halfway through. These sweet crisp additions to dinner will be utterly delicious!

David Domoney is a Chartered Horticulturalist, Broadcaster, and Author. David has worked with a number of the UK's leading garden retailers as a plant buyer and strategic consultant. With more than 30 years experience, in horticulture, David is as passionate about plants now as he was when he bought his first plant at a village fete.