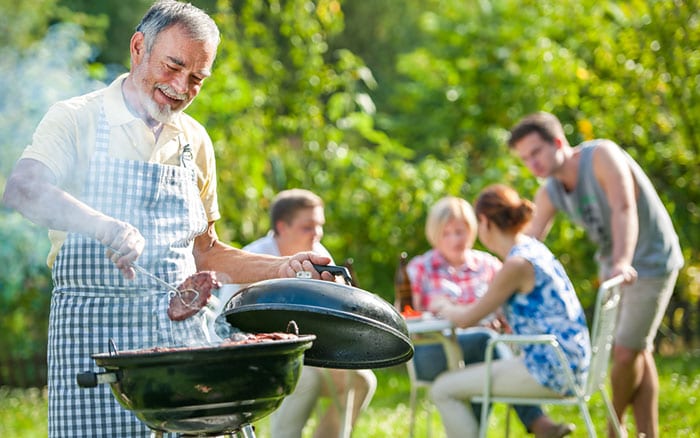 The garden is about more than chores – it's about living outdoors! The patio is the spot for parties, picnics, BBQs and entertaining friends and family.
But it is also a great place to grow plants in containers. So bring the guests and the garden together with tasty edible herbs. They boost the flavour of food and drinks and turn dinner into a special event.
Herbs for food
Start by choosing herbs that accentuate your food. Thyme is perfect with fish and chicken, while rosemary goes well with beef. Pair oregano with Italian dishes and chop chives into salads for an oniony burst.
Mint is one of my favourite herbs because it's so versatile. Use sprigs of young leaves to lift lamb dishes and green veg like peas. Or you can use it for homemade mint sauce – just roughly chop the leaves and add boiling water, white wine vinegar and little sugar until you get the right consistency.
Herbs for drinks
Edible herbs are also a popular addition to drinks, lending a fragrant twist to wine and summer cocktails.
Mint leaves give drinks a fresh tang, perfect for cocktails and Pimm's. Rosemary and thyme taste sweet with fruity drinks and berry flavours. And lavender stems and flowers can be added to glasses of wine or bubbly for an elegant touch.
How to plant a patio herb garden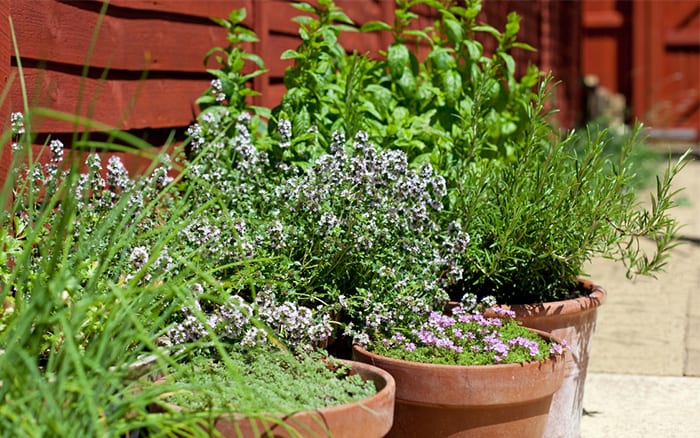 Start by choosing your plants and the pots you want them in. You can put everything in one pot, or create a mini container garden.
Line the bottom of the pots with crocks. These are pebbles or pieces of broken pottery that aid drainage. Fill the pots halfway with multi-purpose compost.
Remove your plants from their pots, tease out the roots and replant in the compost. Fill in the gaps with more compost but make sure you don't plant them too deep. The top of the rootball should not be buried.
Water in well and stand them in a sunny spot – they make a great table centrepiece! Pick the leaves regularly to encourage the plants to keep growing.
Other edible patio plants
Why stop at herbs? Grow edible flowers like pansies, calendulas and nasturtiums to pick off and add to salads or drinks. You can also crystallise them to decorate cakes. Simply cover the flower or petals with beaten egg white and dip in sugar. Leave to dry somewhere warm until they go crisp.
Another popular patio plant is the humble strawberry. The rich red fruits are perfect for drinks and desserts. And the taste is so much sweeter when you've just picked it yourself!
Feeling inspired? Here's my 8 best plants for a beginner's herb garden.

David Domoney is a Chartered Horticulturalist, Broadcaster, and Author. David has worked with a number of the UK's leading garden retailers as a plant buyer and strategic consultant. With more than 30 years experience, in horticulture, David is as passionate about plants now as he was when he bought his first plant at a village fete.