Come early spring we're desperate for some colour in the garden. With a bit of forward planning we can not only achieve this but also bring spring forward a little. So, get into gear and start planning for your spring garden.
Deciduous garden trees and shrubs may be bare, but autumn planting a selection of cheerful early spring flowering bulbs should be enough to brighten anyone's day. Combine these with a host of flowering shrubs and you'll be smiling through spring no matter what the weather!
It's not too late to buy and plant both tulip and Narcissus (daffodil) bulbs. The dainty soft white flowers of Narcissus 'Thalia' are always a welcome sight.
Continuing the white theme, a well-drained sunny border is a great spot for planting Ornithogalum (star of Bethlehem) bulbs. Reaching 90cm, their green striped buds open early in the season before opening fully to star-shaped blooms.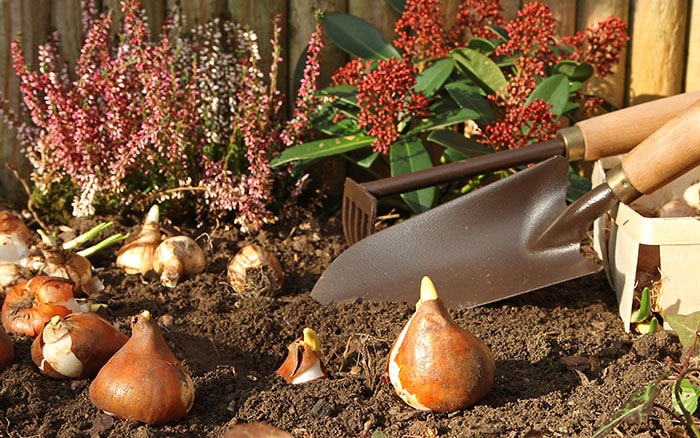 Conveniently, their foliage dies down neatly before blooming in late spring and summer. They are the perfect early season border flower.
Surround your trees and shrubs with a selection of low growing colourful bulbs such as crocus, winter aconites and Anemone blanda (winter windflower) to brighten the greyest of days.
Spring flowering perennials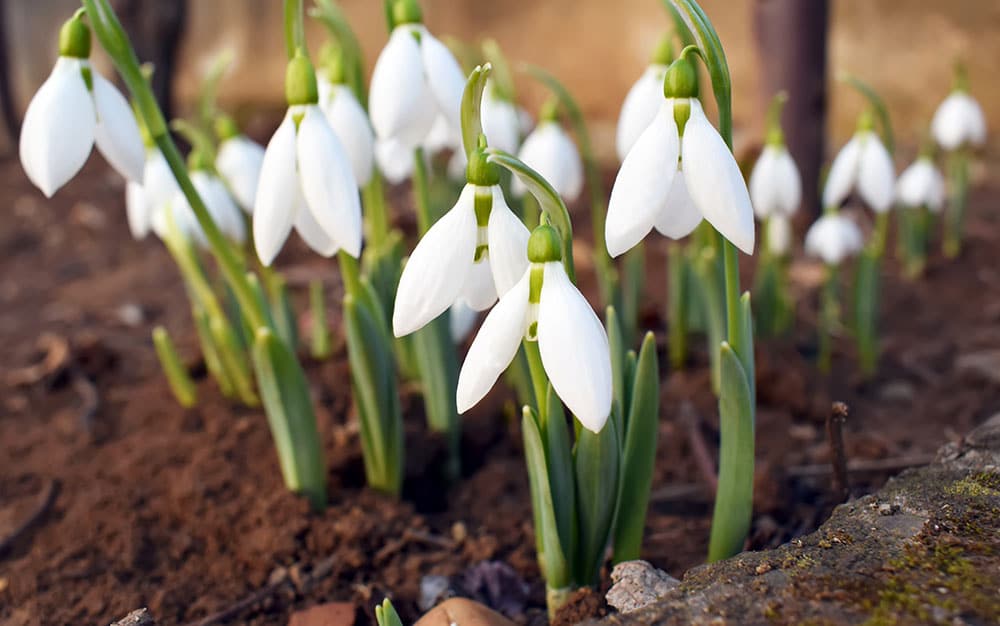 Hellebores start to flower in early spring and are the perfect accompaniment to drifts of Crocus tomasinnianus and Galanthus (snowdrops).
To get the best floral display from them, remove shabby looking leaves just as the flower buds start to form. They often hybridise, so if you want to keep the same colour flowers every year, cut off the spent flowers before they set seed.
If you have a shady spot then Pulmonaria (lungwort) are one of the earliest perennials to flower. They have spotted leaves and long-lasting funnel shape pink, blue or white flowers. They also make excellent ground cover.
Nothing shouts spring colour more than Euphorbia polychroma (cushion spurge). Its vivid lime green-yellow 'flowers' are usually the first to sell out when in full flower. So, make a note to buy one before it flowers to get ahead of the game!
Adding a couple of different height spring flowering shrubs will help to bring your spring garden alive with colour and scent. Camellias come in a range of different coloured flowers. As they are evergreen they help create year round garden structure and interest with their shiny deep green leaves.
Osmanthus delavayi is a slow growing evergreen shrub with the sweetest scented white flowers in late spring. The stems can be picked to perfume rooms in your house.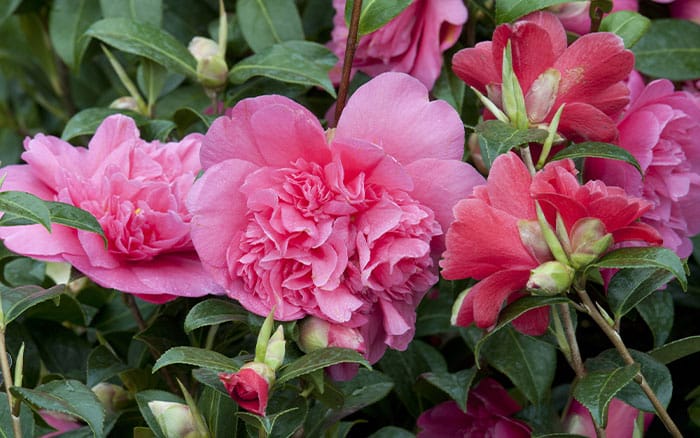 Finally, nothing says spring is here more than cherry blossom. Although it's fleeting, its beauty is enough to justify planting one because you can then surround it with a host of other spring flowering bulbs and perennials!
So, get prepared for the prettiness of spring with these plants that will welcome the new season with their fascinating flowers.

David Domoney is a Chartered Horticulturalist, Broadcaster, and Author. David has worked with a number of the UK's leading garden retailers as a plant buyer and strategic consultant. With more than 30 years experience, in horticulture, David is as passionate about plants now as he was when he bought his first plant at a village fete.