Plants generally have an amazing ability to survive and grow in some of the most inhospitable of places. It's sometimes hard to understand how they manage it, especially as we're used to seeing plants growing in deep soil. For example, the edge of cliffs, on roofs as well as in between paving slabs and on top of walls. These plants can transform your wall cracks and crevices into living features.
Understanding a plant's basic needs can help explain these mysteries. Most plants need air, water, light, and food to survive and grow. Also, they need somewhere for their roots to be anchored to keep the plant stable.
Soil usually gives plants three out of those four things and, where space is unlimited, the plants can grow extensive root systems, so they grow into large specimens.
Plants can also be extremely adaptable and limit their growth to their environment. For example, if a seed falls into a crack in a paving slab, it will often be able to germinate, develop roots and leaves and then start to grow.
But because its roots are limited it will always be relatively short compared to the size it would have grown to if given unlimited space. This is the same principle as bonsai plants, just nature's way of doing it naturally!
You can use plants' adaptability to your advantage when creating themed areas in your garden, especially if you want to achieve this look on a budget.
For example, when laying paving in a Mediterranean style garden, leave some of the joints un-mortared and fill with a mix of soil and sand instead. Thyme grows well in this situation and will release a wonderful relaxing aroma when walked upon.
There are two ways of doing this; either split a plant into tiny sections and push a few stems into the sand and soil mix or buy a pack of seeds and sprinkle into the mix.
Thymus serpyllum (creeping thyme)
This herb is a popular pick in the garden, with lovely purple flowers that bloom in late spring through to autumn. Bees and butterflies can enjoy the flowers too, so they are an all-round winner. When brushed against, the fragrance will fill your garden and satisfy your senses.
Flowers in summer
Hardy
Grows up to 10cm tall
Well-drained soil
Full sun
Exposed or sheltered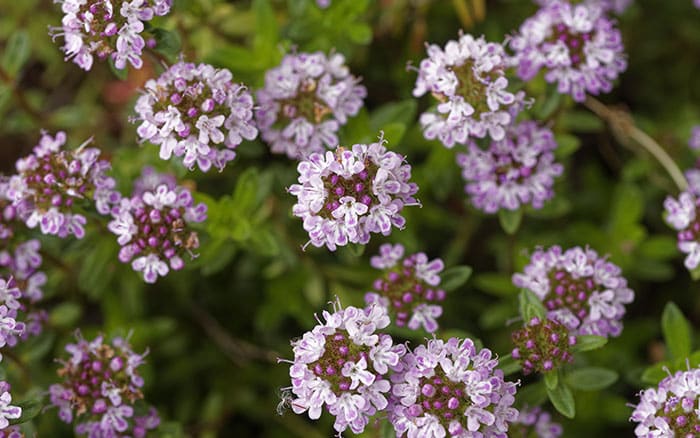 Erigeron karvinskianus (Mexican fleabane)
The masses of small daisy-like flowers of this plant have a wonderful impact when they turn from white to pink. The long flowering period from May to October means they will give a lot to your garden through the year. Not only that but they are versatile, well-suited to gravel gardens, coastal gardens and wildlife gardens.
Flowers in summer
Hardy
Grows up to 50cm tall
Well-drained soil
Full sun
Sheltered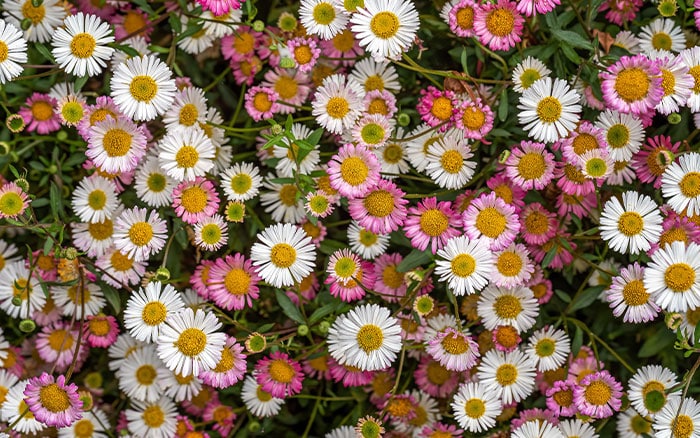 Alchemilla mollis (lady's mantle)
Alternatively, for larger gaps in between the paving Alchemilla mollis is a tough perennial that will quickly and easily root into the space and cascade softly onto the paving edges around it. The lime-green flowers bring vibrant colour to the space, whether used as underplanting or left to self-seed in cracks.
Flowers in summer
Fully hardy
Grows up to 50cm tall
Moist but well-drained soil
Full shade, full sun, or partial shade
Exposed or sheltered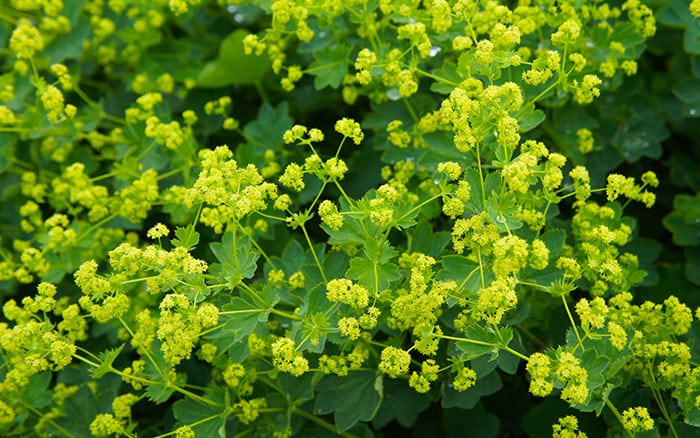 Chamaemelum nobile (chamomile)
Chamomile gives off a beautiful scent when walked on and is often suggested to be used in these situations. To keep them looking their best, trim regularly to keep the plant growing compactly.
Flowers in summer
Fully hardy
Grows up to 50cm tall
Well-drained soil
Full sun or partial shade
Exposed or sheltered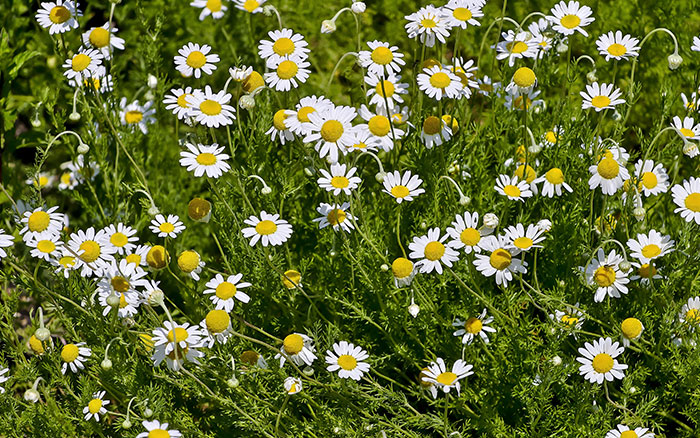 Soleirolia soleirolii (mind-your-own-business)
If your area is shady then this plant works really well. Again, buy a pre-grown plant, split it into small, rooted sections and gently push the sections into the paving gaps. You can often find these plants sold in garden centres and nurseries in the houseplant section, but they will also survive outside.
Evergreen foliage with flowers in summer
Hardy through most of the UK
Grows up to 10cm tall
Moist but well-drained or well-drained soil
Full sun or partial shade
Exposed or sheltered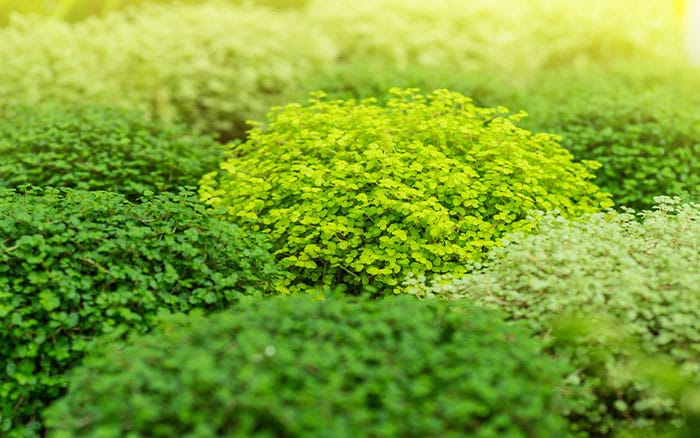 Walls can also provide a fantastic base for growing certain plants into and onto. The ideal is a dry-stone wall, as it's very easy to push the roots of plants into the gaps between the stones.
But, if your wall is mortared that's fine, simply chip away some of the mortar to create small planting pockets for those plants that thrive in poor, dry soil such as aubretia and sedum for sunny walls and campanula for shady ones.
Plants for cracks and crevices
Alpine plants are some of the best choices for planting into wall cracks, crannies, and crevices as they love a well-drained situation and you'll also be able to see them more easily if planted on high.
Lewisia cotyledon (Siskiyou Lewisia)
These will grow in full sun or light shade and produce masses of flowers over the summer months with colours ranging from purplish pink to orange, yellow and white. Ensure they have good drainage, and they are very easy to care for.
Evergreen foliage with flowers in spring
Hardy through most of the UK
Grows up to 50cm tall
Well-drained soil
Partial shade
Exposed or sheltered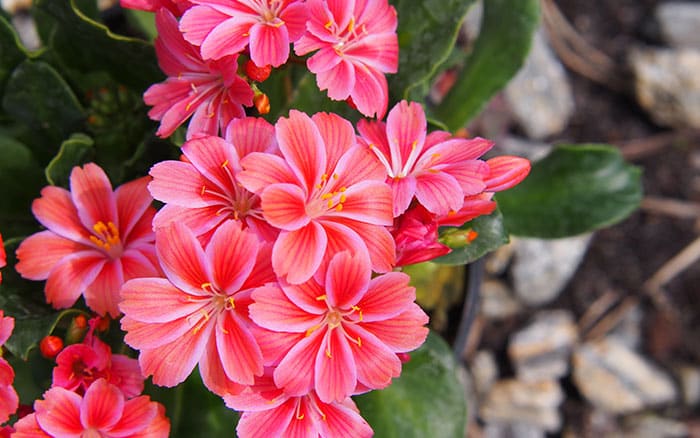 Whichever situation you choose do make sure you give the plants sufficient water upon planting to enable their roots to establish and then after that you should hopefully be rewarded with a delightful selection of undemanding, low maintenance plants. Pick these plants to transform your wall cracks and crevices into focal features full of life.

David Domoney is a Chartered Horticulturalist, Broadcaster, and Author. David has worked with a number of the UK's leading garden retailers as a plant buyer and strategic consultant. With more than 30 years experience, in horticulture, David is as passionate about plants now as he was when he bought his first plant at a village fete.