Every year I organise a huge gardening competition to find the best young gardeners in Britain. Students from six of the country's leading horticultural colleges design and build show gardens. The aim is to show what can be achieved with a small space, especially for city gardens.
It's great to see young people getting into gardening and horticulture. And I am always impressed by their talent and innovation. They are full of fresh, clever ideas that even seasoned gardeners like myself can take inspiration from.
Here's a look at their designs from last year, and ideas on how to make the most of a small garden space.
Using sound – Shuttleworth College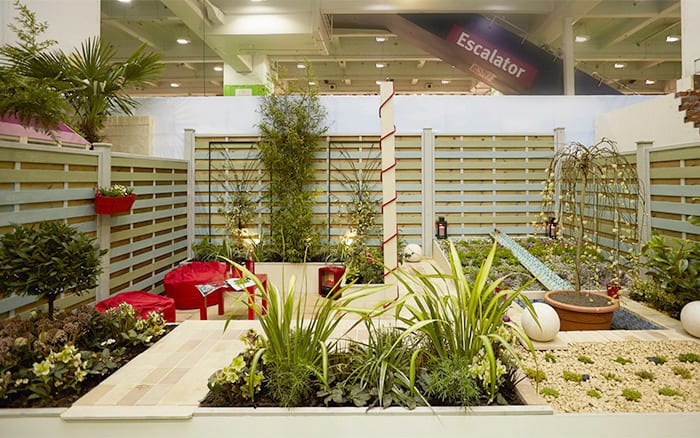 Creating a tranquil garden, especially in a city, can be a challenge. But acoustic planting can help. Students used bamboo against hit and miss fencing, which helps deaden external noise. Bamboo is hollow so it can make a great sound screen.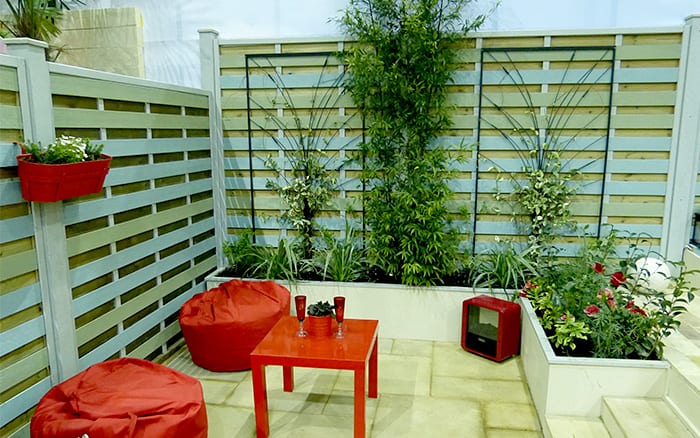 They also installed a soothing water feature. The gentle splashing can be really relaxing when you're sitting out in the garden. It also goes to show that you can use water in a small space.
Students also planted hebes and buddlejas to attract wildlife like birds, bees and butterflies that really bring a garden to life.
Entertaining – Writtle College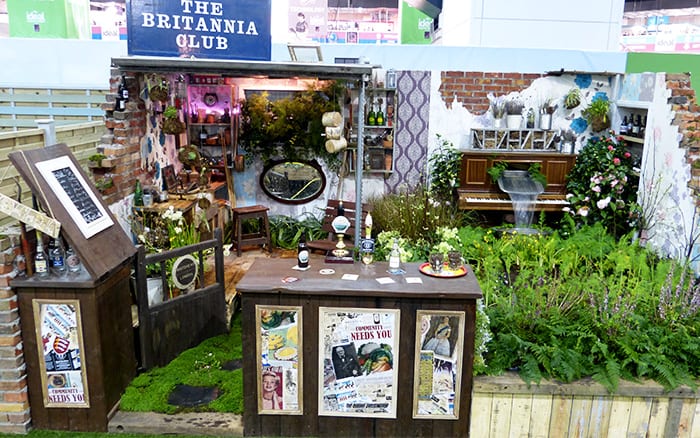 Writtle wanted to create a garden where people could enjoy themselves, rather than work. After all, entertaining friends and family is one of the benefits of having a great garden!
They started by building a bar to serve food and drinks. The decoration was inspired by pub interiors and they made great use of recycled glass bottles.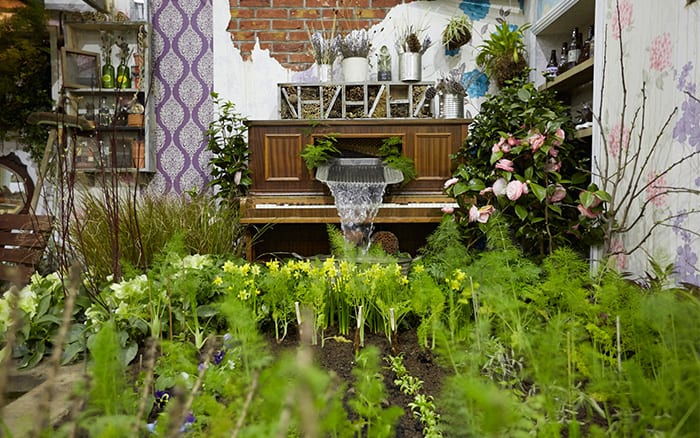 They even turned a piano into a water feature!
Students also put in an outdoor kitchen, and considered space to grow fresh produce too. The raised planters were filled with veg and herbs, all within easy reach of the bar stools.
Relaxed – Chichester College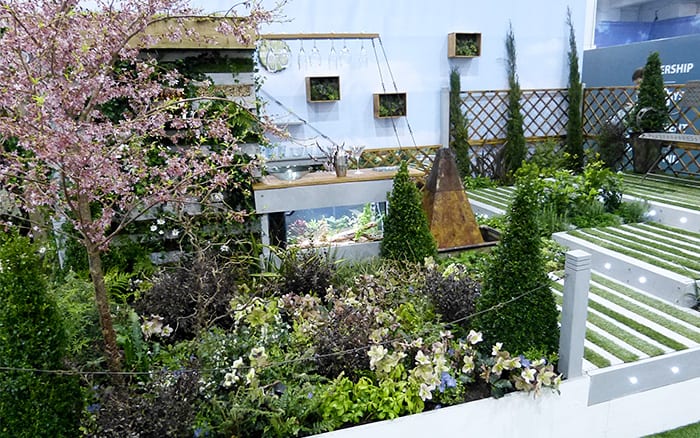 Sitting out in the garden is what makes all the hard work worthwhile, and students at Chichester College thought carefully about seating areas. They created a secluded space under the pergola for evening dining, and put a bench at the top of the garden.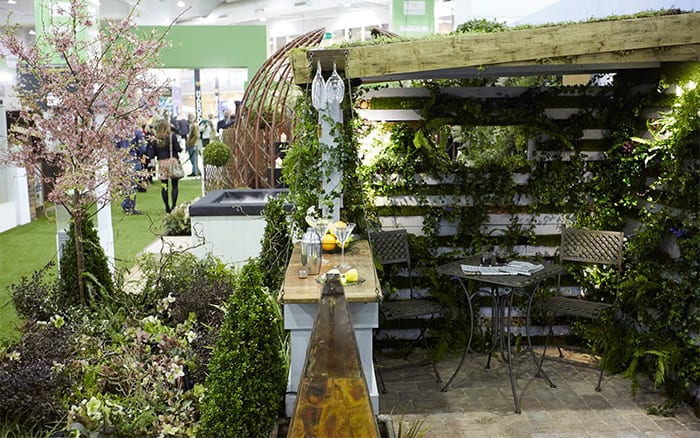 This is a great idea because it means you can follow the sun around the garden and make the most of it all day long.
They also kept the garden low maintenance by using Astroturf. It's a great alternative to grass if you have a shady city garden, or a balcony garden with no soil. Plus, it means no mowing!
Weatherproof – Capel Manor College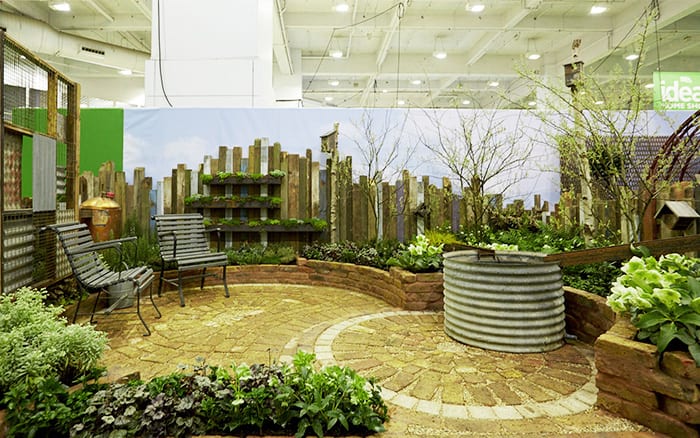 Many small and city gardens can be exposed to the elements, especially without the protection of large trees. Students from Capel Manor decided to build a hardy, year-round garden that would always look great.
They created sheltered spots to protect plants from the wind, and chose hardy varieties that would withstand cold temperatures.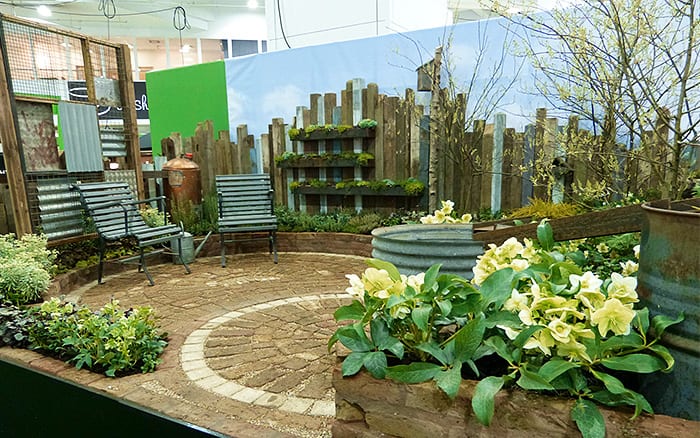 They also planted some multi-stemmed trees to add shade and shelter. Plus they installed a water butt to harvest and store rainfall. Importantly, it was kept as a decorative feature with the use of old guttering.
Come rain, wind, cold and drought, their garden will look spectacular.
Structural – Askham Bryan College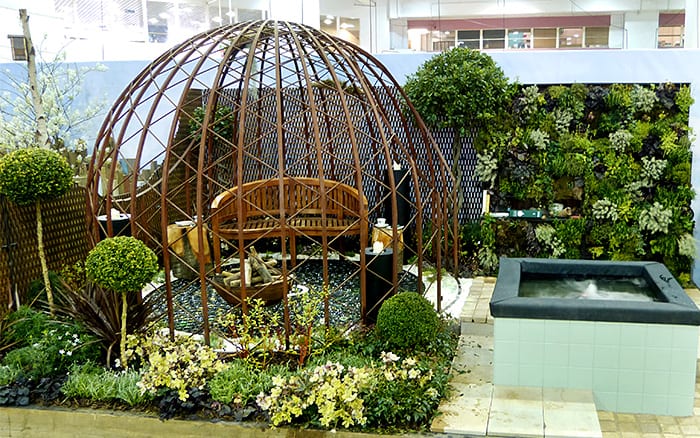 You can put large features in small gardens, and here's the proof. Students built the garden around a huge metal domed frame. It's a fantastic focal point and helps to give the garden a sense of height.
It's also the perfect frame for growing scented climbers, which would create a fragrant seating area. You could sit out under a dome of sweet scent!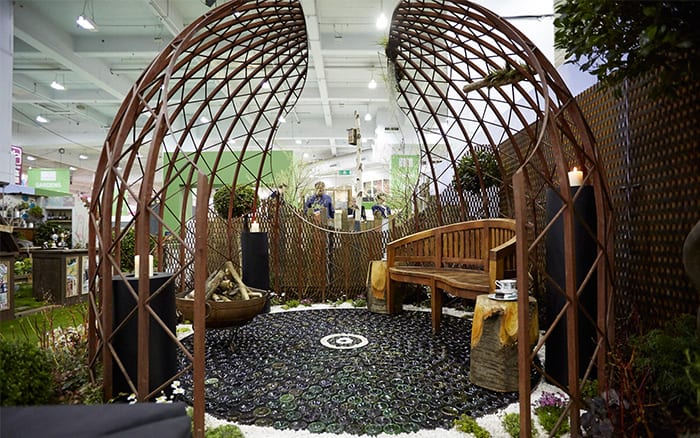 And did you notice the floor under the metal dome? Made from dozens of wine bottles sunk neck down into the ground to make a stylish glass base for the seating area.
Students also installed a large water feature and living vertical wall garden to add to the structural feeling.
Tropical – Bridgwater College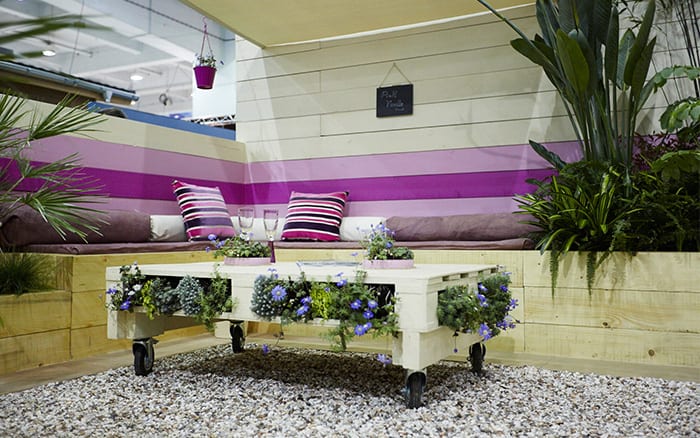 Students at Bridgwater College were inspired by the idea of taking the indoors out. Thanks to our warmer summers there are loads of tropical plants that will thrive outdoors in Britain.
They planted palm trees, bougainvillea and the bird of paradise plant to make you feel as if you're on holiday abroad.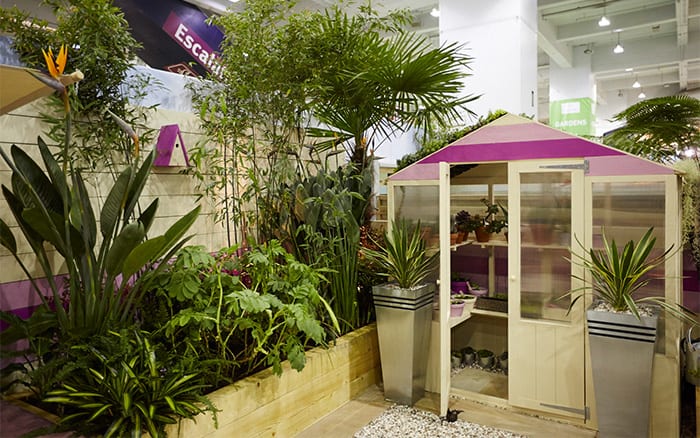 They also added in a beach hut style greenhouse and kept all the wood a pale colour to add to the tropical feel. A bit of white gravel on the floor and you could be on a lush island instead of at home!
Find out more about the Young Gardeners of the Year competition here.
The finished gardens from the 2015 competition will open to the public at the Ideal Home Show at Olympia, London, from 20 March to 6 April.