During these difficult times, everyone is looking to grow. Here are some unusual and inventive ways to get planting in a way that will prove you can make a planter out of anything.
Not everyone has a garden but you can grow plants in anything that has the capacity to hold soil. As long as it has drainage and you care for it, you can grow in it. Whether that's in dustbins, buckets, Wellington boots or a whole host of other items.
In fact, dustbins are great for growing potatoes if you're limited on space. You can pick these up relatively inexpensively, drill a few holes in the bottom, put a bit of soil down and then sow your seed potatoes on top.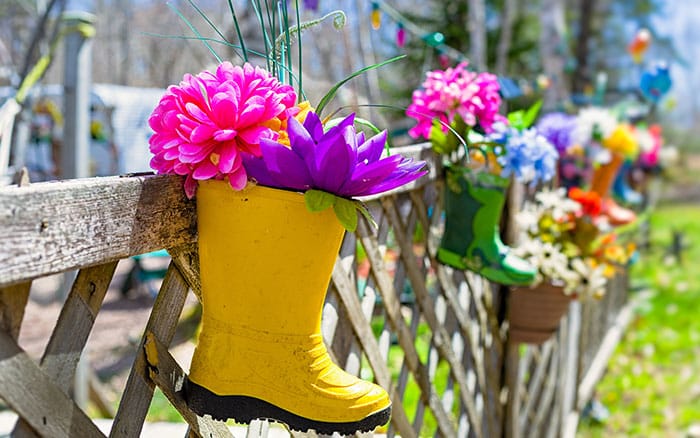 As kids grow out of Wellington boots so quickly, why not put old pairs to better use. Put a few holes in the sole of the boots and screw these up onto fence panels to create an array of interesting wall containers that you can plant up with herbs or flowering plants.
Chipped coffee cups or egg boxes you've finished with also hold planting potential. You can easily recycle into containers to help seeds germinate or pot up cuttings and grow them on your kitchen windowsill.
Plastic bottles have a variety of uses. You can cut the bottom off and use them as mini propagators over the tops of peas, which protects them from early frost and pigeons. In addition to that, a bucket can work out as a very good planter. Again, add your drainage holes and soil and within minutes you can start planting up.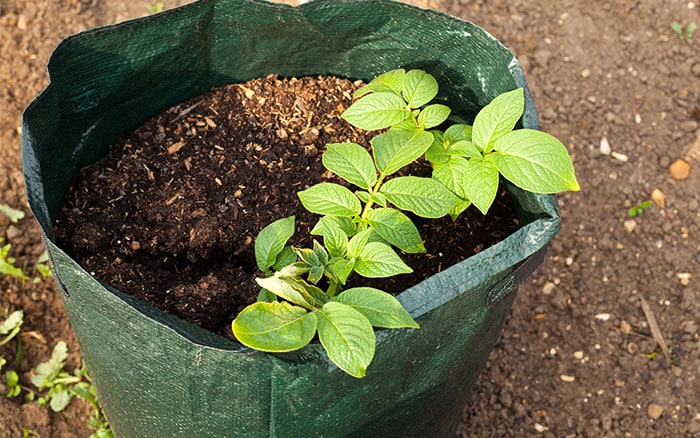 Probably one of the easiest things to grow in is a grow bag, and the Levington® Gro-Bag® is a tried and tested way to get growing in whatever space you've got. Predominantly they are used to grow tomatoes out of, but it effectively holds the soil together for growing anything.
Not only do you have the Levington's Gro-Bag, the Miracle-Gro® Performance Organics Fruit & Veg Planter is also ideal. Both have been specifically designed so plants can be directly placed into the bag, with no need for pots and planters, it's as simple as that.
You can grow almost anything in them, the secret is to make sure you've got enough space. Some people cut the whole top section of the plastic off, peel it back and then plant straight into the soil. I prefer to cut squares out where I plan to plant, leaving the plastic around to stop weeds growing and it'll prevent it from drying out—you'll just need to keep checking it's moist.
For the average grow bag, you can grow three plants quite comfortably. They'll grow in this bag for about a year and then it's best to plant them out. For longer than a year, plants will need regular feeding because they'll use up the resources in the grow bag.
The secret with anything grown in a container is to feed on a regular basis and Miracle-Gro® All Purpose Concentrated Liquid Plant Food is ideal. Simply mix into a watering can which can be placed next to the grow bag to water as you go.
There's such a diversity of what you can grow, you can easily create a productive herb garden with thyme ready to harvest for lemon chicken dishes, parsley for soups and garnish, and sage for scrumptious stuffing. You can grow chives as an excellent addition to an omelette, basil for pasta, and oregano for a delicious topping to your pizza.
Simply dig the hole, loosen the plant by giving the pot a squeeze with your fingers and plant them in the grow bag. Position so that the soil in the grow bag remains level with the top of the soil of the plant, ensuring you water the plants in.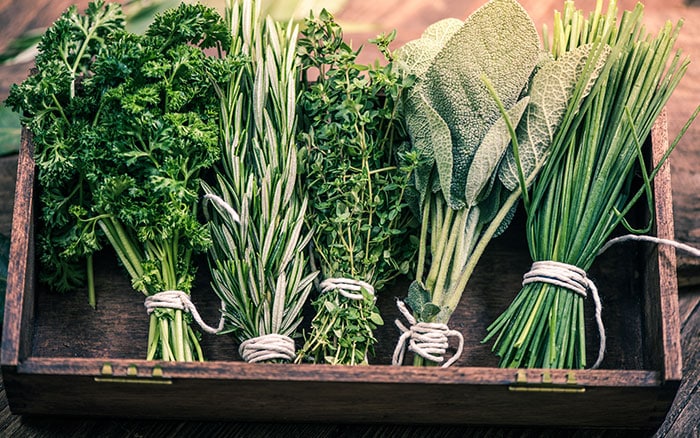 Remember to trim the herbs so that they continually produce—basil, oregano and parsley can get a bit leggy if they aren't cropped regularly.
Chillies and peppers grow excellently in grow bags. Planting two in a bag produces really big plants, but planting three will supply smaller versions as the plants are all competing for the same moisture, nutrients and water.
Alternatively, create a flowering grow bag by cutting a big triangle out and planting geraniums, marigolds and begonias to form a flourishing feature of flowers. This is a particularly good idea for children, enabling them to plant, water and care for a selection of plants that they have chosen. This will teach them patience, how to nurture, and connect them with nature.
Tip:
Vinegar will clean off 
paving slabs and won't harm people
or pets.
There you have it, loads of different types of containers that you can use. Grow bags have so much versatility, are affordable, and give the maximum amount of joy to your planting plans.
Happy gardening everyone!
I have moss in the front garden. How do I get rid of it?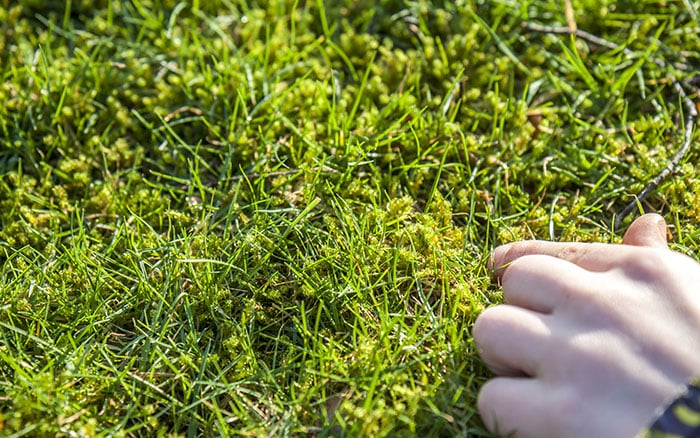 Apply a moss treatment, wait for a week, then rake it over. Aerate the ground and add topsoil, if needed, and re-seed with a variety that's best suited for your soil type. Eliminate the shade of these spots as much as possible and cut down on the watering of this patch. The best non-chemical solution is scarification with a spring-tine rake.
Which are the best veggies to plant in Spring?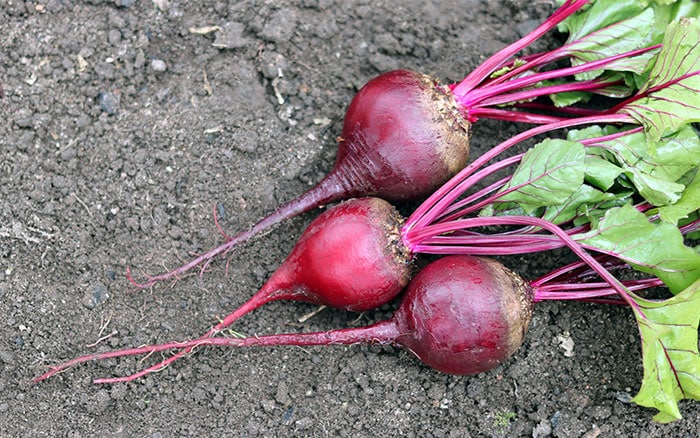 Try sowing beetroot, which will be ready to harvest in 7 to 12 weeks, or nutritious spinach for summer harvest. You can also start sowing your Christmas Dinner Brussels Sprouts from now til mid-April and they'll be ready to pick and store from September through to March.
David Domoney is a Chartered Horticulturalist, Broadcaster, and Author. David has worked with a number of the UK's leading garden retailers as a plant buyer and strategic consultant. With more than 30 years experience, in horticulture, David is as passionate about plants now as he was when he bought his first plant at a village fete.