If you want to see your garden plants grow even bigger and better next year, now's the time to think about protecting them…
As the winter brings significantly colder weather, now's the time to start thinking about protecting your plants. The time you take to keep them warm and cosy now will go a long way to make sure that your garden is able to recover quickly for next spring.
There are a few plants which might need shielding from plummeting temperatures – summer bedding plants, like geraniums and fuchsias, as well as any recently-planted trees and shrubs which are yet to be established. These all are cold-sensitive plants that need a little bit of extra protection when Jack Frost is around. Move them into more sheltered spots so they can become bigger and better next year.
If you've got a greenhouse, move the plants into an area that's free or make some room – preferably on a raised platform or bench so they're above the ground frost. In many cases, if it gets excessively cold, you may want to have some heat in the greenhouse – either paraffin or a small electric heater. It's not too late to take steps to insulate your greenhouse as well, with bubble plastic or sheet plastic to create a double-glazed effect on the windows. Taking sensitive plants and moving them into those positions plays a big part in keeping them worry-free for winter. If you haven't got a greenhouse, use an unheated part of your home. This may be a garage with a window, so there is still some light or a low-heated porch or conservatory.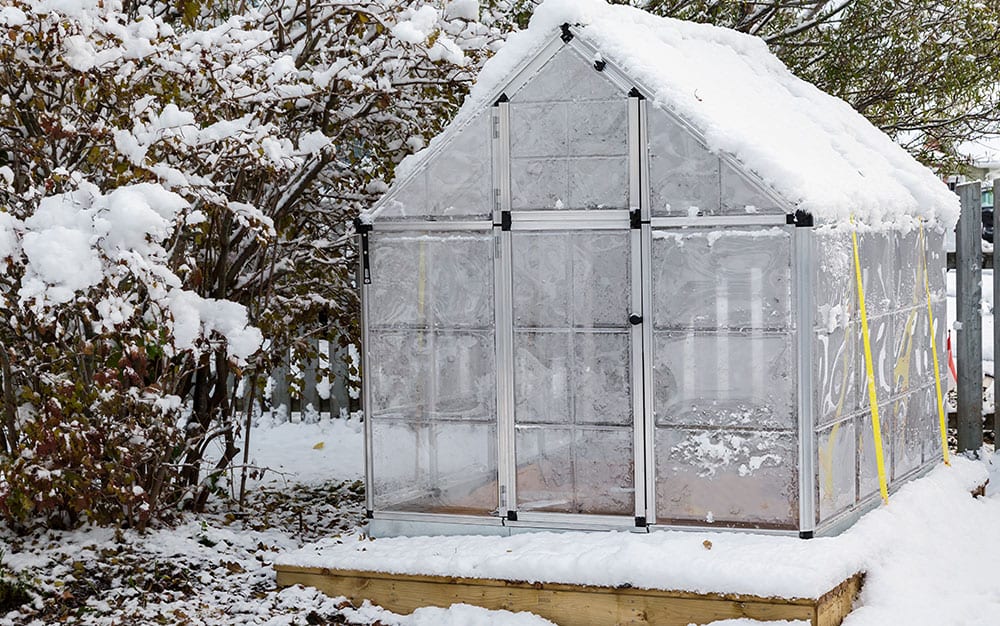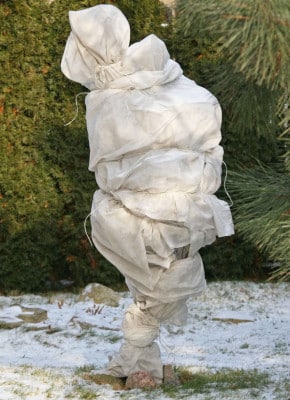 The other option is that you can fleece the plants to supply them with an extra layer of protective clothing. Buy horticultural winter fleece off the roll – it almost looks like white spider's webbing all joined together and works the same way as layers of clothing work for us, trapping the air in to keep us cosy. You can buy fleece from most garden centres and DIY stores. Wrap it generously around your sensitive plants. It's particularly good if you have things like standard fuchsias, palms or Canna lilies – just cover the vegetation and fix in place. With sensitive or herbaceous plants, like tree ferns, you can actually stuff a little bit of straw to the heart of the tree fern at the top as insulation. Or, mulch around your herbaceous perennial plants – your delphiniums your lupins and the like – with bark chip or leaf mould as a defensive blanket.
You can also use bubble wrap around pots or use up any packing filler products from your home deliveries. Another big winner, if you've got lots of pots on your patio, is to move them all together and put fleece over the whole lot so you're not wrapping them separately.
My top tip is to make sure that the pots aren't solid with water by giving them effective drainage. Otherwise, if the container has made a seal where the pot meets the patio, the water can't drain out and becomes sodden.
Frost will then expand this water by freezing it and it can crack your pots. The best thing to do is use pot feet. These are little standings or stanchions that you put your pots on top of so there's a clear gap between the bottom of the pot and the patio, to keep the water draining freely. If you don't want to spend a lot of money on them, you can use wine corks for this – so start saving them up!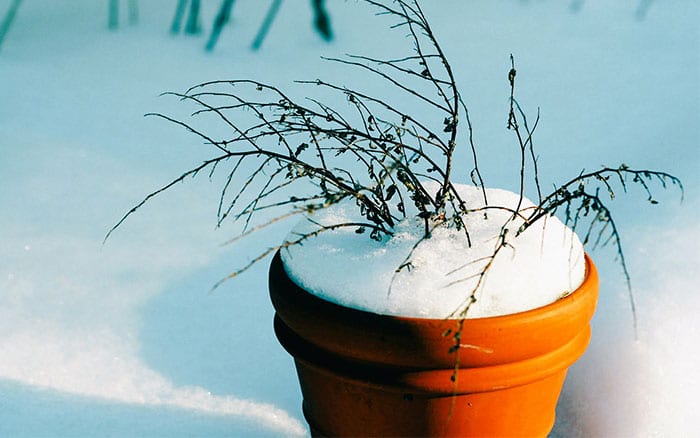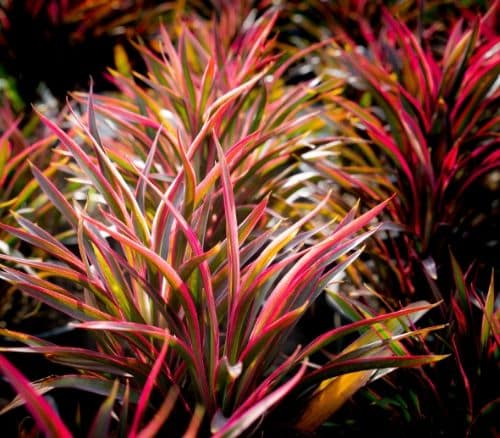 Snow mainly affects evergreens – plants that hold their leaves throughout the winter months, with a broad canopy. The weight of the snow can bear down on the branches and break them. The best thing to do is to give evergreens a little bit of a trim so that they're not carrying too much weight and the snow falls through the foliage.
With outdoor palms – like Cordylines or Trachycarpus – whenever the snow falls, go out with a broom and knock it off. If the snow freezes into a solid mass, the sheer weight of it can affect a plant's structure by bowing and breaking the branches and leaves. These few simple fixes can go a long way to protect your plants at this time of year and can make all the difference to ensure they recover quickly next spring.
These few simple fixes can go a long way to protect your plants at this time of year and can make all the difference to ensure they recover quickly next spring.
Happy gardening everyone!
Tip:
If you've collected lots of old cardboard and newspapers, these can be composted when torn into pieces.
What can I sow now, ready to plant out in March?
Alan, Devon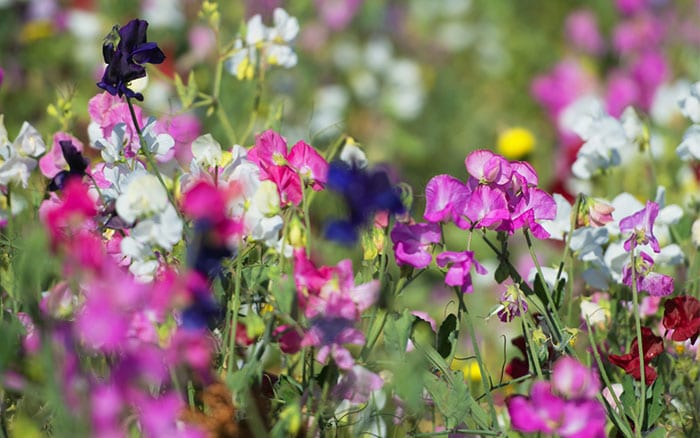 You can start sowing sweet peas in January to make sure the plants are robust enough to plant out in March. Place these into your greenhouse or cold frame to germinate. The plant should be kept cool, in a deep pot, so that root growth can develop before shoots appear.
I've got a bare patch of soil. How can I keep it protected over winter?
Jill, Farnham, Surrey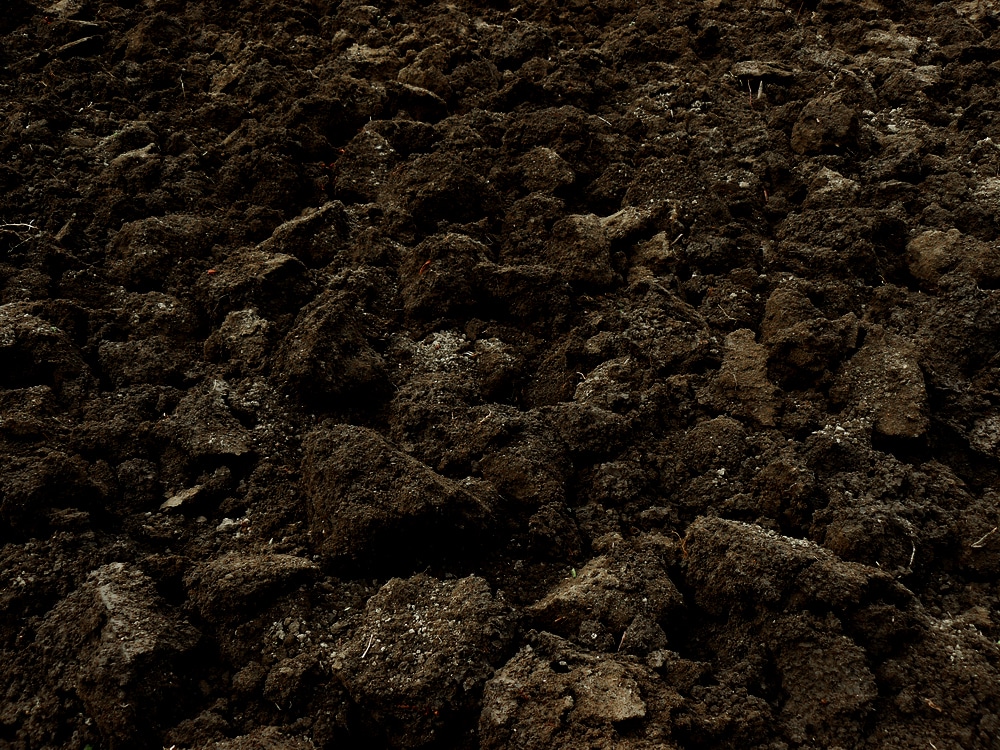 If your bare patch of land is awaiting new sowings, you need to keep the soil warm for successful germination later on while suppressing weeds. It will also protect the soil's fertility from being depleted from winter rain and frost. Use thick sheets of black polythene and keep them in place with large stones, rocks or bricks

David Domoney is a Chartered Horticulturalist, Broadcaster, and Author. David has worked with a number of the UK's leading garden retailers as a plant buyer and strategic consultant. With more than 30 years experience, in horticulture, David is as passionate about plants now as he was when he bought his first plant at a village fete.