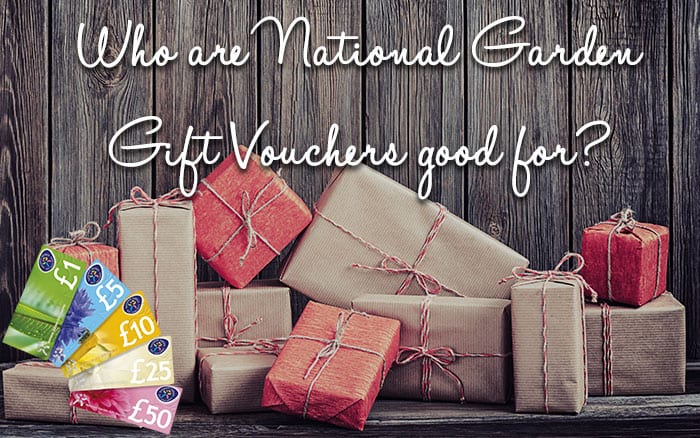 This Christmas, why not give the gift of gardening by giving your loved ones National Garden Gift Vouchers?
NGGVs are redeemable at over 2000 garden centres and shops across the UK, and they can be spent on lots of different things! There are loads of items available in garden centres, including garden furniture, barbeques, aquatic and animal care, kids, plants, seeds, shrubs and trees.
It's not just gardeners that'll appreciate National Garden Gift Vouchers but there is something for everyone. Your children, friends' children even grandchildren.
Children who love to choose their own things

You have probably noticed how much children enjoy being able to pick their own things. There's something great about giving a child their pocket money and letting them spend it on whatever they want! National Garden Gift Vouchers are great for kids, as they can be told the amount and go off to pick something themselves. Something that's not sweets, DVD's or computer games but something that could encourage them outside. Feeding wildlife, growing their own or even hobby crafts.
National Garden Gift Vouchers are great for people who have just moved into their first home! They can be redeemed against all sorts of items, so it's great for someone who needs to still make purchases for their kitchen, or are hoping to get into gardening now they have their own garden. Lead with garden swap round!

Someone with a perfect garden (who's a little bit picky!)

If you know someone who is a really passionate gardener, and has a fantastic garden, it can be daunting trying to choose the right gift. You don't want to choose a plant or tool that they have no interest in, so why not buy them a National Garden Gift Voucher? This will enable them to buy something they really want or need.
A friend or loved one who lives far away
If you know a keen gardener who lives far away in the UK, it can be hard to arrange a gift to get to them. National Garden Gift Vouchers are a great present as you can order them directly to your loved one, enabling them to go ahead and pick their own items. You'll have to ask them for photos!

Reward an employee this Christmas
Garden Gift Vouchers are a great corporate gift to give your employees. You may not know your team individually, or struggle to find the time to purchase individual gifts, so National Garden Gift Vouchers work perfectly. It enables each employee to purchase exactly what they'd like from the garden centre, and relieves the pressure from you!

Where can I buy National Garden Gift Vouchers?
 Use NGGVs as a stocking filler or an under-the-tree gift but they are also good for other special occasions throughout the year! You can buy National Garden Gift Vouchers now, just click the button below.

David Domoney is a Chartered Horticulturalist, Broadcaster, and Author. David has worked with a number of the UK's leading garden retailers as a plant buyer and strategic consultant. With more than 30 years experience, in horticulture, David is as passionate about plants now as he was when he bought his first plant at a village fete.