Long-lived alliums are a lovely ornamental addition to any garden style. Their pom-pom like flowers add plenty of texture to a border, and can be used as cut flowers to bring their fun indoors.
The best location to grow alliums is in a sunny spot with well-drained soil. The bulbs should be planted in autumn at four times the depth the size of the bulb. When planted, firm in place and water well, unless the soil is moist in which case there is no need to water.
Their leaves can look a bit scruffy after they've finished flowering. So, it's a good idea to plant them towards the middle of the flower border amongst other plants that produce bushy leaves to hide their foliage.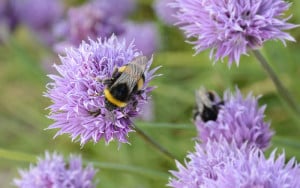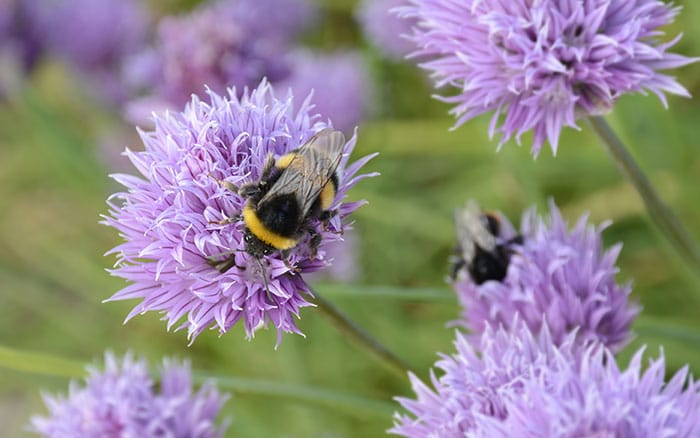 The seedheads can be left on the plant throughout autumn and winter for added interest.  Also, they make great Christmas decorations, either as they are or sprayed gold or silver.
Mulch every year with well-rotted compost or manure and give them a feed with balanced fertiliser in spring when new growth appears.
Depending on the type, some varieties may benefit from support, especially in exposed conditions where strong winds could damage them.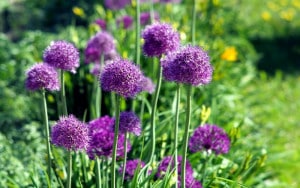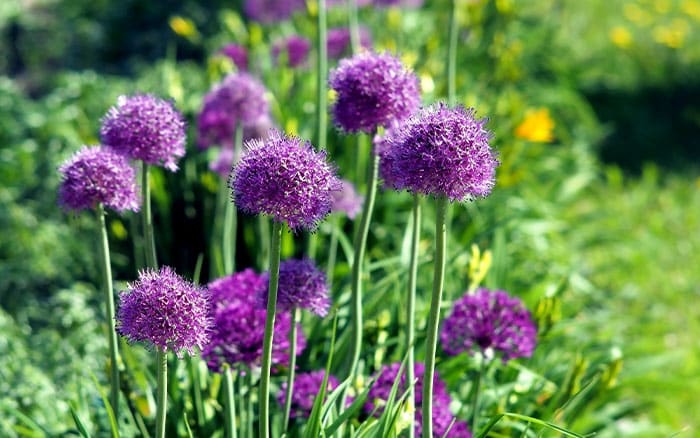 Alliums can be left in the flower border undisturbed for many years and will multiply both by producing new bulbs and also by self-seeding.
After a few years you may spot a white bulb protruding from the soil – this is the bulb multiplying.  In late autumn, lift the bulbs, carefully remove the offset and replant the original bulb into the soil.
Alternatively, collect ripe seeds from the flowerheads and sow them straight away. This is a long process, but the flowers will be worth the wait. To collect the seeds cut the seedhead from the plant when they start to break apart.
Place them into a paper bag and take them inside so they can dry out. Tap the seedhead to remove the seeds, then store them in a paper envelope and label with the plant name and the date.
Alliums come in a range of different heights and colours, some very tall which are perfect for planting at the back or drifting through borders. On the other hand, some are short and dainty, ideal for containers or front of borders.
Allium 'Globemaster'
The upright stems are topped with large globular clusters or purple flowers to add height to your borders. Bees love the flowers, making them a great addition to a wildlife garden.
Flowers in summer
Fully hardy
Grows up to 80cm tall
Moist but well-drained or well-drained soil
Full sun
Sheltered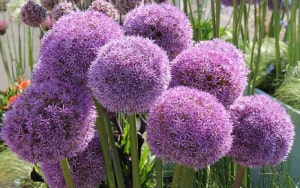 Allium amethystinum (amethyst allium) 'Red Mohican'
This bulb produces deep red flowers that fade to white as they age. They get their name due to the top flowers that are borne on longer stems to create the appearance of a Mohican.
Flowers in spring
Hardy
Grows up to 1m tall
Moist but well-drained or well-drained soil
Full sun
Sheltered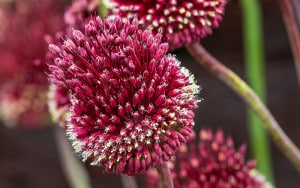 Allium caeruleum (azure-flowered garlic)
This blue-flowered allium has compact clusters that sit atop narrow stems that reach 80cm tall. They will add beautiful blue colour to different garden styles, especially if you want to add in some retro design.
Flowers in summer
Hardy
Grows to 80cm tall
Moist but well-drained or well-drained soil
Full sun
Sheltered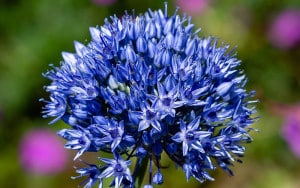 Allium schubertii (Schubert's allium)
Schubert's allium produces star-shaped purple florets that are borne on stems that give a 'star-burst' effect. When planted, they will without a doubt add texture and drama to your borders, and also make great long-lasting cut flowers.
Flowers in summer
Hardy through most of the UK
Grows to 50cm tall
Moist but well-drained or well-drained soil
Full sun
Sheltered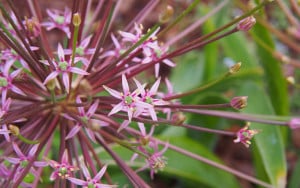 Allium 'Mont Blanc'
The star-shaped flowers of this tall type are white with a green-tinge. Their colour and texture give them a light and magical effect. Perfect for an architectural garden or city and courtyard spaces, they also lend themselves to gravel gardens.
Flowers in spring
Hardy
Grows to 1m tall
Moist but well-drained or well-drained soil
Full sun
Sheltered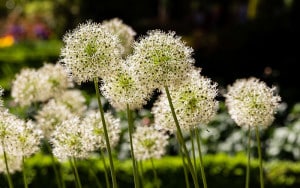 For texture, height, and colour, alliums are sure to deliver. Suited to many garden types, you can enjoy these plants even after they have finished flowering with their architectural seedheads.

David Domoney is a Chartered Horticulturalist, Broadcaster, and Author. David has worked with a number of the UK's leading garden retailers as a plant buyer and strategic consultant. With more than 30 years experience, in horticulture, David is as passionate about plants now as he was when he bought his first plant at a village fete.