Another classic cottage garden contender, delphiniums are tall plants, providing boldly coloured blooms. Also perfect for pollinators, these flower spires are a great addition to your borders.
To start, seeds can be sown from March to April or planted outside in May to June where they will flower through summer.
Delphiniums prefer a moist but well-drained spot with full sun. However, they won't grow well in heavy soil and wet conditions. Therefore if the borders have these conditions, add grit to aid drainage.
Then, plant them in place at the same height as they were in the pot before firming in place and watering in well.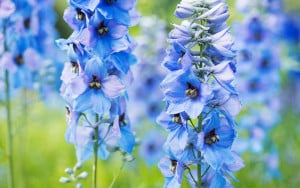 Due to their height, they will appreciate staking when young to keep them growing upwards strongly. When they start flowering, feed with a high potash fertiliser to boost blooms, because they are quite hungry plants.
Once they have finished flowering, cut the stems back to encourage a second round of flowers. Then, in autumn mulch the base with well-rotted organic matter or leaf mould.
Not only are their bright, bold blooms a wonderful addition to beds and borders, but they also make great cut flowers to bring their beauty indoors.
Delphinium elatum 'Sweethearts'
The columnar spires of this variety are covered with pale rosy-pink flowers that are without a doubt favourites with pollinators.
Flowers in summer
Hardy
Grows up to 1.75m tall
Moist but well-drained or well-drained soil
Full sun
Sheltered

Delphinium 'Blue Dawn'
Next is a variety with delicate colouring with pale blue flowers tinged with purple, perfect to add to a pastel-coloured border.
Flowers in summer
Hardy
Grows to 1.75m tall
Moist but well-drained soil
Full sun
Sheltered

Delphinium elatum 'Aurora Blue'
Another tall, sturdy choice with dark green foliage that is joined by semi-double blue flowers in summer.
Flowers in summer
Hardy
Grows to 1m tall
Moist but well-drained, or well-drained soil
Full sun
Sheltered

Therefore, whether you are hoping to achieve a cottage garden style space, or want to add some height to your beds and borders, delphiniums are sure to deliver.

David Domoney is a Chartered Horticulturalist, Broadcaster, and Author. David has worked with a number of the UK's leading garden retailers as a plant buyer and strategic consultant. With more than 30 years experience, in horticulture, David is as passionate about plants now as he was when he bought his first plant at a village fete.