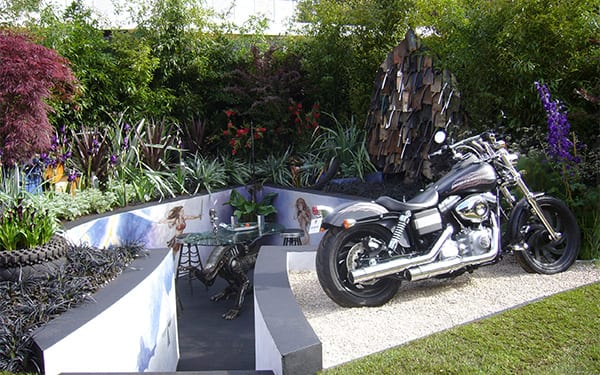 In 2009, I started my Aces series with the Ace of Spades Garden. I've also done Ace of Diamonds, and I've yet to do hearts and clubs.
This was inspired by the Ace of Spades biker anthem by Motorhead. The garden is wild and raw, and captures the chaotic freedom of the biker life.

The central pit is in the shape of a playing card spade and is decorated with airbrush artwork. There is also a large Ace of Spades made from old garden spades welded together.

The garden features many biker references, including planting in tyres, oil drums and bike parts.

I used dark plants in blacks, reds and purples such as black bamboo, black irises and black grasses. There we also silver varieties of plants to echo the chrome of the bike.



David Domoney is a Chartered Horticulturalist, Broadcaster, and Author. David has worked with a number of the UK's leading garden retailers as a plant buyer and strategic consultant. With more than 30 years experience, in horticulture, David is as passionate about plants now as he was when he bought his first plant at a village fete.