Get inspired by the stunning show gardens from the RHS Chelsea Flower Show.
Laurent-Perrier Chatsworth Garden
This garden takes inspiration from two areas of the grounds at Chatsworth House. The trout stream and the monumental rockery. It contains 300 tonnes of stone. It won the coveted Best in Show award too.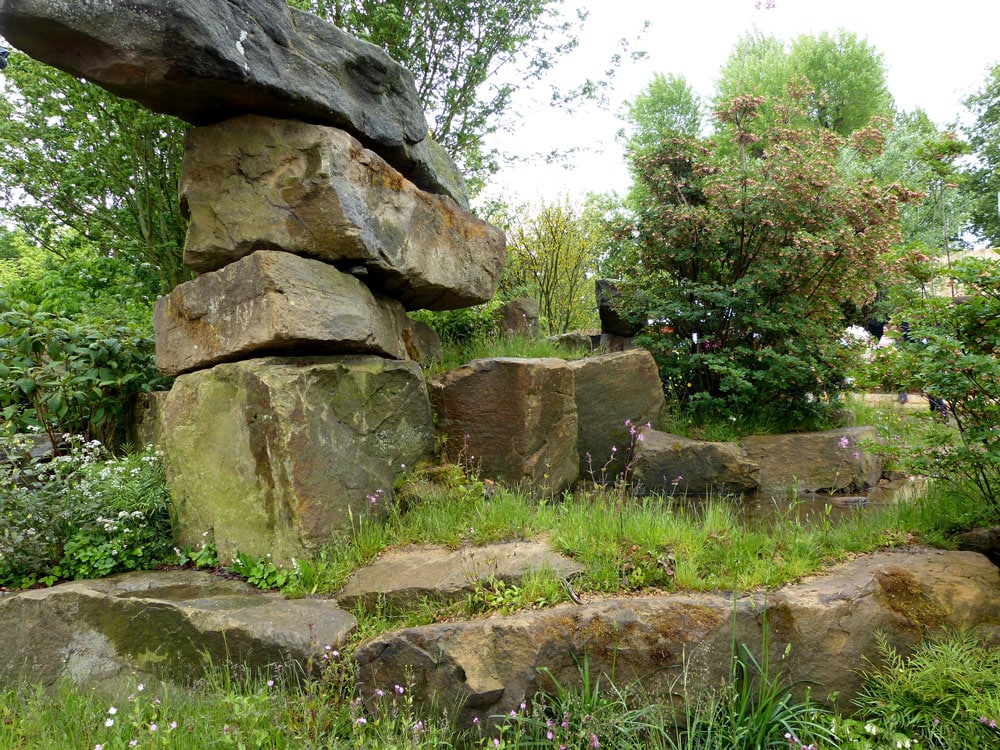 The Telegraph Garden
This geometric design is based on the Dutch De Stijl movement of pure abstraction. It uses simplified vertical and horizontal lines with primary colours, as well as black and white.


A Perfumer's Garden in Grasse by L'Occitane
Inspired by the sights and scents of Grasse, the world's perfume capital. This design has all the hallmarks of a Provence garden. The planting features many scented varieties used in creating fragrances.


Sentebale Hope In Vulnerability Garden
This stunning garden is designed to raise awareness of HRH Prince Harry's charity Sentebale. Which provides healthcare and education to Lesotho's most vulnerable children. Many of them are victims of the country's extreme HIV/AIDS epidemic.


M&G Retreat Garden
This woodland-themed garden contains a two-storey oak building that echoes the writing room of poet and garden designer Vita Sackville-West. Who created the garden at Sissinghurst Castle.


The Beauty of Islam Garden
This garden aims to show the beauty of Islam through horticulture, poetry, scents, calligraphy and architecture. It features many plants used in the Spice Route of the Arabic Empire, including fig and citrus trees, ginger, rosemary and plants.


The Time in Between Garden
Designed by Australian Charlie Albone, this garden is split into thirds to symbolise the three stages of his life. The garden also has a large bowl water feature, that slowly fills to capacity and empties in just a few seconds.


The Cloudy Bay Garden
The space here is designed to show the subtle layers that make up the wine from New Zealand's Cloudy Bay winery. It features planting that echoes the diverse climates and soil types of the region.


Royal Bank of Canada Garden
This sustainable garden highlights the importance of water saving and harvesting with the Royal Bank of Canada's Blue Water Project. It contains an edible garden, a zero-irrigation dry garden and a water harvesting area.


Homebase Urban Retreat Garden
An urban community garden is designed as a wildlife-friendly space. The planting provides food and shelter for bees and other insects, as well as softening the hard urban structures.


The Hidden Beauty of Kranji Garden
This garden is inspired by the Singapore suburb of Kranji, which is famous for its wetlands and tropical planting. It's filled with coconuts, palms, ferns and orchids that surround a streaming water feature.


RHS Great Chelsea Garden Challenge
This is the first garden on the Main Avenue to be designed by an amateur, nurse Sean Murray. Sean won the Great Chelsea Garden Challenge on BBC2 and has designed a lush front garden featuring recycled tin cans.


Brewin Dolphin Garden
This striking garden features floating platforms and naturalistic planting that create a sense of weightlessness. It uses 40,000 pieces of hand-cut slate to create the different levels.


Morgan Stanley Healthy Cities Garden
Representing community, this garden uses formal architecture and lines to show the infrastructure of communities. Alongside diverse and colourful planting to portray the people.


Viking Ocean Cruises Garden
This garden is designed with a Scandinavian theme in mind. It has clean lines, bold architecture and a sleek finish. The space is designed around the theme of movement, representing a ship moving through ocean waves.


The Living Legacy Garden
This striking garden is a memorial to the Duke of Wellington. Marking the 200th anniversary of his victory at the Battle of Waterloo. It moves from brutal wilderness towards a progressive, thriving future. The garden also features plants in the regimental colours of the British and Allied troops.

The Chelsea Flower Show 2015 runs from the 19th to the 23rd May. Find out more about my Positive Power of Plants exhibit in the Great Pavilion!

David Domoney is a Chartered Horticulturalist, Broadcaster, and Author. David has worked with a number of the UK's leading garden retailers as a plant buyer and strategic consultant. With more than 30 years experience, in horticulture, David is as passionate about plants now as he was when he bought his first plant at a village fete.