New for 2020, Compost Week UK runs from 16th to the 22nd March, is all about understanding the benefits of beautiful garden soil.
One handful of soil contains more microorganisms than there are people on the planet—soil is a complex ecosystem of microbes which contribute to the growth of plants. As an advocate of gardening for better health, there are many benefits to our health in establishing healthier soil.
Composting is a wonderful way to garden in an eco-friendly way and gain fantastically fertile soil. During this week, I'm going to show you how easy it is to accomplish and how rewarding gardening in this way can be—both mentally and physically!
I will release step-by-step guides that demystify what it means to compost.
There will be free downloadable card games for kids and instructive blogs will be released throughout the week in the hopes to make composting an achievable objective for all who want to grow healthier plants, cut down on waste, or boost their soil's wellbeing.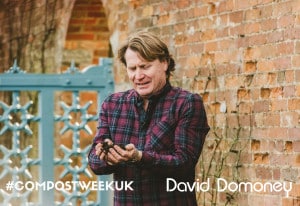 Composting is like a great recipe, once you've got all the bits you need in place, the compost makes itself and it's a treasure trove for us gardeners. You start with food waste and at the end enrich the earth. Homegrown fertile soil is unmatched in its ability to make your plants prosper and seeing the process from start to finish is what it's all about!
There are some vital elements that your plants need to grow.
To balance out any deficiencies, you may require a fertiliser, these vary in their ratio of NPK chemicals, so read this blog to get up to speed on what that means and the right ratio needed for your soil.

Keep up with Compost Week UK where I will be releasing tips on composting at home on social media and members of the public can stay in touch with activity and competitions by searching #CompostWeekUK on Facebook, Twitter and Instagram.

David Domoney is a Chartered Horticulturalist, Broadcaster, and Author. David has worked with a number of the UK's leading garden retailers as a plant buyer and strategic consultant. With more than 30 years experience, in horticulture, David is as passionate about plants now as he was when he bought his first plant at a village fete.