Creating a contemporary garden with a clean-cut design is a great way of having a functional and low maintenance space. Use these methods to make the most of your garden space.
If your home décor is light and modern, then continue the theme outside with these top ideas to create a contemporary garden.
Contemporary styles work well with all garden sizes, however for smaller spaces or urban areas, they can be ideal.
This design can make the space feel larger by using the right materials and lighting, as well as making as much floor space available as possible.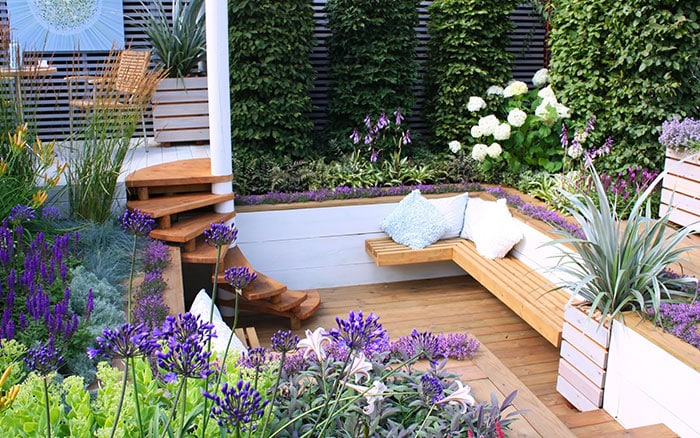 Although, you can make the style fit to the size of your garden. For tiny spaces, a simple but striking design will work well.
However, in a larger space, the garden can be split into sections just like inside the home. Then, different elements can be created to form a versatile and practical space that's fit for purpose.

Work from the ground up and choose a great base for your garden. With contemporary gardens, shapes and colours are important.
By having a solid shaped section of grass that meets a clean-cut patio, you're on to a winner. Choose patio paving that is light, with cream or grey tones such as Pavestone's Piazza or Limestone.
On your patio, opt for simple and practical outdoor furniture. Choose furniture that has similar tones to complement your design.
A popular fencing choice for contemporary gardens is horizontal slats because they give a smooth, sophisticated finish. Depending on the spacing of the slats they can allow more light into your garden too.
Whether the panels are woven style or slanted downwards like blinds, your fencing doesn't just have to be the perimeter of the garden. Instead it is an extension of your garden.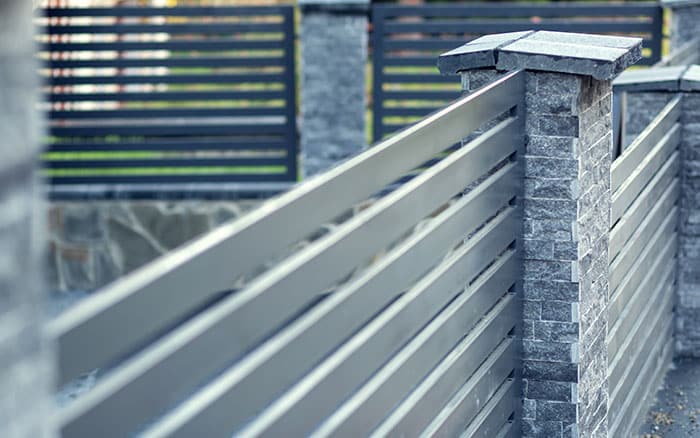 Although contemporary gardens tend to be more minimalist and not cluttered, vertical gardening is still an option.
Having one section for planters on the wall or fence, or a trellis adorned with a climber can add accentuate the design. It'll add some life to the vertical space, without filling the fence.

Use the colour from your design in your planting schemes. If you are opting for a light theme with white and grey, then a dark and dramatic bed or border will have a striking impact.
Ajuga reptans (dark purple bugle) 'Atropurpurea' is a stunning evergreen with deep purple coloured leaves. The foliage is joined by deep-blue flowers in spring and summer. It's fully hardy and can grow in any position with well-drained soil.
Another dramatic choice that's rich in colour is Loropetalum chinense var. rubrum 'Fire Dance'. This is also an evergreen which has reddish-purple leaves and bright pink flowers in spring to add a subtle bit of colour to the display.
Minimalist and modern doesn't necessarily mean no features. For example, adding a simple water feature that's shape fits with the theme of the garden will add the soothing soundtrack of water.
A family garden in this style will need to be functional but still with fun elements for the kids too. There are some innovative designs to incorporate these features, such as having a sunken trampoline that is ground level, to keep the area looking even and slick.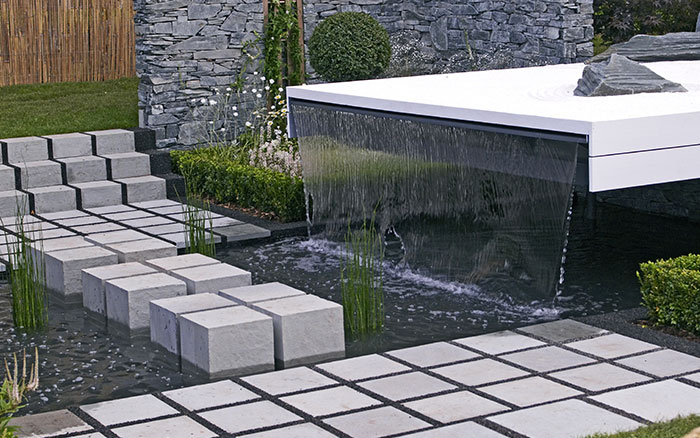 Alternatively, a playhouse with an exterior that matches the colour scheme of the space could be an exciting addition.
A contemporary family garden may differ from a space that's set for socialising. For example, a lounge area could be a great addition, with day beds and an outdoor kitchen adjacent to the seating area.
No matter what the size of your garden or the purpose of your space, your garden can be sleek and sophisticated, optimising the space you have. So, by combining features, fencing, flooring and furniture you can create a cool and contemporary garden design.

David Domoney is a Chartered Horticulturalist, Broadcaster, and Author. David has worked with a number of the UK's leading garden retailers as a plant buyer and strategic consultant. With more than 30 years experience, in horticulture, David is as passionate about plants now as he was when he bought his first plant at a village fete.