English garden design is timeless, and it's not just traditional English gardens that are popular. Designs can span modern English, naturalistic, formal, contemporary and romantic influences.
A stylised garden can turn even the most modest plot into a green oasis, so here are some ideas for creating an English garden sure to spark envy in anyone that sees it.
The first thing we think of when we imagine an English garden is a formal set up fit with a walled rose garden, or something similar. But you can pepper in just a few of these elements without committing to the stately home look, and to great effect. Formal gardens are all about symmetry, so start there. Mirror your planting from one side to the other to get a uniform look.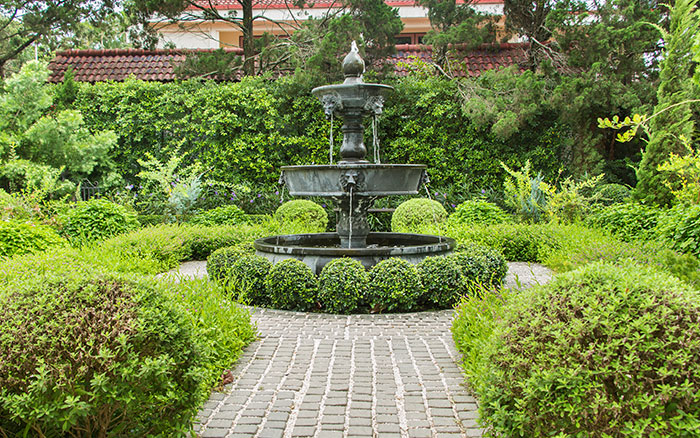 Some simple hard landscaping can help here too. You can easily use pathways, walling or even edging to keep your planting areas looking neat with clean lines. Sectioning off the garden by using low-lying walls also provides the opportunity to introduce enclosed spaces and schemes throughout the space. For a softer visual, this can be achieved with evergreens too. Topiary always has a huge impact in any garden space, but keep in mind that the up-keep is higher than with walling, as it needs to be kept trimmed and trained to look terrific.
Rosy cosy cottage gardens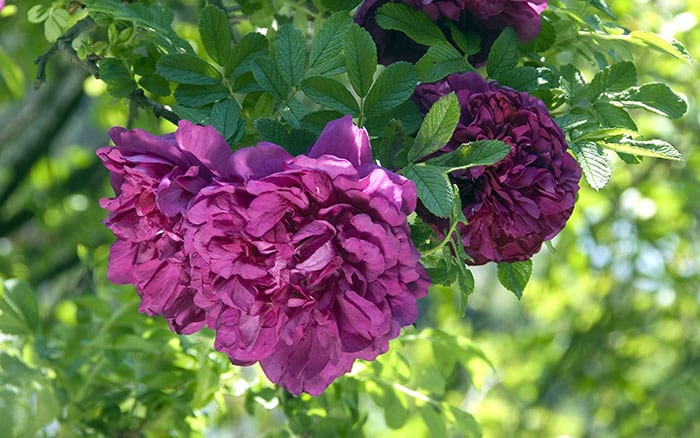 Rose gardens are a fantastic part of English garden heritage and you can either keep these traditional and formal or start small. Why not incorporate some rose varieties in a cottage garden design? Cottage-style gardens need voluptuous planting and haphazard self-seeding to get the look. Climbers can be grown up into trees, shrub roses can be fine additions to borders, or groundcover roses are good for underplanting. 'Roseraie de l'Hay' is an upright shrub for hedging with purplish-crimson flowers and is great for late colour.
These can be propagated from hardwood cuttings in autumn or chip budding in summer. The latter method is actually fairly easy to achieve once you know how and involves attaching a bud to a rootstock to make a new plant. As always, you'll need a hefty pair of gloves when working with roses.
Other go-to flowers which will look great planted into these garden borders are delphiniums, lavender and hollyhocks. These staple plants will really give you the cottage garden look.
A naturalistic planting scheme is a fairy contemporary take on English garden design. Many choose to opt for this option because it tends to be more wildlife-friendly and is often a low-maintenance option too. For this, add soft grasses with geraniums and phlox. Finished by dotting in the purple globes of tall-growing alliums.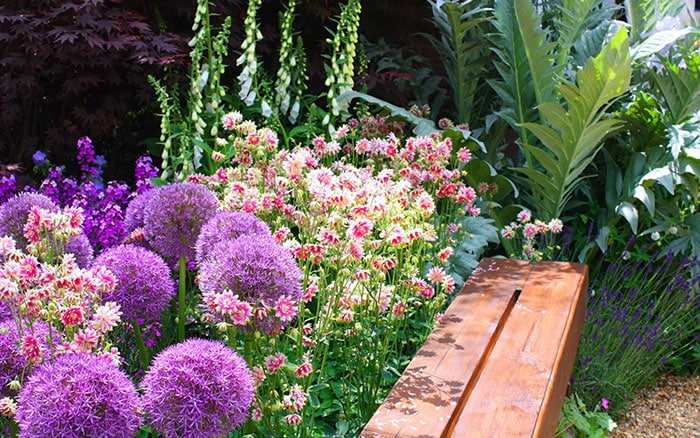 Courtyards are fantastic for bringing functionality and form together into the mix. They're a useful tool to extend the space you have at home too; giving a social seating area to support an indoor-outdoor lifestyle. If you'd rather keep soft landscaping at the forefront of your plans, lush lawns can be a practical and beautiful feature to have in the garden. New turf can be laid now, as long as the ground isn't wet or frozen. Ensure to leave any newly laid lawns undisturbed for several weeks to allow new roots to get established. It's a great idea to use lawn spaces as a focal point in your garden too, so why not finish it off with a show-stopping water feature, pride of place in the centre of it all.
Your quintessential English garden is just a step away. You can start by adding in a few of these design ideas and planting schemes or overhaul your garden's look completely by redesigning it from scratch. Either way, there are so many takes on English garden settings, so you can truly make your green space your own.

David Domoney is a Chartered Horticulturalist, Broadcaster, and Author. David has worked with a number of the UK's leading garden retailers as a plant buyer and strategic consultant. With more than 30 years experience, in horticulture, David is as passionate about plants now as he was when he bought his first plant at a village fete.