Incorporating water into your garden comes with many benefits. There's something magical about being near water. The tranquil trickling sound, the cool refreshing feel, and the sight of the dazzling droplets in the sun, it satisfies all the senses. The sounds can also mask and drown out sounds of neighbours, traffic, or noise from within your home. This makes your garden a welcome escape from unwanted commotion.
Incorporate the following designs into your garden to transform your space into a soothing sanctuary.
If you have space for a pond, get stuck into this project by picking out a fairly shaded spot with sufficient space. It's ideal to choose a location that's not directly underneath a tree, or you'll be forever fishing out leaves.
Depending on your desires, you can either build up a with bricks for a raised pond or dig down for a sunken pond. For a raised pond, level off the base and build brick walls. Alternatively, with sunken ponds, mark out the shape with a hosepipe and dig out the soil. You can also buy ready-moulded plastic ponds that will dictate the size, shape, and depth.
Line the pond with cushioning material like old carpet then add a strong pond liner. Pin it in at the edges with heavy paving slabs. Gradually fill with water, allowing it to settle and checking for leaks along the way. To fully kit out your pond with lights, filters, pumps, and fountains, Oase has everything to fit the smallest features to substantial swim ponds.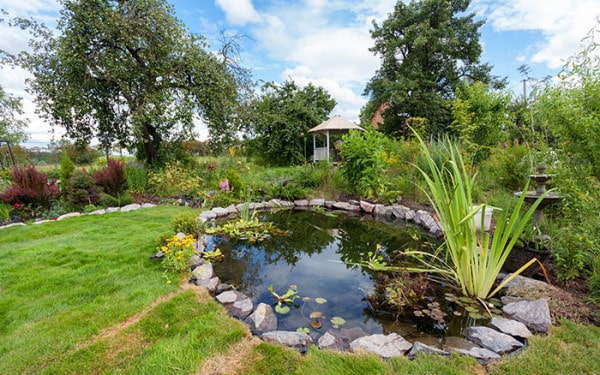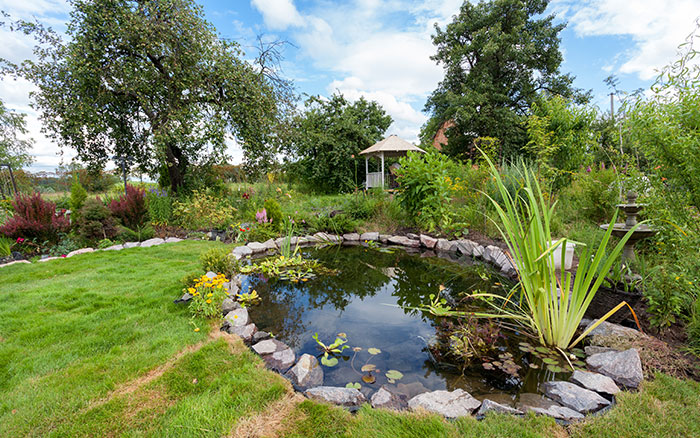 Ponds have a tendency to 'green up' with algae, especially if sited in full sun. Including plants can give clearer water and, if you've got fish, help supply more oxygen for them.
Pond plants are categorised into five main groups: moisture loving, marginal, oxygenators, deep-water and floating.  It's possible to have plants from all these groups growing in the same pond.
Unlike garden forget-me-nots, which tend to be biennial, water forget-me-nots are perennial, gradually expanding into large clumps. Great for hiding the edge of pond liners, they flower from March to May with dainty looking, blue flowers. Alternatively, they can be planted directly into soil in shallow water, no deeper than 20cm, near the pond edge.
Then, Ceratophyllum demersum (hornwort) is one of the best oxygenating plants to have in a pond. Throw the bunched stems in the water and don't be tempted to plant in a soil basket as this will only rot the stems. For a pond classic, add a water lily like Nymphaea alba (white waterlily) which has showy, white, cup shaped flowers. The rounded leaves span 30cm and the flowers are 20cm wide. Deadhead and remove any yellowing leaves regularly.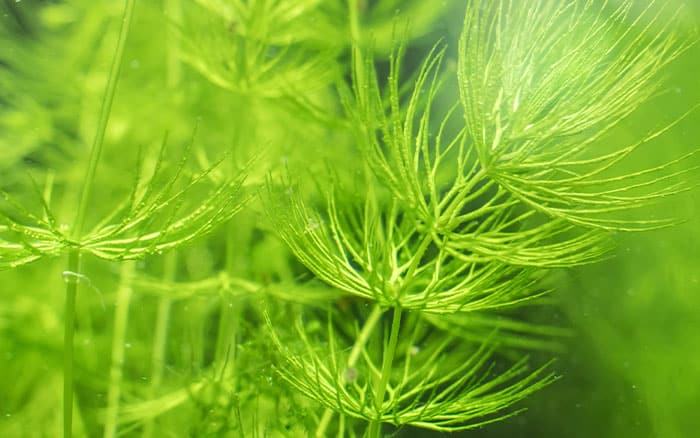 Having a water feature as a focal point in your garden can have a dramatic impact. You can utilise them to emphasise the shape of the garden and create the illusion of more space. For instance, circular fountains are a marvellous choice to add some soft structure to your garden. However, the shape and size of the features can depend on the space you have available.

One of my favourite space-saving solutions for smaller gardens that still want to incorporate water are water walls.
Mounting a spout on a wall is easier than you might think – and provides endless enjoyment. Buy a pump kit and reservoir from a garden centre, which is the equipment you'll need so that the pump can suck the water up through a tube and out of the spout, where it cascades into the cistern below and then back out again.
Stainless steel waterfalls are an eye-catching addition to add some charm to your wall, Pavestone's Porcelain Wall Cladding serves as a wonderful backdrop. Whether it flows into a pond, or into a water reservoir filled with stones and embellished with water loving plants, you can create a stunning feature.
Keep it looking its best by cleaning the stainless steel regularly, so calcium and debris doesn't build up. Then, add backlighting to illuminate the water so you can enjoy the enchanting visuals and sound of running water on a cosy evening too.
At the base of the waterfall feature, place different sized rocks and pebbles and complement them with water-loving plants. Hosta (plantain lily) 'Honeyballs' produces long soft green deeply ridged leaves and has scented soft lilac flowers in late summer. Growing up to 1m tall, they will grow best in a partially shaded and sheltered spot, perfect for the base of a waterwall.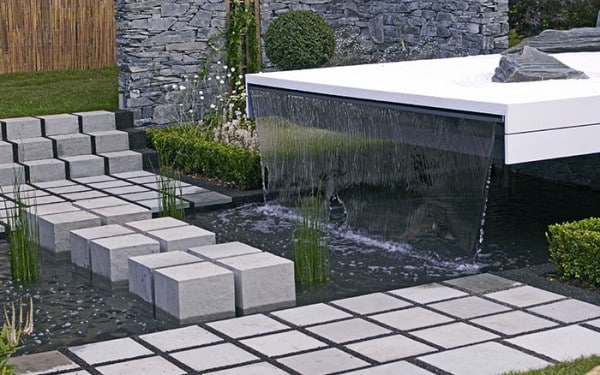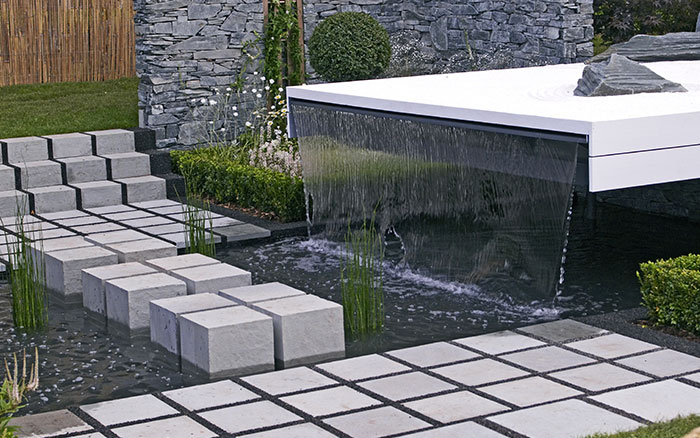 Alternatively, take a small step and create aquatic containers full of water-loving plants. This way you can introduce water to a small space in your garden, whilst giving you the opportunity to grow a whole multitude of new plants that you couldn't grow before.
Upcycle bathtubs or sinks for unique charm in your garden, or use buckets, bowls, and metal containers. Large ceramic planters or stainless-steel containers can be used too, the possibilities are endless. A container with a dark interior is ideal because they give the illusion of being deeper. Place the container in a spot where it gets good sunlight. Most aquatic plants need full sun to thrive.
Marginal plants are ones where the roots are attached to the soil and part of the plan emerges above the surface of the water. Plants like irises and water lilies are marginal plants. Iris versicolor (blue flag iris) grow up to 80cm tall, with narrow foliage that's topped with blue-purple flowers in summer. These clump forming perennials are hardy but prefer a spot with full sun.
Floating plants float freely on or just below the water surface, bringing a new dimension to the display. Pistia stratiotes (water lettuce) is a wonderful, decorative floating aquatic. Its evergreen foliage isn't the only selling point, as they also have pretty roots that change from white to purple to black.

Water gardening has so much to offer in your garden and there is a solution for any sized garden. From simple aquatic containers and waterwalls in smaller spaces to wildlife ponds and swim ponds in larger gardens.

David Domoney is a Chartered Horticulturalist, Broadcaster, and Author. David has worked with a number of the UK's leading garden retailers as a plant buyer and strategic consultant. With more than 30 years experience, in horticulture, David is as passionate about plants now as he was when he bought his first plant at a village fete.