Whether you think they are gaudy or gorgeous, pumpkins are fantastic fun to grow with kids.
Coming a wide variety of shapes, sizes and colours pumpkins are members of the Courbitaceae or gourd family of flowering plants. Alongside pumpkins other family members include cucumbers, gourds, melons and squashes.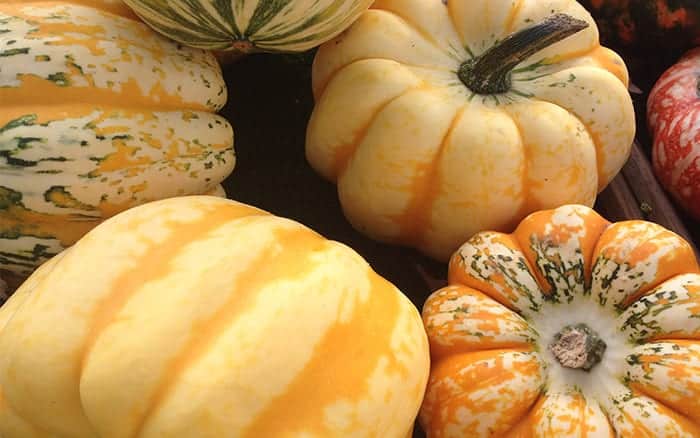 Best sown in May, squash and pumpkins make fantastic additions when used in both savoury and sweet cooking to delicious effect. Gourds, on the other hand, are best utilised for ornamental reasons as their tough skin and limited inner flesh make them limited for culinary uses.
Though technically the pumpkin is a type of squash, you can tell them apart from other squash varieties by checking the stalks as pumpkins have woody and furrowed stalks while squashes and gourds tend to be softer and corky—not to mention that pumpkins have seeds that are edible (and delicious).
If you're looking for something a bit different of course, why not try sowing patty pan squash seeds in May next year. These can be harvested when they're just 2-4 inches across as soon as they turn from green to golden yellow and then cooked into a wide variety of exotic looking recipes. In fact, check back here throughout October when i'll be sharing some warming and wonderful recipes you can cook up for the whole family!
DID YOU KNOW: some pumpkin varieties can weigh 34kg or just over 5 stone!
With the plump pumpkin being a staple for autumn activities, why not take my quiz to find out how well you really know this seasonal treat!
[woobox offer="4xdabo" trigger="enter"]

David Domoney is a Chartered Horticulturalist, Broadcaster, and Author. David has worked with a number of the UK's leading garden retailers as a plant buyer and strategic consultant. With more than 30 years experience, in horticulture, David is as passionate about plants now as he was when he bought his first plant at a village fete.